In January, SOTI released its 2023 retail industry report, The Tech Effect: Strengthening the Omnichannel to Meet Consumer Demands, a year-over-year deep dive into the retail experience from a global consumer perspective.
In case you missed it, here are some key highlights from the research. Of course, you can download the report in its entirety for free by simply clicking the button below. No forms to fill out. No email address to provide.




Consumer Pain Points
In 2021, 81% of global consumers experienced issues while shopping. In 2022, that number swelled to 88%. No doubt, COVID-19 and the supply chain crisis played a role in creating and exacerbating these issues, the most common of which are:
Product Pricing: 58% said items were more expensive in 2022
Product Availability: 34% said items they wanted to purchase were not available
Product Delivery: 31% said delivery times were slower than usual, and 28% said delivery charges were more expensive. From a customer perspective, that is not a great mix: pay more for delivery and get it later than usual
The report identifies that core issues from 2021 weren't really addressed in 2022, and without a major revolution in the retail industry, they are expected to persist through 2023. In fact, 65% of U.S. consumers believe prices in 2023 will continue to rise at a high rate.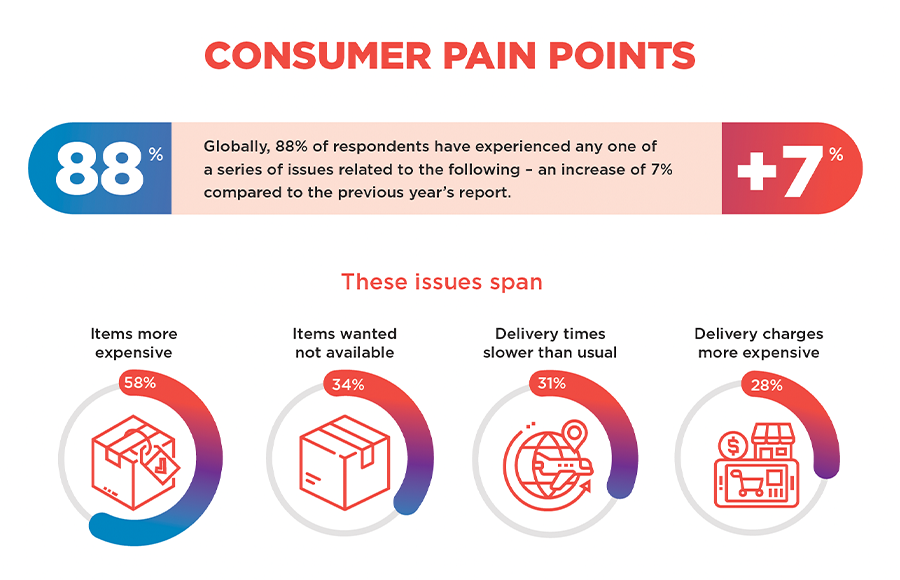 Screenshot taken from The Tech Effect: Strengthening the Omnichannel to Meet Consumer Demands

Consumers Want Personalized Delivery Options 
Globally, 50% of consumers prefer to shop with retailers that provide experiences that are personalized to their preferences. And as it relates to delivery options, there are more preferences today than ever before for customers to choose from:
83% of consumers prefer front door home delivery or delivery to a designated safe place
53% would like autonomous vehicles to deliver larger packages to their home or another convenient location
37% prefer direct delivery to their car wherever it's parked
With delivery charges increasing and delivery options broadening, consumers want the best, most convenient experience possible. Therefore, it's incumbent on retailers to select the right delivery partners to fulfill these heightened expectations.


Sustainability Matters
When making a purchase decision, product pricing and delivery speed are critical deciding factors for consumers. Regarding the latter, 70% of consumers confirm delivery times and speed are important to them and 61% will continue to shop with brands that deliver goods the fastest. But how these items reach the consumer is also important. According to the 2023 retail industry report:
44% of consumers prefer to shop with online retailers offering sustainable delivery options or recyclable packaging
54% are more likely to shop with retailers providing sustainable return options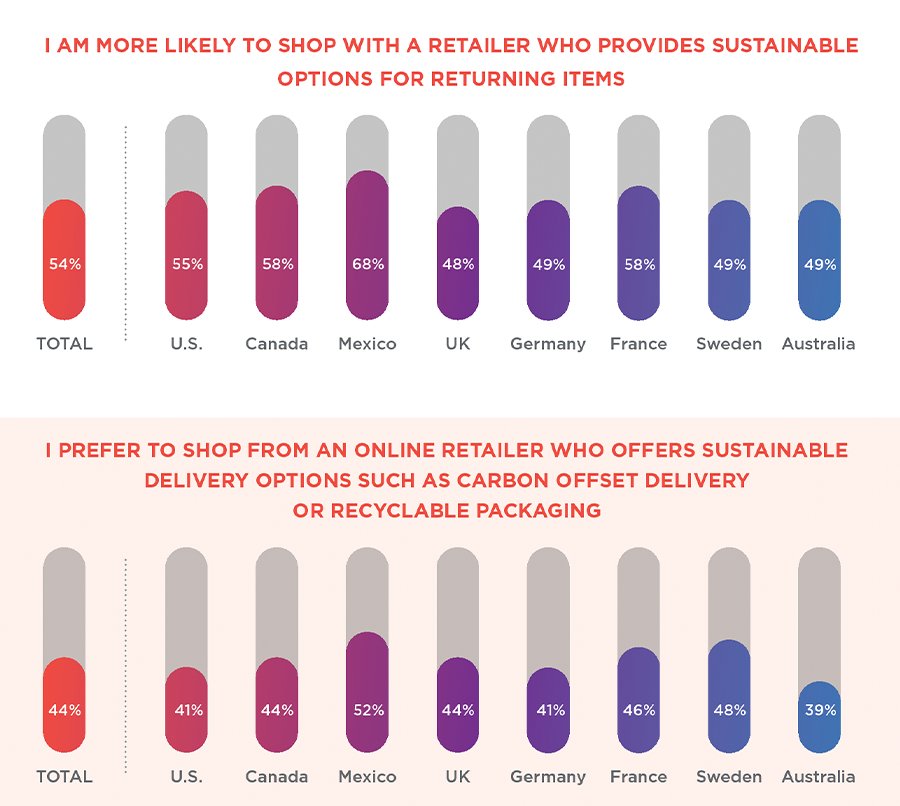 Screenshot taken from The Tech Effect: Strengthening the Omnichannel to Meet Consumer Demands


Brick and Mortar is Here to Stay
Pandemic restrictions forced stores to close and pivot to online shopping. Today, however, consumers are once again leaning towards in-store experiences. Year-over-year, in-store shopping increased by 25%. Overall, there was a 39% increase in consumer preference for in-store shopping.
While brick-and-mortar is back, that doesn't mean in-store shopping is the same as it was before the pandemic. Consumers want three major conveniences of online shopping to also be available inside brick-and-mortar stores via mobile device technology:
Offer Real-time Availability Information: In-store, consumers want to know the availability of products currently in stock and/or when new inventory will be available.
Faster Shopping and Checkout: Consumers want retailers to speed up the shopping and checkout process. When shopping and checking out takes too long, customers end up abandoning purchases and retailers end up losing $555 billion USD because of it.
Delivery Choice: Even in-store, buyers want choice over purchases fulfillment. Some may want to take products home while others schedule delivery or choose to pick up items later.



Retailers Must Connect the Omnichannel Experience
Shopping is no longer online vs. in-store; rather, it's online and in-store. It's up to retailers to ensure there's a connected chain of information to deliver a seamless, personalized experience because that's what consumers expect.
That's the definition of the omnichannel: a holistic (or interconnected) approach to every customer touchpoint across digital and brick-and-mortar touchpoints to deliver a consistent, cohesive experience. From discovery to purchase to delivery, the experience and information provided should be the same.



Using technology, retailers can keep up with the changing pace of the omnichannel. Let's use various digital channels as an example. In the report, 51% of consumers said they shop via a retailer's website, 33% via a retailer's app and 16% via a retailer's social media channels. It's imperative that these channels are connected. If the website says that a retailer has X amount of product in stock, the app and social media channels should display the same information.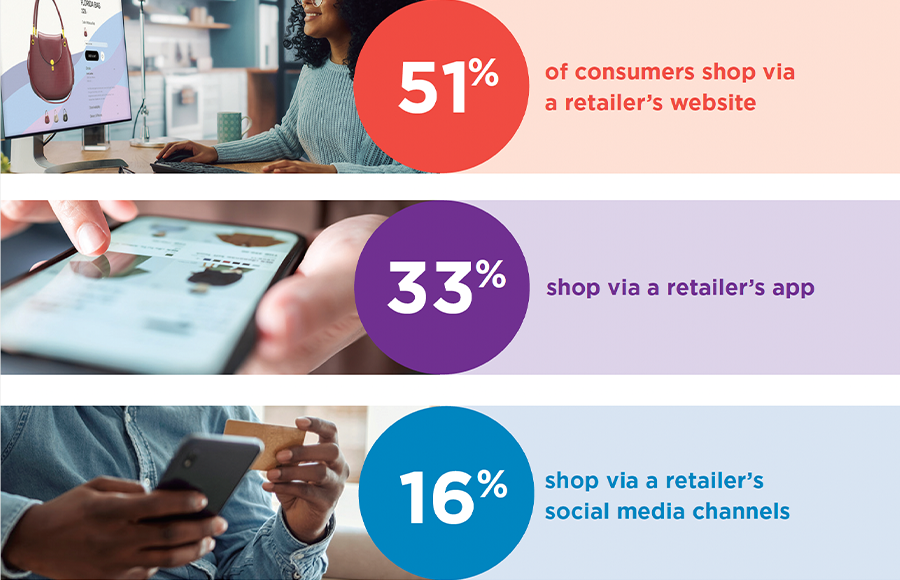 Screenshot taken from The Tech Effect: Strengthening the Omnichannel to Meet Consumer Demands

Inconsistent messages across the omnichannel end up confusing customers and will ultimately turn them towards other, more reliable retailers. A large majority of in-store shoppers (81%) and online shoppers (65%) have expressed frustration due to stock shortages or inconsistencies. Not only does this hurt a retailer's brand, it also hurts their bottom line, as a single inventory accuracy error can cost a business up to $250 USD.
It doesn't end with the purchase. Consumers want more control over the delivery experience as the days of waiting and wondering when a delivery will arrive are over:
70% say delivery times and speed are important


66% of shoppers expect to know where their deliveries are at all times


61% will continue to shop with brands that deliver the fastest



Download Your Copy of The Tech Effect: Strengthening the Omnichannel to Meet Consumer Demands 
These are only some of the highlights, stats and findings within The Tech Effect: Strengthening the Omnichannel to Meet Consumer Demands. To view the report in its entirety, and for free, all you have to do is click the button below to instantly get your copy.