Enterprise Mobility Management for Any Device, Endpoint and Business Need
Maybe you're responsible for managing tablets in a retail setting. Or handheld scanners in a transportation and logistics (T&L) warehouse. Or rugged devices for field services.
Whatever your industry, SOTI MobiControl is the Enterprise Mobility Management (EMM) solution you can rely on to secure, manage and monitor your fleet of mobile devices and IoT endpoints from deployment to retirement.
EMM for Any Operating System
Whatever OS your mobile devices are running on, SOTI MobiControl has you covered.
SOTI MobiControl Solves Your Toughest Mobility Challenges
It's your job to overcome the mobile risks your company faces:
Unplanned downtime that grinds things to a halt
Security risks which can lead to stolen or compromised data
Cumbersome device deployment, enrollment and provisioning procedures
Enterprise Mobility Management from SOTI MobiControl gives you full visibility into the status and performance of your device deployments.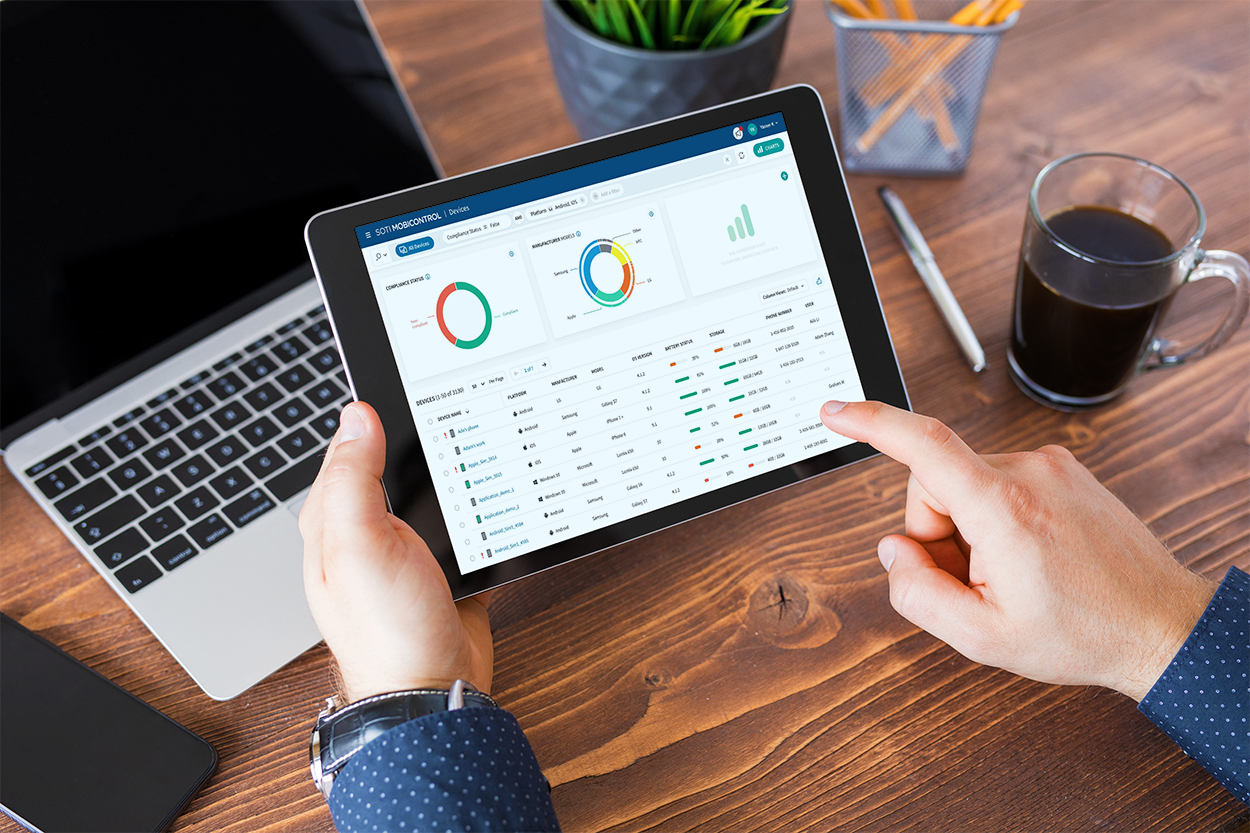 You'll be able to resolve small issues before they become big problems. You'll be able to proactively make decisions to boost device performance based on simple things like network access. You can quickly deploy the business-critical apps your remote workers are counting on to get the job done.
Other Features of SOTI MobiControl
Mobile Application Management (MAM)

SOTI MobiControl integrates with Apple VPP and Google Play to ensure the right apps get to the right employees at the right time.

Mobile Content Management (MCM)

Control who can view certain websites and files and whether they can edit, share, download or perform other actions.

Mobile Identity Management (MIM)

User permissions lets you dictate which divisions in your business have permissions (read, read/write) to users, custom data and attributes.
The SOTI ONE Platform
The SOTI ONE Platform is an integrated suite of solutions designed to reduce the cost, complexity and downtime related to business-critical mobility. Through integration with SOTI MobiControl, the SOTI ONE Platform allows you to: