Like many industries, the retail sector reinvented their consumers' buying experience and found new ways to communicate with them during the pandemic. As we enter 2023, there has never been a wider range of channels for consumers to learn about and use to shop for products and services: social media, web searches, video reviews and mobile apps to name a few. To cater to today's consumers, retailers must adopt a connected omnichannel experience. In our latest industry report, The Tech Effect: Strengthening the Omnichannel to Meet Consumer Demands, we share what consumers are looking for and how retailers can stay ahead of competitors.
An omnichannel retail strategy is a brand's holistic approach to every consumer touchpoint across channels. With omnichannel strategies, brands strive to give consumers a consistent, cohesive experience across both digital and brick-and-mortar touchpoints. This strategy includes the entire consumer journey, from brand discovery and purchasing to consumer loyalty.
Today's consumers value personalization, such as rewards programs or shopping suggestions based on their history. From traditional brick-and-mortar stores to websites, social media and mobile apps, consumers have different buying preferences. To ensure a successful buyer's journey, these methods of personalization must be consistent across platforms. In our report, we see the variety of online shopping methods used by consumers around the world:
51% of consumers shop via a retailer's website


33% shop via a retailer's app


16% shop via a retailer's social media channels
Whether its in-store or online, consumers want to have a positive buying experience. Our report shows how retailers are now required to master both online and in-store experiences. As shown in the map below, there are many different routes consumers can take from browsing to owning their product. By adopting technologies that enhance the relationship between the different routes, retailers can provide a seamless experience to each consumer.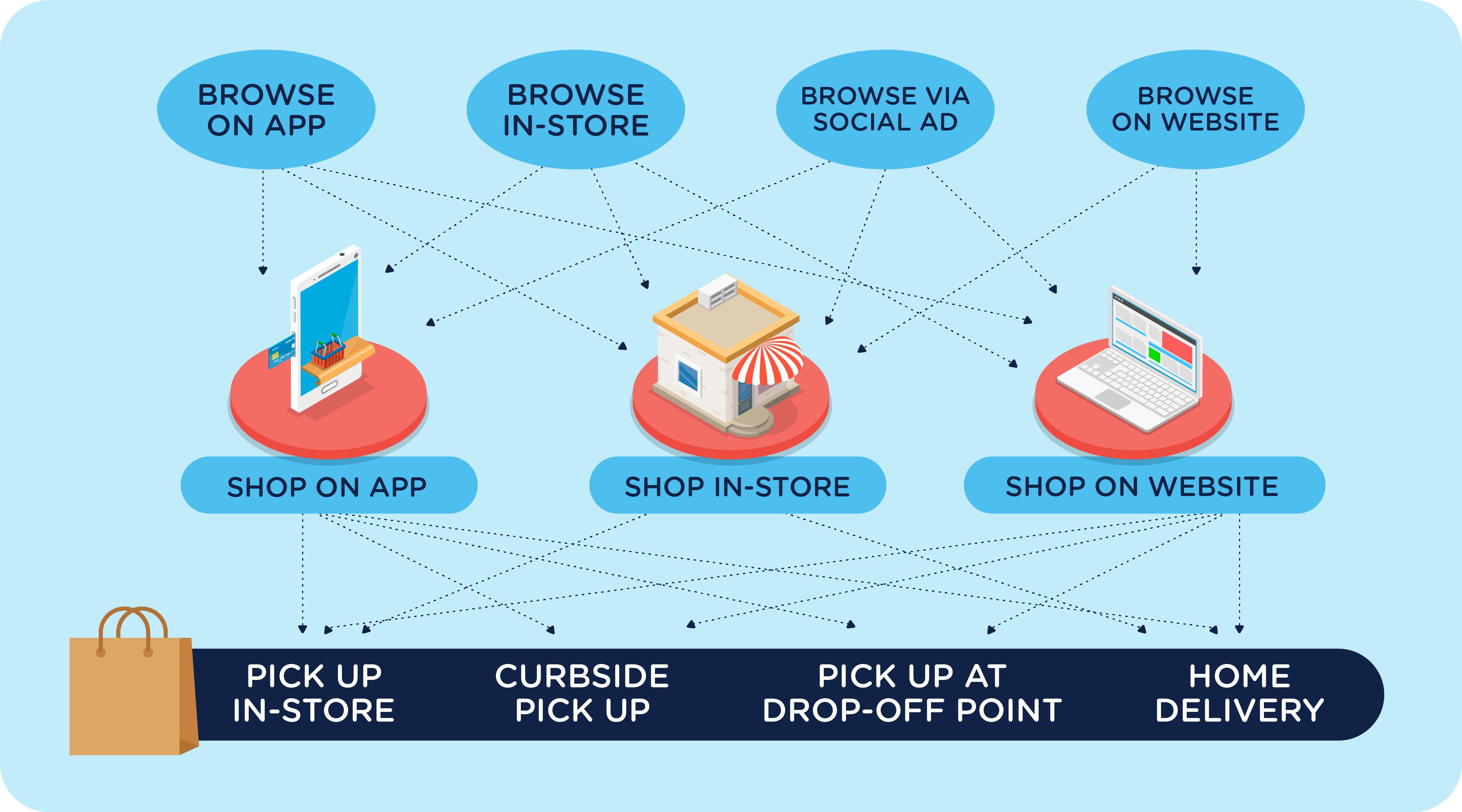 As seen in our report, retailers need to embrace a consumer-centric, connected omnichannel experience that includes three main benefits for consumers:





With more technology comes more data. A range of digital touchpoints enables retailers to have visibility into inventory trends and delivery schedules. This enables retailers to collect data, understand their consumers' needs and provide insights into where they are facing issues. The more retailers understand about consumers, the more accurately they can deliver what consumers want. This creates an enhanced buying experience, strengthening brands and increasing consumer loyalty.
When surveyed, 50% of consumers, globally, preferred to shop with retailers that offer a personalized experience that matches their preferences. What used to be a competitive edge for retailers is now a requirement for survival. Providing consumers with a seamless, personalized experience helps the bottom line. The omnichannel shopping model is here to stay, so retailers must ensure a consistent and cohesive experience is present throughout.