SOTI's annual partner and user conference, SOTI SYNC, is back! This time, we're in Munich, Germany and we are excited to host you for three jam-packed days filled with training, breakout sessions, networking and celebrations. At SOTI SYNC, you will learn about the future of our innovative product roadmap and what the SOTI team has been up to since the last event.
Our flagship product, SOTI MobiControl, known for proven mobility management, gives you visibility and control over where your business-critical mobile devices are, what they're doing, how they're performing and what security or compliance risks they're facing. Since the last SOTI SYNC, we've made some major updates. Here are five highlights!
SOTI XTreme Hub1
Reduce the number of times new data and apps are required to be sent across an organization's limited connection by up to 60%. SOTI XTreme Hub communicates directly with SOTI MobiControl from various distributed locations to receive data and app transfers. These data and apps transfers are then communicated to Android or Windows Mobile/CE devices by SOTI XTreme Hub. For large-scale enterprises that use many devices and deploy a lot of data, SOTI XTreme optimizes and improves the responsiveness of your organization. Check out this blog to read more!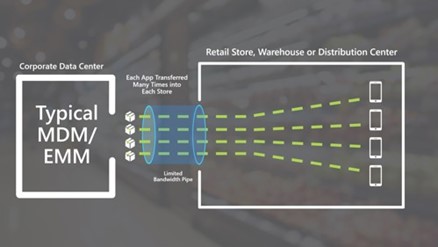 Typical MDM/EMM Solution Delivering Each App One at a Time to Each Device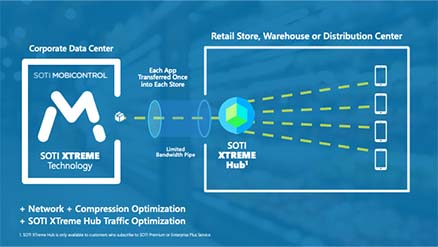 With SOTI's XTreme Hub Technology Each App is Delivered Once into Each Store
System Health Dashboard1
A comprehensive overview of the operational performance of SOTI MobiControl for a variety of metrics. With easy access to real-time data, SOTI MobiControl administrators can make decisions based on data to optimize their systems for higher capacity so device users can maintain maximum productivity. Check out this video to learn more.
Zebra LifeGuard Firmware Over-the-Air (FOTA)
Manage the enrollment and deployment of FOTA updates of Android OS and LifeGuard security patches to Zebra mobile devices from a single screen. Together, SOTI MobiControl and Zebra LifeGuard FOTA minimizes the need for manual intervention and maximizes an organization's operational efficiency. Users also have access to monitor the status of their firmware updates and receive an alert anytime there's an error. This allows them to reduce update failures and maximize the security of their Zebra devices. Check out this blog to learn more.
Control Access to Microsoft 365
Conditionally grant or deny access to Microsoft 365 apps and Microsoft Azure Cloud apps installed on iOS or Android devices. With SOTI MobiControl, administrators can implement customized compliance policies based on their needs. When a device is considered compliant, end users can access Microsoft 365 apps installed on their device. On the other hand, when a device is considered non-compliant, end users are denied access to their Microsoft 365 apps and receive an error message with further instructions. Controlling access to company-specific apps depending on device compliance ensures an extra layer of security to protect company information, whether it's customer details or sales targets. Click here to learn more.
Support for Android BYOD
Manage Android Work Profile devices with a new agentless method, courtesy of Google's Android Management API (AMAPI), which speeds up the user enrollment process. With AMAPI, devices can be managed without having to install the SOTI MobiControl agent. This gives administrators full control of device enrollment and actions, such as wiping business data and apps. Users can continue with business-critical tasks on a familiar device without having to install additional software and maintain privacy with personal data and apps. Click here to learn more.
Become a SOTI MobiControl Expert at SOTI SYNC 23
SOTI MobiControl minimizes device downtime so field workers stay productive. It's the EMM solution designed for any device, form factor, operating system (OS) and mobile requirement of your business. If you're ready to embrace everything SOTI MobiControl has to offer, be sure to sign up for SOTI SYNC's training day, where you can become SOTI MobiControl certified and attend breakout sessions to learn more about SOTI's features and product roadmap. SOTI SYNC, our largest partner and user conference, takes place during Oktoberfest at the Westin Grand Munich from September 26 to 28, 2023. Your SOTI SYNC Conference Pass gives you access to:
1. Only available with SOTI Premium and Enterprise Plus Service