The Winter 2022 update of the SOTI ONE Platform features updates to SOTI MobiControl, SOTI Snap and SOTI Identity We also take another look at our new diagnostic intelligence solution, SOTI XSight. 
Learn how these updates further reduce the cost, complexity and downtime associated with your business-critical mobile operations. 
SOTI MobiControl


Control Access to Microsoft 365
The What 
SOTI MobiControl 15.5 conditionally grants or denies access to Microsoft 365 apps and Microsoft Azure Cloud apps (Outlook, Teams, SharePoint, etc.) installed on iOS or Android devices. 

The Why 
Data breaches during COVID-19 cost $4.24 million USD. As 25% to 30% of employees will work remotely post-pandemic, securing devices and protecting against data leaks is critical. 
That's what Microsoft 365 conditional access does. Think of it as a restaurant. If the device has the right reservation (compliance policy), the maître d' (Microsoft Azure AD) lets it in so it can order from the menu (Microsoft 365 apps). 
IT Administrators may establish any criteria for device compliance, such as: security patch levels to battery percentage to operating system (OS) version to password enablement to check-in status to approved apps already installed. 
Ensuring device compliance provides an extra layer of security when it comes to protecting the information on it, whether it's customer details in Excel, sensitive data in PowerPoint, or anything shared and communicated via Microsoft 365.  
This is especially true for organizations which adopt a Bring Your Own Device (BYOD) policy, 72% of whom cite data leakage and loss as their top BYOD security concern. 

How It Works 
When a device is deemed compliant or non-compliant by a configured SOTI MobiControl Compliance Policy, SOTI MobiControl reports its status to Microsoft Azure AD via Microsoft Endpoint Manager:
If the device is compliant:

End users can access the Microsoft 365 apps installed on the device.

 
If the device is non-compliant:

End users are denied access and receive an error message with further instructions.

 
Manage App Configs without Google Play Services
The What 
Exclusive to SOTI MobiControl, managed app configuration, including original equipment manufacturer (OEM) app-based device configuration, can now be configured and deployed in environments without access to the Internet or Google Play Store.  
The Why 
Device manufacturers, like Samsung or Zebra, publish their own OEMConfig apps to the Google Play Store.  
However, due to government regulations or organizational policy or security concerns, not every business has access to the Google Play Store or to external network Internet connections. Offline OEMConfig alleviates this by allowing for easy management and deployment of OEM-specific features onto devices. 
It's quite simple:  
The SOTI MobiControl administrator deploys an OEMConfig app as an

enterprise app

(defined as apps which are owned or managed by the organization) to devices.

 
Along with the OEMConfig app, the administrator can also configure the schema or properties which need to be sent to the device.

 
Once the app policy is assigned to the device, the OEMConfig app is installed, and it applies the configurations onto the device.

 
Password enforcement timeout, Bluetooth and Wi-Fi enablement, audio configurations, camera access – these features and more – are now configurable without the need to connect to external networks.   
Support BYOD with Less Friction
The What 
Manage Android Work Profile devices with a new agentless method courtesy of Google's Android Management API (AMAPI), which speeds up the user enrollment process thanks to its native experience. 

The Why 
Organizations in all industries can better manage the Bring Your Own Device (BYOD) workforce; a growing space when you consider: 
87% of businesses

depend on employee ability to access mobile business apps from their personal device.

 
With AMAPI, devices can be managed without the need for the SOTI MobiControl Enterprise Mobility Management (EMM) agent to be installed. SOTI MobiControl uses AMAPI to create enrollment tokens and policies along with viewing device details and enacting device actions such as wiping, locking, disabling/enabling, resetting passcodes and checking-in.  
The benefits are two-fold: 
For IT:

Get full control over things like device enrollment, details and actions (such as wiping business data and apps) within the work container of the device.

 
For workers:

Carry out critical work tasks on a familiar device without having to perform installation actions while maintaining privacy with personal apps and data.

 
Secure All Web Browsing with SOTI Surf as the Default Web Browser
The What 
Prevent unwanted browsing by configuring SOTI Surf, a secure mobile browser managed through SOTI MobiControl, as a default browser on mobile devices such as tablets and smartphones. 
The Why 
When end users access web applications, the device OS provides a list of installed browsers (Chrome, Safari, Edge, etc.) and asks for a selection.  
Selecting a pre-installed browser may cause a compliance issue. If the device is in lockdown, end users can exit it by opening links within the browser itself. 
IT admins would face challenges in preventing workers from accessing distracting – and potentially harmful – apps. Meanwhile, end users were getting frustrated when presented with a long list of browser options to choose from with no clear direction. 
Now, any web link accessed on a device only opens in SOTI Surf, thus eliminating the need to provide confusing options to the end user. Additionally, the device stays locked to approved websites only and remains compliant. 
SOTI Snap

Two new features of SOTI Snap 3.2 make app development easier and more efficient: 
Centralized logging:

Troubleshoot your apps faster and easier than ever before. Collect, analyze and display SOTI Snap app execution logs from various sources.

 
Copying, pasting and duplicating:

If your app must have the same widgets or layouts appear throughout, speed up the development time by copying, pasting and duplicating what you need, when you need it, and wherever it's required.

 
SOTI Snap Success Story: Saving Drivers 30 Hours Per Day
Drivers for APM, a municipal waste management company in Germany, begin work by picking up route planning paperwork for various waste disposal orders. Details are entered by hand onto a paper form and any issues which occur during the day (such as finding prohibited items in the garbage bins) are written down and scanned. 
Usually, this manual data entry occurs at the end of the day and takes up to 15 minutes to complete. The problem is that because of time pressures and the process itself, key details may be missed or incorrectly documented. 
To combat this, APM needed a solution to digitize their paper-based workflows. They selected SOTI Snap to help with automation, productivity and cost control. 
In addition to saving 30 working hours per day, SOTI Snap helped APM save thousands of dollars. How? Read the case study to find out.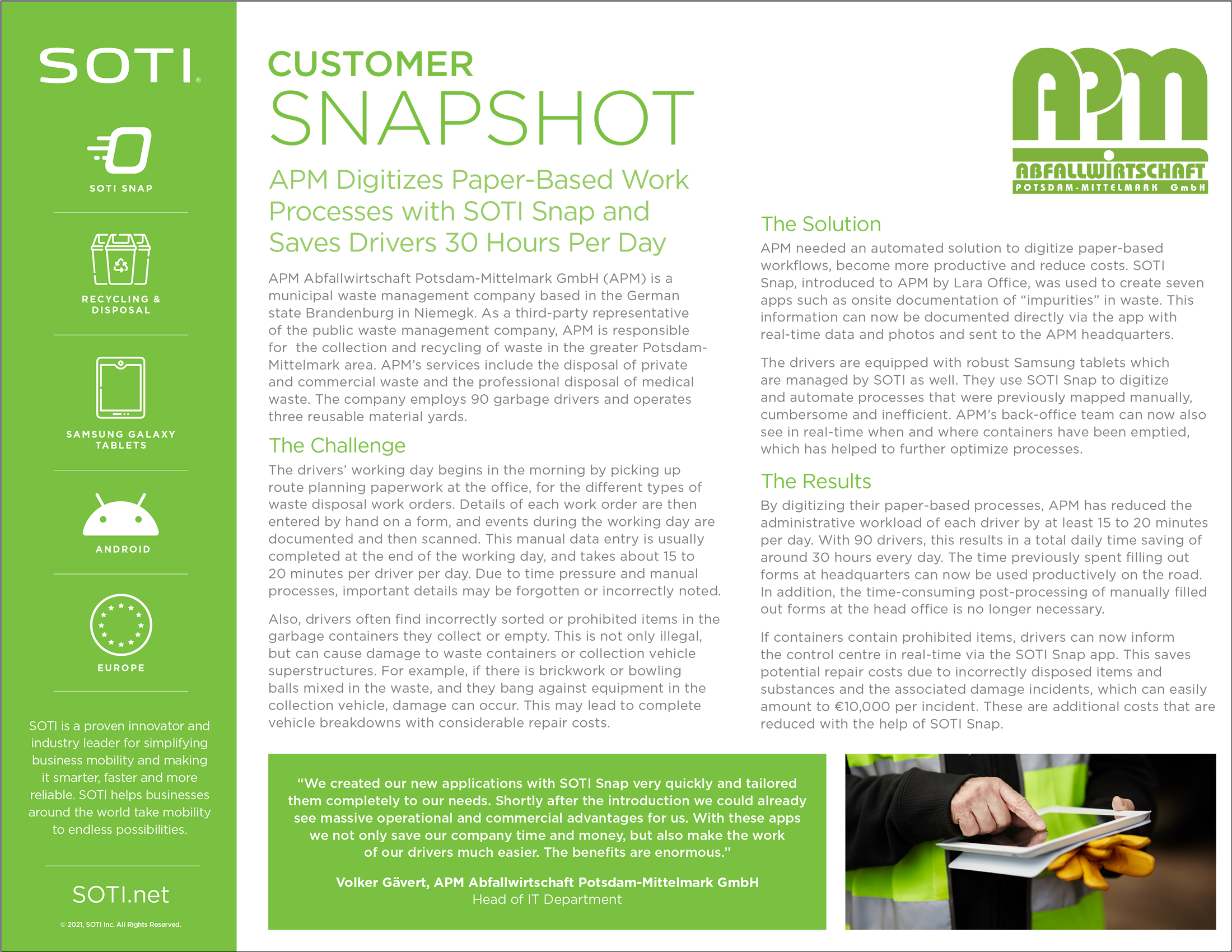 SOTI Identity
The following additions to SOTI Identity 2.2 better enhance the security and control you have over the SOTI ONE Platform: 
Support for outbound Cloud Link Agent (CLA):

Customers who host services such as Active Directory Certificate Services within an organizational firewall do not want to expose them to external applications. With outbound CLA support, communication requests between SOTI Identity and the CLA are initiated from the CLA, thus eliminating the need for inbound requests which are not always considered secure.

 
User accounts with optional email:

As a result of COVID-19, an

estimated 70% of employers will hire freelance or contract workers

. Some of those workers may not be given a corporate email ID, but they will still need access to applications built by SOTI. SOTI Identity now allows for administrators to create user accounts based on usernames without the need for a corporately issued email ID.  

 
SOTI XSight
Released in November 2021, SOTI XSight is the diagnostic intelligence solution that minimizes device and app downtime and maximizes return on investment (ROI). 
There are four pillars to SOTI XSight: 
Operational intelligence1:

Pull metrics behind the performance of your devices to pinpoint the root cause behind critical issues or improve the ROI of devices and apps.

 
Advanced diagnostics:

Access log files, run scripts and download files to better understand what your devices are doing in the field.

 
Automated monitoring:

Create custom metrics to monitor devices, be notified of issues as they happen and resolve them quickly.

 
Incident management:

Remotely troubleshoot devices, document issues and take snapshots of the device of the device for easy first-call resolution. 

 
SOTI XSight works at scale. You can monitor thousands of devices at once or you can drill down to see what's going on with a specific, single device. In just a few clicks, you'll see which devices have poor battery life, what apps are taking up too much memory, how much signal strength each device is getting and other key metrics to ensure devices and people stay productive. 
And with just a few more clicks, you can remote control a device to better diagnose, troubleshoot and resolve issues causing costly downtime. Pull device logs to get a detailed view of the state of the device. Whiteboard and annotate on the remote device screen for better two-way communication with the end user. Even record audio and video of the support call for an accurate record of events. 
SOTI XSight is the best of both worlds: It gives you the insight to truly know what's going on with your devices and the tools to remotely fix them, anytime and anywhere. 
Want to see SOTI XSight in action? Check out this video: 
Take Advantage of the SOTI ONE Platform
The best way to discover how the SOTI ONE Platform benefits your business is to experience it. Here's how you can do just that: 
SOTI XSight analytics available only for Android devices.