Here inside SOTI, we've been busy unpacking a host of new updates to the SOTI ONE Platform.
To kick off the new year, we have four major releases for key SOTI ONE Platform products: SOTI MobiControl 15.3, SOTI Snap 3.0, SOTI Assist 3.0 and SOTI Identity 2.0.
We've also enhanced our SOTI Premium and Enterprise Service offerings to help you unlock new features, capabilities and insights from your instance of the SOTI ONE Platform.
Read on to discover what's new with the SOTI ONE Platform for February 2021.
SOTI MobiControl 15.3
The latest version of our Enterprise Mobility Management (EMM) solution is packed with system improvements, platform enhancements and other updates to help you maximize the full potential of your SOTI MobiControl investment.
SOTI MobiControl System Health Dashboard
The SOTI MobiControl System Health Dashboard1 gives you a comprehensive overview of the operational performance of SOTI MobiControl in a variety of metrics:
Deployment server and management server connection status
Current usage and remaining SQL server storage capacity
Resource consumption actions (e.g. active threads, queue lengths, file synchronization activities, package delivery, device check-ins)
With real-time and 48-hour historical performance data that's accessible in easy to view and interactive charts, SOTI MobiControl administrators can make data-driven decisions to fine tune their system for higher throughput.
The SOTI MobiControl System Health Dashboard ensures your investment works smarter, not harder, and that your remote workers have the tools and information they need to stay productive, no matter what industry you're in.
Want to Know More About the SOTI MobiControl System Health Dashboard?
Watch this short (less than 3 minutes) video for a deeper look at how it enhances SOTI MobiControl's operations.
Additional New Features of SOTI MobiControl 15.3
Zebra LifeGuard FOTA: Customers can manage enrollment and deployment of Firmware Over-the-Air (FOTA) updates of Android OS and LifeGuard security patches to Zebra mobile devices from a single screen.2 This minimizes manual intervention, simplifies management and troubleshooting activities, and improves efficiency by giving users access to status tracking and error reporting information.

Custom Branding of Your SOTI Surf Browser: Upload your company logo and utilize your corporate colours on your SOTI Surf browser upon launch. This helps you build a stronger connection with end users when they access your website in kiosk modes, such as an interactive restaurant menu or digital wayfinding map.

Support for Android 11 COPE: Approximately 70% of global organizations use Corporately Owned Personally Enabled (COPE) devices as part of their mobile strategy. SOTI MobiControl 15.3 allows organizations to enroll Android 11 COPE devices and maintain separate work and personal profiles. Organizations get peace of mind knowing they can secure sensitive company information and apps while remote workers get the convenience of having their personal data on hand without the company monitoring their activities. And both get the ease of only having to manage or carry one device instead of two.
SOTI Snap 3.03
Since the onset of the COVID-19 pandemic, mobile app development has grown 366%.
The newest features of SOTI Snap 3.04 make rapid app development for the enterprise better by providing app builders with additional options for customizability. At the same time, it's now easier than ever to collect and share data generated by the apps you build.
SOTI Snap Link
SOTI Snap 3.0 features SOTI Snap Link, an out-of-the-box utility which allows you to export data collected through a SOTI Snap app to internal destinations.
Why is this important? In most cases, these destinations are not accessible to the SOTI Snap server because they do not have a public API. They are usually hosted inside a secure company network and only accessible via that same network.
This makes data syncing a challenge.
SOTI Snap Link addresses this issue by establishing a secure outbound connection to the SOTI Snap server which can then be utilized by different SOTI Snap apps to export data.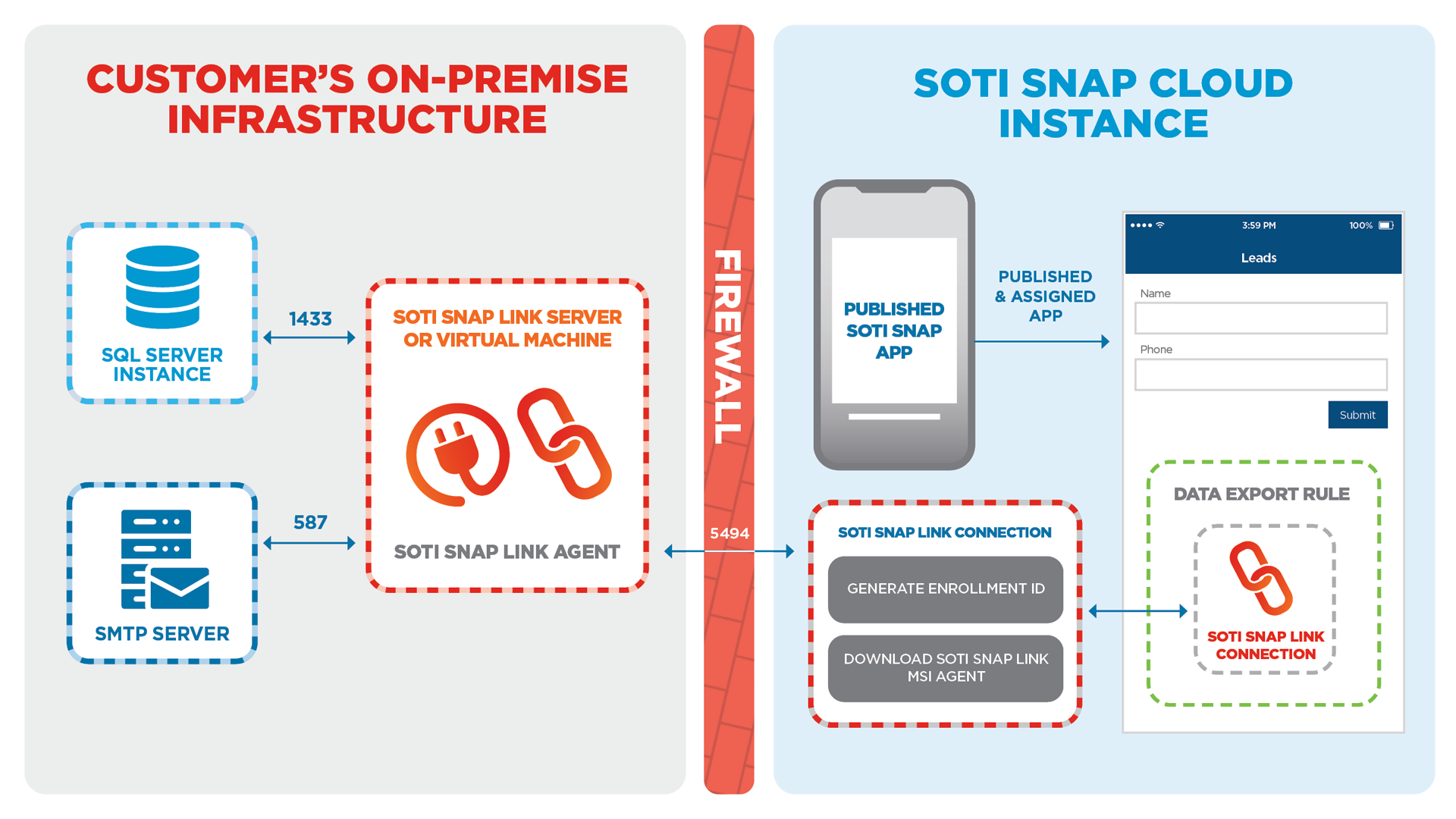 SOTI Snap Link supports exporting of app data to Microsoft SQL Database and SMTP Email Client.
Additional New Features of SOTI Snap 3.0
Publishing Apps in Test and Production Environments: SOTI Snap app developers can now create multiple environments in which to test and publish apps independent of each other. This allows you to fully test app versions in a safe setting before deploying it to production. This also ensures specific device groups only get the apps which are applicable to them. Additionally, segregated reports are generated for each app version published in different environments.

Widget Enhancements: The textbox widget can now be used as a barcode scanner and automatically map the value it scans to any field within your app. Radio buttons and checkboxes can now be stacked horizontally in columns to minimize scrolling and save space. Advanced geolocation widgets will populate information based on parameters you select (e.g. city, country, address, even latitude and longitude).
SOTI Assist 3.05
Remote work is here to stay as at least 16% of employees will remain at-home workers once the COVID-19 pandemic has ended. That means minimizing device downtime is essential. And that's where you can fully take advantage of the new features of SOTI Assist 3.0.6
Support for Groups
Organizations can better control how SOTI Assist is deployed across the enterprise. Large businesses with multiple teams – or even managed service providers (MSPs) with multiple customers – can segregate dashboards and administrators to help manage tickets and avoid intermixing confidential data. For example:
Segregate Based on Departments: Create separate SOTI Assist dashboards for your IT, sales, HR, transportation and logistics (T&L), and training teams

Segregate Based on Location: Use different SOTI Assist dashboards for devices in the Americas, Europe, Middle East, Asia and Australia.

Segregate Based on Company: MSPs can deploy individual SOTI Assist dashboards for each company or client they manage.
SOTI Assist 3.0 allows for greater differentiation between teams. Whereas before, all tickets were displayed on a single dashboard, users can now look at only specific information without extra filtering. This helps with reporting on – and resolving – device issues.
Additional New Features of SOTI Assist 3.0
Enable Diagnostic Features in Web Remote Control: SOTI Assist allows companies to leverage its industry-leading diagnostic capabilities for mobile devices while continuing to use the information technology service management (ITSM) system they currently have in place. Support teams can access the task manager, take device snapshots, download diagnostic files, provide remote annotations and take screen recordings using SOTI Assist's web RC feature, without having to create a ticket.

Select Diagnostic Files for Download: While analyzing an issue, you can select which diagnostic files you want to view, download, and save into the ticket. Instead of downloading hundreds of files, accelerate the troubleshooting of mobile device issues by only accessing relevant files. This unparalleled access to rich device information saves time and reduces the effort required to locate and download data, and resolve mobile device issues.

Advanced Service Level Agreement (SLA) Settings: Define SLAs based on working hours by day and time. You can also include or exclude holidays and even apply different time zones. Then, send out email notifications to ticket assignees and reminders when tickets are overdue according to the SLAs you've established. SLAs can also be paused and restarted as required. Better SLA management leads to more accurate tracking and more efficient prioritization and allocation of customer issues.
SOTI Identity 2.0
SOTI Identity is your secure access to the SOTI ONE Platform. The features of SOTI Identity 2.0 are designed to improve user security and allow for greater auditing of activities.
SOTI Identity Multi-Factor Authentication7
To improve user security, SOTI Identity administrators can configure Multi-Factor Authentication (MFA) for its users. SOTI Identity offers MFA via one-time password (OTP) by email or through MFA providers Google Authenticator and Duo Security.
Additional New Features of SOTI Identity 2.0
Event Logging: Capture all user activities with the SOTI ONE Platform such as successful or unsuccessful login attempts and actions or changes on applications, users and directories in SOTI Identity. Monitoring activities and downloading event logs allows for efficient troubleshooting and auditing when issues occur.
SOTI Premium Plus and Enterprise Plus Service8
SOTI Premium Plus and Enterprise Plus Service are additional offerings from SOTI Premium and Enterprise Service. They give you access to enhanced software and support services designed to keep your mobile devices and data – and the people who rely on them – up and running:
Access to Device Simulation and Testing Services:9 Use SOTI's device simulator software to simulate loads and app distribution to test new versions of SOTI MobiControl for peace of mind prior to migration and upgrade.

SOTI MobiControl XTreme Hub Technology: Built into SOTI MobiControl, SOTI XTreme Hub Technology is designed for low bandwidth connections and optimizes the time and load needed to distribute large amounts of app and data by up to 10X.

SOTI MobiControl System Health Dashboard: Real-time and 48-hour look back into stats such as: queue lengths, processing times, CPU, DB performance and server operational health.

SOTI Identity Multi-Factor Authentication (MFA): To improve user security, SOTI Identity administrators can configure MFA for its users. SOTI Identity offers MFA via one-time password (OTP) by email or through MFA providers Google Authenticator and Duo Security.
Take Your Business Mobility to New Heights
With the new features available within SOTI MobiControl, SOTI Snap, SOTI Assist, and SOTI Identity – along with SOTI Premium Plus and Enterprise Plus Service – your mobile strategy can be more effective, efficient and profitable than ever before.
We've started 2021 with a bang when it comes to the SOTI ONE Platform, and there are two ways for you to best understand how these enhancements will benefit your organization:
Start a Free 30-Day Trial: Bring the SOTI ONE Platform into your organization for 30-days and no obligation. See just how easy it makes device management, app building, and remote support.

Book a Free Demo: Have one of our experts walk you through a comprehensive demonstration. See how the products of the SOTI ONE Platform integrate with each other and how your business benefits from it all.
You can also contact us anytime with your questions. Need answers right away? Click the chatbot at the bottom right of the page to instantly connect with a SOTI product expert.
Once again, we want to wish you all the best for the upcoming year. Thanks for making SOTI a part of it.
Available only to SOTI Premium Plus or Enterprise Plus Service customers
Device should be enrolled as Android Enterprise. Device should meet the following OS requirements: Android N with LG Update 19 and above (TC51, TC56, TC75x); Android O and above (TC52, TC57, TC72, TC77, TC83). Zebra Data Services (ZDS) is enabled on the device.
General availability February 2021
Available February 2021
General availability February 16, 2021
Available February 2021
MFA available only to SOTI Premium Plus and Enterprise Plus Service customers
Available February 2021
Additional Service Fee