We innovate the SOTI ONE Platform through collaboration and always push the status quo. Our vision for it mirrors the one you have for your business-critical mobile operations: To always evolve and have more tools to reduce downtime, and maximize worker productivity and device security.  
Included within the summer 2021 release are updates to:
Prioritize What's Essential with SOTI MobiControl

More Control: Android App Update Modes
Some app updates must deploy immediately. Maybe a bug has been discovered which can compromise sensitive healthcare data. Perhaps a new field has been added to help transportation and logistics (T&L) delivery drivers capture more customer details. Meanwhile, other app updates must wait.
A key challenge for IT administrators is the timing of when apps will get to devices. SOTI MobiControl 15.4 solves that challenge with Android™ app update modes which configure the following update modes per managed app:
Default mode:

Apps update when devices are connected to Wi-Fi, charged and not in use
High priority mode:

Apps are updated ASAP after being published by the developer
Postpone mode:

Updates are postponed for a maximum of 90 days
For apps which require testing before deployment, postpone mode guarantees updates aren't pushed until the app is proven to work. And critical updates can be prioritized without focusing on less important ones.


More Visibility: Linux Script Execution Status and Output Data
Take the guesswork out of Linux management. With script execution and output data, capture the execution stats and output from any Linux script sent to the device in anyway, all via the device console:
Send script:

Simple execution of commands to managed devices
Task scheduler:

Sending and executing scripts according to a specified schedule
Out-of-contact:

Specifying an out-of-contact period when a device has not reconnected with SOTI MobiControl and a script to run once time has elapsed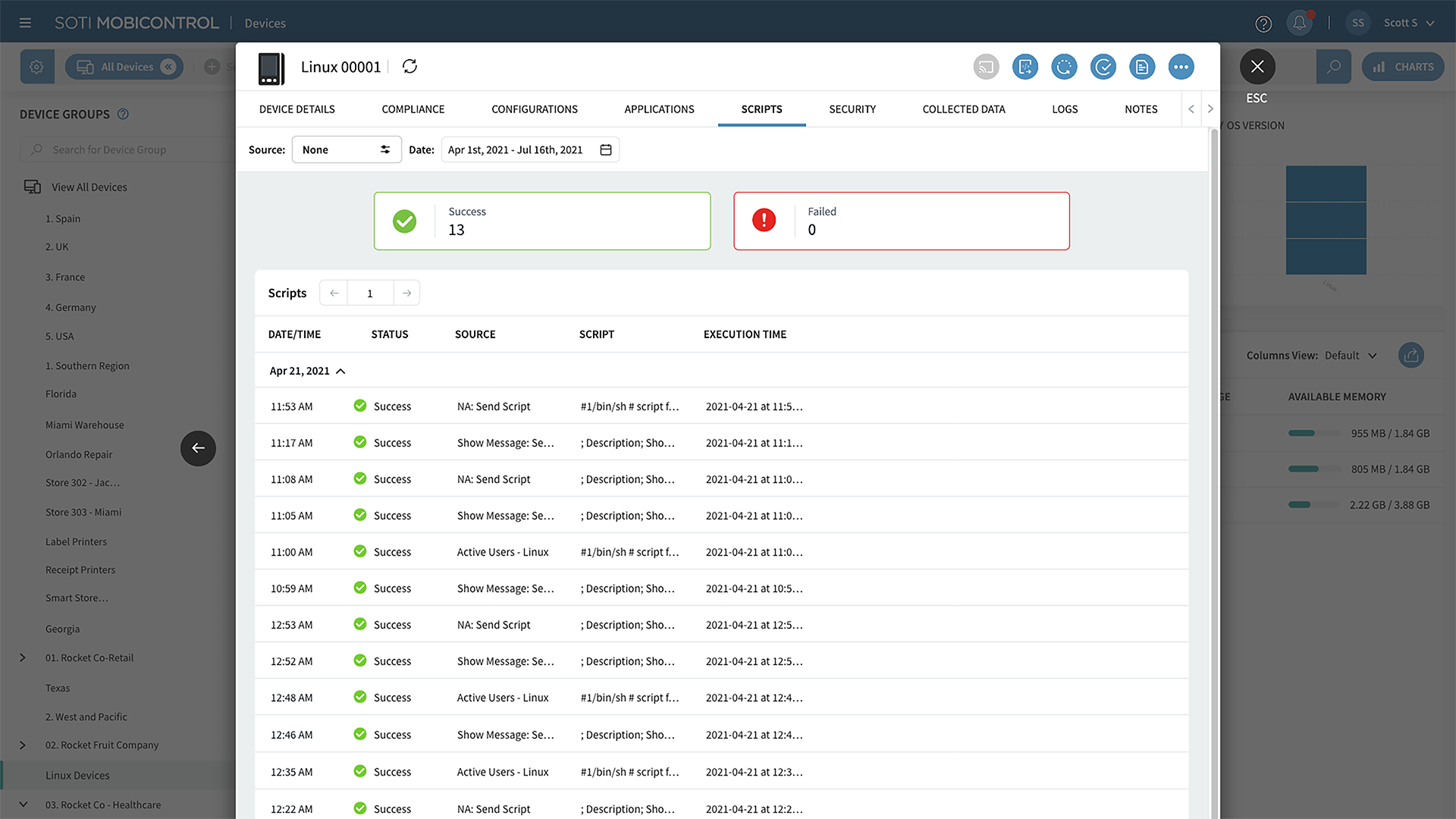 Before, users had to remote into devices and pull data to understand why a script failed. This took time and wasn't always intuitive.
Now, they access this information in an easy-to-find script tab within the SOTI MobiControl dashboard. Users now can troubleshoot scripts faster and save time gathering script outputs. With SOTI MobiControl, you can always execute sophisticated scripts on Linux devices in one of the following languages: BASH Shell, JavaScript, Perl and Python.


More Uptime: High Availability and Load Balancing for the Cloud Link Agent
The SOTI MobiControl Cloud Link Agent (CLA) is an on-premise component which securely extends enterprise services to SOTI MobiControl Cloud. The CLA accepts SOTI MobiControl Cloud requests and forwards them to the respective enterprise service and then relays the response back to SOTI MobiControl Cloud in real-time.
High availability and load balancing for CLA ensures requests and responses are delivered with no interruptions to your business-critical mobile operations:
High availability:

If one machine is down or unavailable, another stays up. Essential mobile operations continue to operate with no downtime
Load balancing:

To ensure business continuity and maintain operational efficiency, SOTI MobiControl customers can set up two or more CLAs. These additional CLAs ensure better performance by load balancing the requests

Enhanced Data and Management with SOTI Snap

More Convenience: Filtering and Saving Custom Reports
Building apps with SOTI Snap is fast. So is streamlining your reporting tasks and quickly accessing app data. Filter report queries and customize the setup and display of dashboards. Once the dashboard is built, SOTI Snap 3.1 saves it and populates it whenever you log in.
Move and position dashboard columns, save those preferences and take advantage of:
Intuitive report filters to find and display relevant information fast
Saving time because frequently used reports don't have to be generated with each SOTI Snap session


More Organization: User Management, Roles and Permissions
Streamlined user and role management makes it faster and easier to add new users and assign their role from SOTI Identity. Or assign roles to users and user groups from the SOTI Snap console. Additionally, new out-of-the-box roles have been created:
Development Manager:

Someone who sees all apps being developed in SOTI Snap.
App Developer:

Person responsible for creating and editing their own apps.
Report Manager:

Individual who views app reports from a granular level without having access to modify the app.


More Accuracy: Auto-Syncing Data Sources
SOTI Snap 3.1 auto-syncs data sources, ensuring access to updated third-party data (such as a Google Sheet listing retail store locations). Set up schedules (weekly, daily, hourly) to automatically sync data sources used in SOTI Snap apps. This also enables your business to build and deploy more sophisticated SOTI Snap apps all with a single source of truth for the data.

Faster Analysis and Faster Resolution Times with SOTI Assist

More Support: Remote Control File Manager Improvements
SOTI Assist File Manager improvements make fixing app/content issues on remote devices a breeze. Fix app issues in the field by uploading files to replace missing or corrupted app libraries. Resolve Kiosk issues quickly by replacing content, JavaScript and HTML templates on the fly.
And they've been extended with the following Web Remote Control (WebRC) benefits:
Upload multiple files and folders at once from any computer to a remote device in the field and download files and folders from a device onto any machine
Rename or delete files and folders on the device
Large files? No problem. View the progress of file and folder uploads and downloads, along with the history of successful and unsuccessful uploads and downloads
Receive notifications when files and folders have successfully or unsuccessfully been uploaded and downloaded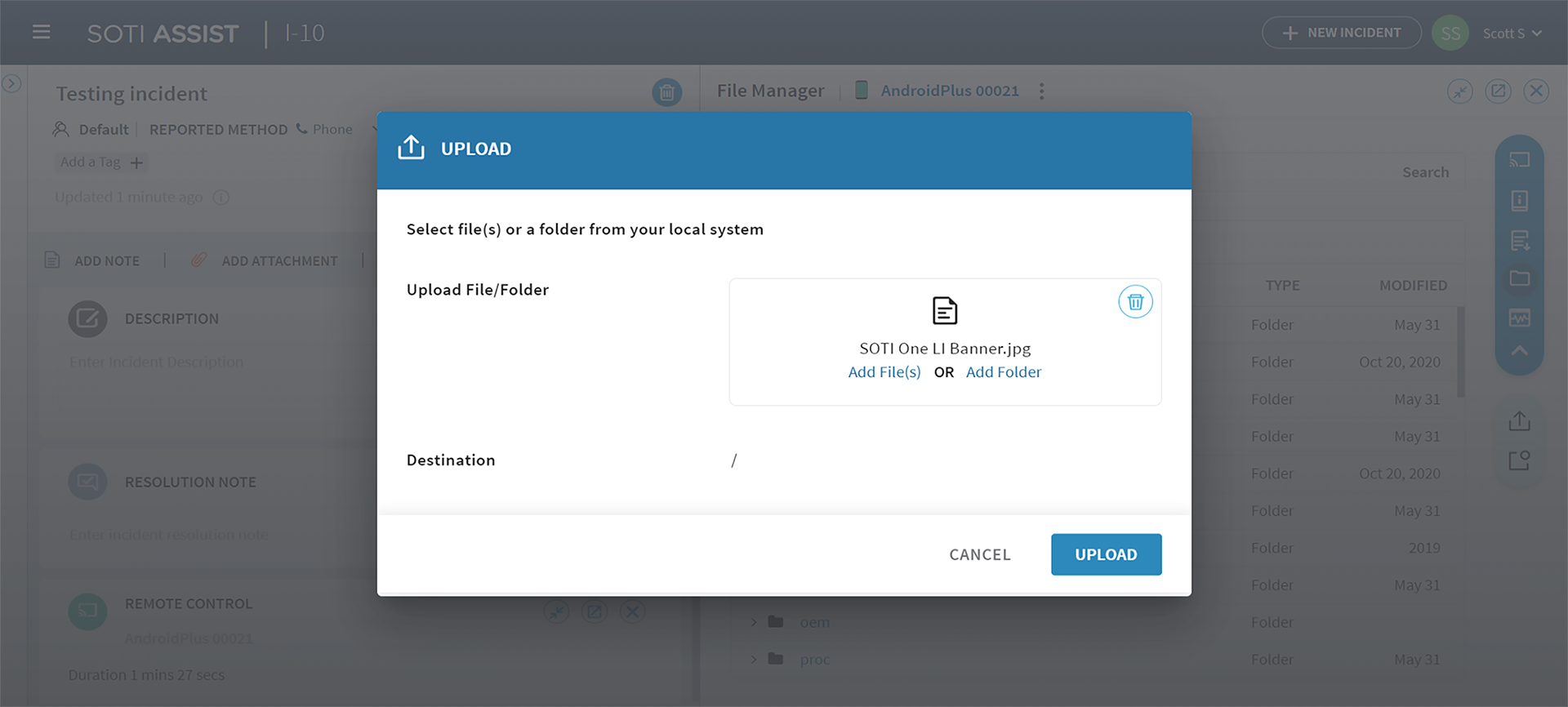 Returning devices for provisioning with newer configuration files is a thing of the past. Instead, quickly determine and resolve outdated device configurations with newer files remotely.


More Security: Leveraging Device Actions from SOTI MobiControl
Selectively grant SOTI MobiControl Admin and Kiosk permissions to help desk agents for troubleshooting devices without granting more administrative level permissions such as Send Script.
Benefits include:
Better security and control of troubleshooting features that are granted to help desk personnel
Organizations can easily scale out support for their business-critical mobile devices


Better Manage Your Printers with SOTI Connect

More Information: Custom Graphs
Your business is different, which means your data needs are different. You need information tailored to your printers and their performance and you need it at-a-glance.
Quick access to the status of your printers minimizes downtime and maximizes productivity. Add dashboard graphs for data-driven fields from all devices in a simple, easy-to-use interface and make smart, sound decisions to improve your business-critical printer operations.

More Categorization: Auto Grouping of Devices
Printers often move physical locations; intentionally or because they've been lost or stolen. Not knowing where they are after they've moved hampers your essential printing requirements.
SOTI Connect detects these changes based on IP address or fully qualified domain name (FQDN) and will automatically regroup the printer to the appropriate location and adjust the configuration and security settings accordingly.
This lowers effort when enrolling, deploying or scaling-up your printers. It also ensures total visibility into your printer network (a particular benefit to large scale organizations, 90% of which do not know how many printers they actually have).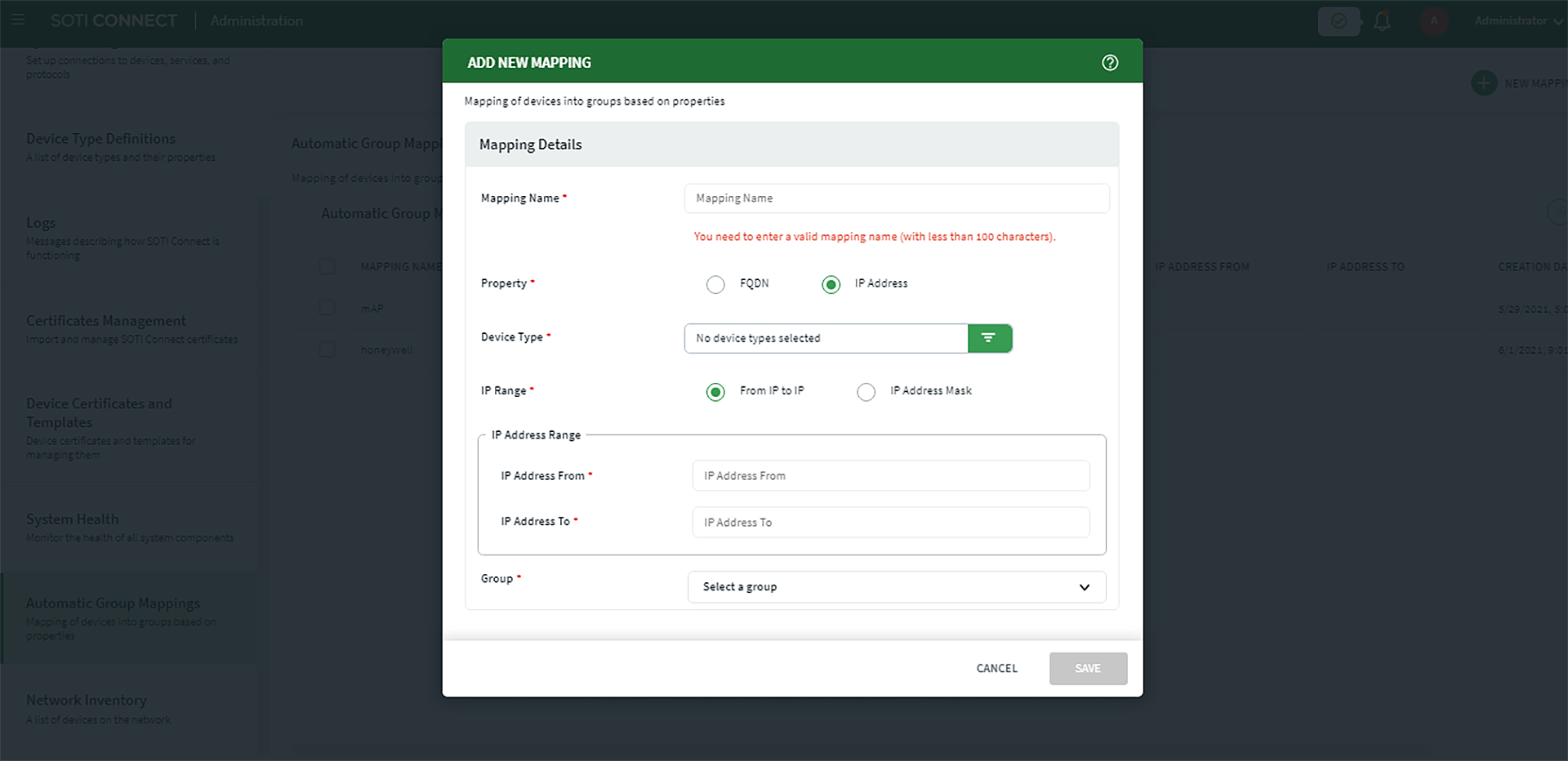 Scale Up Your SOTI ONE Platform Users and Management with SOTI Identity

More Efficiency: Bulk User Creation
Add thousands of users to the SOTI ONE Platform by uploading an Excel or CSV file filled with the required data.
As the file uploads, a notification panel monitors its status. If it fails, download an error report, rectify the mistake and submit the file again. What took hours can now be done in minutes.


More Flexibility: Role Management in SOTI Snap
Assign SOTI Snap users and roles access from SOTI Identity without having to switch back-and-forth between products.
Benefits include:
Improved operational efficiency:

Quickly add or change roles as needed and cut down on potential errors associated with incorrect user permissions directly from SOTI Identity and the SOTI Snap consoles
Enhanced protection:

SOTI Snap users are only given access to the tools they need to do their jobs, while restricting access reduces the potential for data breaches or leaks


When You Have More and Know More, You Can Do More
These updates help you better manage your business-critical mobile operations and give you a competitive advantage. They deliver insights and capabilities designed to take your business further, faster and in the most efficient way possible.
See them in action and discover how they can benefit your business: