Earlier, we shared with you the SOTI MobiControl v14.3 Solution Validation Certificate for SOTI from Zebra Technologies. For years, SOTI and Zebra have built a powerful relationship mutually based on innovative product solutions.
We are pleased and proud to announce that SOTI MobiControl v15.1 is successfully validated with Zebra mobile computers and printers. View the newest validation certificate below.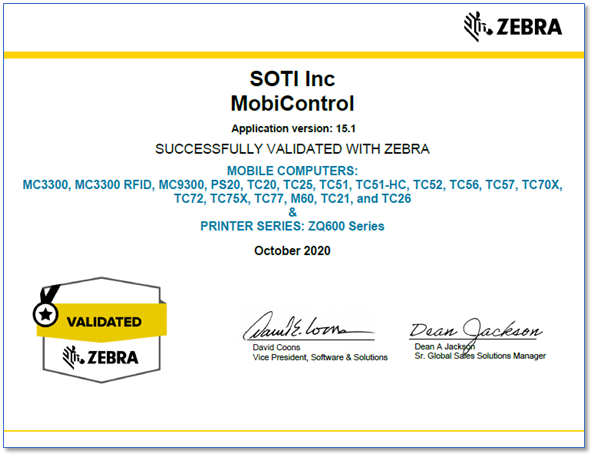 What is Zebra Solution Validation?
Who better to explain what Zebra Solution Validation is than Zebra themselves? According to Zebra:
Solution validation ensures that any new Zebra solution is compatible and validated with the existing systems and custom workflows. With end-to-end integration and functional testing from the market leader, solution validation offers the reassurance that a project is ready to deliver.1
SOTI MobiControl, part of the SOTI ONE Platform, was tested on various Zebra devices. For example:
How You Benefit
SOTI and Zebra are mutually validated: SOTI certifies Zebra devices which utilize Android Management and Zebra certifies SOTI MobiControl.
As a result, customers benefit from Zebra Solution Validation:
Seamless Experience: Customers using SOTI MobiControl for Enterprise Mobility Management (EMM) and Zebra devices get peace of mind knowing both elements seamlessly work together. SOTI MobiControl makes it easy to setup and deploy Zebra devices so you can begin scanning, printing and enabling better productivity in your staff in minutes.
Efficient Deployment: Whether your business needs 10 or 100,000 Zebra devices, two things are certain – firstly, deployment costs must be controlled and secondly, deployment must be fast and seamless. Zebra devices managed by SOTI MobiControl protects both your bottom line and the essential workflows your employees and customers count on.
Better Performance: Companies looking for a better solution should give this a try. From an intuitive, easy-to-use console and information rich console, SOTI MobiControl gives you the access, control and insights vital to optimizing the performance of your Zebra fleet and maximizing your return on investment (ROI). Joint certification ensures both the device and the management solution delivers what you need.
Trusted Solution: With a standardized solution that is certified with each other, partners can be confident in proposing a Zebra/SOTI solution designed to meet their customers' needs. Partners can also contact SOTI or Zebra anytime, and receive the same level of dedicated customer care and top-notch technical assistance.
SOTI MobiControl + Zebra VisibilityIQ™ Foresight = Smarter Business Decisions
As a trusted Zebra Premier Independent Software Vendor (ISV) partner, SOTI MobiControl is the only device management solution integrated with the Zebra VisibilityIQ™ Foresight main offering: Zebra's intelligent data-driven analytics solution designed to streamline business operations.2
That means you can:
Access device performance data and create a customized analytics dashboard tailored to your business needs.
Use data-driven business intelligence to maximize device performance, worker output and task efficiency.
Proactively identify and resolve small issues before they become big problems.
And in the era of remote work, having total visibility into your Zebra assets and the information required to maximize uptime and overall ROI is critical.
All About Android…and Beyond
When Zebra became an early adopter of Android Enterprise, SOTI MobiControl was right there to help by facilitating no-touch, remote migration to ensure key configuration settings, such as connectivity profiles, custom data rules and alert rules, were not lost.
But whatever your product and operating system (OS) mix, we make it work for you. SOTI and Zebra will continue to evolve to ensure your technology and business needs are always being met.
In case you are wondering, here is the list of Zebra Solution Validated devices:
C3300
MC3300 RFID
M60
PS20
TC20
TC25
TC51
TC51-HC
TC52
TC56
TC57
TC70X
TC72
TC75X
TC77
TC21
TC26
FX7500
ZQ600 Series
See What SOTI and Zebra Can Do for You
The best way to experience Zebra Solution Validation of SOTI MobiControl is to see first-hand how it benefits your business. Choose how: