The final day of SOTI SYNC did not disappoint. Our customers and partners continued to dive deeper into the conference theme of "Be Different" and explored how business-critical mobility could differentiate their businesses by utilizing the benefits of the SOTI ONE platform.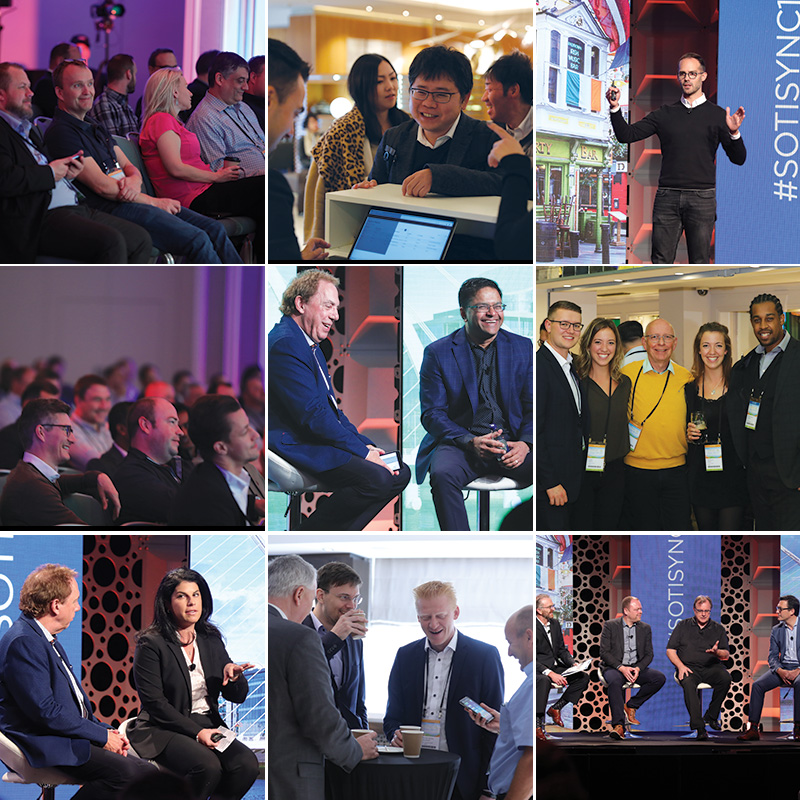 Partner Awards
The new partner program unveiled at SOTI SYNC and recognition of our top partners demonstrates SOTI's commitment to our channel and refocused approach on this key area of our business. Congratulations go out to all winners.
SOTI's partner award winners for 2018 are:
Global Partner of the Year – 

Denali Advanced Integration (USA)

Strategic Alliances Partner of the Year: Reseller – 

Zebra Technologies (GLOBAL)

Strategic Alliances Partner of the Year: Platform – 

Samsung (GLOBAL)

Reseller of the Year Europe – 

SOLUTYS (France)

Reseller of the Year North America – 

Inovity (USA)

Reseller of the Year APAC – 

Satcom Infotech (India)

Reseller of the Year Emerging Markets – 

Mobit Bilişim (Turkey)

Cloud Partner of the Year –

 Soliton Systems K.K. (Japan)

Market Maker Award –

 Data Select (UK)

Marketing in Motion Award – 

Optidev (Sweden)

Rising Star Reseller of the Year – 

Ultra Electronics (UK)
Fireside Chat and Interactive Panels
As has become tradition at SOTI SYNC, Carl Rodrigues, President and CEO of SOTI, took the stage with MC and Chief Storyteller of "The Mark of a Leader," Doug Keeley, for their annual fireside chat. Throughout the discussion, attendees got a glimpse into the personal side of Carl and his insights into the mobility landscape of today and tomorrow.
Next up, a panel discussion on business-critical mobility kicked off, sharing best practices from industry analyst VDC and SOTI's customers, St. Elizabeth Healthcare and Icelandair. Inside learnings were shared with attendees, including the benefits of investing in mobile technology and how innovative technology differentiates their business.
Honeywell spoke about macro trends facing retailers today, and how to drive technology adoption to improve customer outcomes to drive profitability. Honeywell's partnership with SOTI showcased an interactive customer journey to secure and modernize mobility to drive profitability.
Huawei, driven by a core commitment to innovation at the heart of the brand's DNA, gave a demonstration to SYNC attendees focused on insights to help business grow in today's mobile-first world.
Samsung took the SYNC stage to speak to how they include and build upon Android Enterprise, and how SOTI customers benefit from the coordinated approach to open yet secure mobility. The discussion focused on how Android Enterprise is included within Samsung Knox, how SOTI brings it all together into a single, cohesive solution and their path forward with AI, IoT, mixed reality and 5G.
Breakouts and Networking
Breakout sessions enabled further learning for attendees into topics such as enterprise support, building mobile apps quickly and easily, how to get insight with mobile data and partner specific sessions on the relaunched partner program and how to sell SOTI ONE. Throughout the day, multiple networking opportunities existed and the SOTI ecosystem tightened with existing relationships and new ones formed.
Unconventional Leadership
Lessons learned from Oprah, Nelson Mandela, Mother Teresa, and more were shared by the Kielburger brothers, Craig and Marc. They took attendees through a highly interactive keynote where they shared actionable leadership lessons that anyone can relate to and employ in their work, education or personal life. Over the course of this dynamic presentation, Craig and Marc shared powerful stories and lessons of leadership they have learned from their mentors and some of the world's greatest leaders. Craig and Marc shared stories from extraordinary leaders who have coached and mentored them in some of the most important leadership lessons one can receive – from taking big risks, to accountability, emotional intelligence and being a shameless idealist.
Join the Conversation
Follow SOTI's social media channels for post event updates on Twitter @SOTI_Inc and on our SOTI company LinkedIn page.