Mobile Device Management for Any Device, Endpoint and Business Need
SOTI MobiControl's Mobile Device Management (MDM) software lets you efficiently manage multiple device types such as: mobile rugged devices, mobile computers, handhelds, smartphones, vehicle mount computers, wearables and laptops. Protect devices, data, and workers with security features such as Kiosk Mode, geofencing and lockdown.
MDM For Any Operating System
Whatever OS your mobile devices, laptops or tablets run on, SOTI MobiControl has you covered.
SOTI MobiControl Solves Your Toughest Mobility Challenges
It's your job to overcome the mobile risks your company faces:
Unplanned downtime that grinds things to a halt
Security risks which can lead to stolen or compromised data
Cumbersome device deployment enrollment and provisioning procedures
Mobile Device Management from SOTI MobiControl gives you full visibility into the status and performance of your device deployments.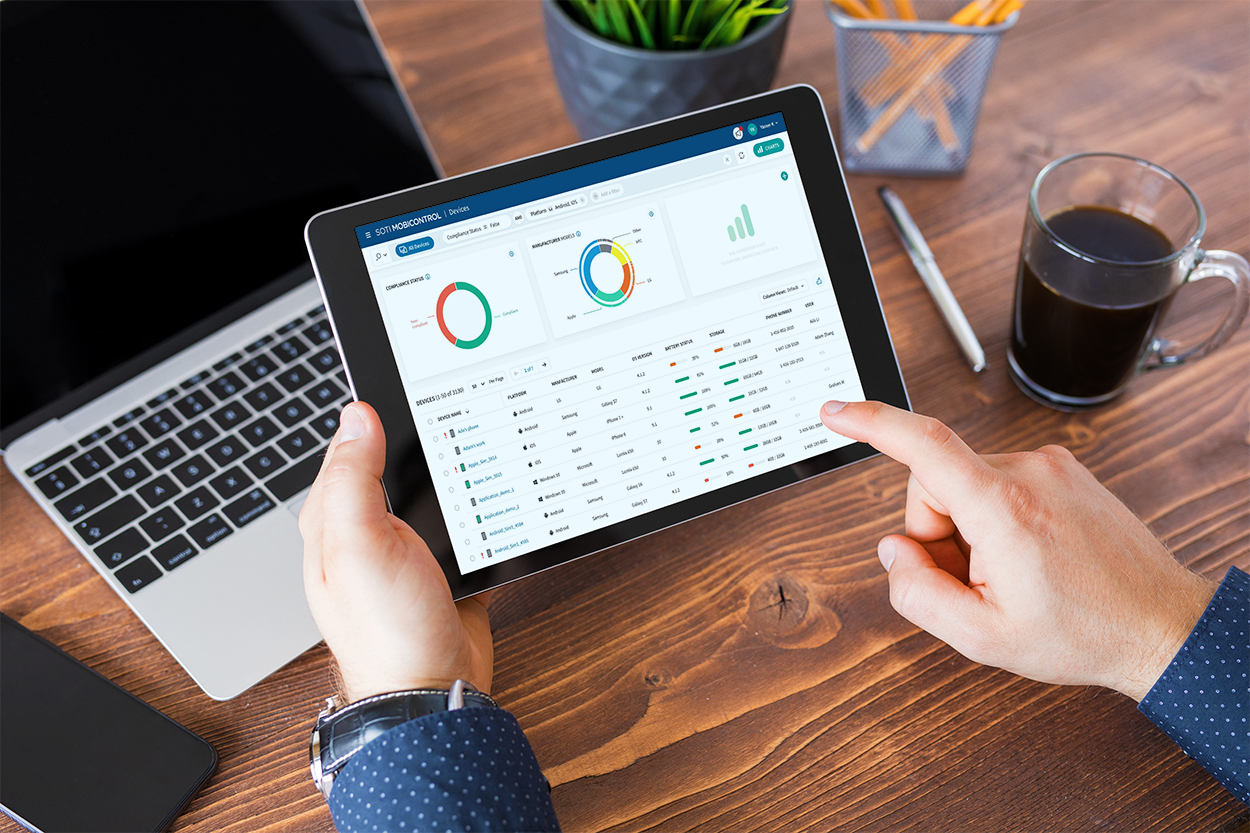 You'll be able to resolve small issues before they become big problems. You'll be able to proactively make decisions to boost device performance based on simple things like network access. You can quickly deploy the business-critical apps your remote workers are counting on to get the job done.
Other Features and Capabilities
SOTI XTreme Hub communicates directly with SOTI MobiControl from distributed locations to receive data and app transfers, in place of each individual Android device. This greatly reduces the number of times new data and apps are required to be sent to large numbers of Android devices by up to 60%.

Location Services

Enhanced location services allow you to view the current location of all online devices in a device group at once, while offline devices report their last known location until they reconnect to SOTI MobiControl.

User Permissions

Precise user permissions let you dictate which divisions in your organizations have permissions (read, read/write) to users, custom data and custom attributes.

Rapid Deployment and Provisioning

Provision devices remotely using profiles and packages based on user role or geographic location. Use SOTI Stage and third-party solutions (Apple DEP, Android zero-touch enrollment, Samsung KME, Windows Autopilot and Zebra StageNow) to simplify device deployment.

Application Management

Tight integration with Apple VPP and Google Play ensures the delivery of the right applications to the right employees and devices – quickly, securely and silently. IT staff use blacklists/whitelists to control what corporate apps are available.

Content Management

SOTI Hub and SOTI Surf secures corporate files and web content. Create, edit and upload MS Office files and images using the SOTI Hub app. IT staff set data leakage prevention (DLP) rules and use LDAP integration to control who sees what files and websites, and what they are allowed to do with them.
The device enrollment process with our old management solution was quite complicated, very manual and took about 4.5 minutes for a device to be configured. With SOTI MobiControl, we were able to reduce this time to about seven seconds.

— Julian Haberling, Product Specialist, Restaurant Partner Solutions at Delivery Hero

Using SOTI MobiControl means that we can get the updates done immediately, we don't have to wait, and we don't need people to come onsite. The scanner guns are connected to SOTI MobiControl and all our updates are done immediately; there is no time wasting, and no downtime with the scanner guns.

— Roy Roddy, Fulfilment Manager at RSPB
The SOTI ONE Platform
The SOTI ONE Platform is an integrated suite of solutions designed to reduce the cost, complexity and downtime related to business-critical mobility. Through integration with SOTI MobiControl, the SOTI ONE Platform allows you to: