SOTI XSight 4.3 includes new features that help you make informed decisions around your mobile app strategy and provides a richer troubleshooting experience for the user and the technician.


Live Support: Text, Voice and Video Chat
The What
What if employees in the field could communicate face-to-face with their support technician in the office? How about showing their support technician exactly what is going on in their environment. Nothing beats real time visuals, right? To better understand device issues in the field, help desk technicians need two-way communication with the device user. Additionally, the device user gets to see a familiar face to support them as they solve the device issue together. Live Support within SOTI XSight 4.3 creates a personal connection through text, voice and video chat to enhance the support experience and solve problems faster.
The Why 
Device downtime is frustrating, regardless of the size of the organization or the industry. From healthcare to retail, device downtime can heavily impact productivity and traditional methods of resolving device downtime are equally challenging. The device must be shipped back to IT, fixed and then shipped back to the device user or a help desk technician tries to walk the end user through the solution.
Text chat, in situations where voice or video chat is not feasible, provides easy-to-follow, step-by-step guidance.


Voice chat, allows for back-and forth interaction as support agents provide helpful guidance.


Video chat, allows issues in the field to be seen and provides a face-to-face personal connection. Device users experiencing issues can see the smiling support face of their help desk agent while they solve the device issue together.
Now, technicians can provide even more assistance in resolving issues by launching a text, voice or video chat directly from SOTI XSight, without the use for external systems like an additional phone or tablet. This added ability to create a personal connection while communicating with end users experiencing device issues will expedite troubleshooting by reaching out to device users in real time. 


Shift-Based App Usage
The What 
To realize greater operational efficiencies, organizations need visibility into how apps are being used, if they are being used at all or if they are the cause of downtime. Shift-Based App Usage within SOTI XSight 4.3 can easily help organizations understand app usage over the course of a defined shift.
The Why 
When organizations spend up to $60,000 (USD) to develop a simple app and $300,000 (USD) on a complex app, they should know if their investment is being utilized. But that isn't in the case: An incredible 97% of IT leaders don't have complete visibility into how employees use apps. Unused apps can be a significant sunk cost to a business, and they take up valuable space too when installed onto a device.
Here's an example: a retail organization spends $150,000 (USD) and 1,200 hours (that's over 1.5 months) on an app that store associates can use to collect data from customers who browse, but don't buy. With this information, the organization can better understand if product selection, pricing or something else is preventing customers from making a purchase.
Once the app is deployed on an associate's device, SOTI XSight's Shift-Based App Usage feature begins to collect data such as:
Usage during shift: See when the app is being used on an hour-by-hour basis. Are there certain times where app usage is heavier than others? Or is it not being used at all?
Number and duration of visits: How many associates are using the app, and for how long? Are they using the app for an inordinately short amount of time? If that's the case, you can investigate further into why that is.
App categorization: View time of day usage for a single app, or group similar apps together and view how they are used collectively.
Shift-Based App Usage helps organizations make smarter decisions about their operational efficiencies. It enables them to avoid downtime during a shift by providing visibility on app-related issues. It helps improve productivity by monitoring app usage across shifts – are shift workers using business apps as much as they should or are these apps causing downtime? And finally, it enables organizations to justify whether their app investments are doing anything for their bottom line.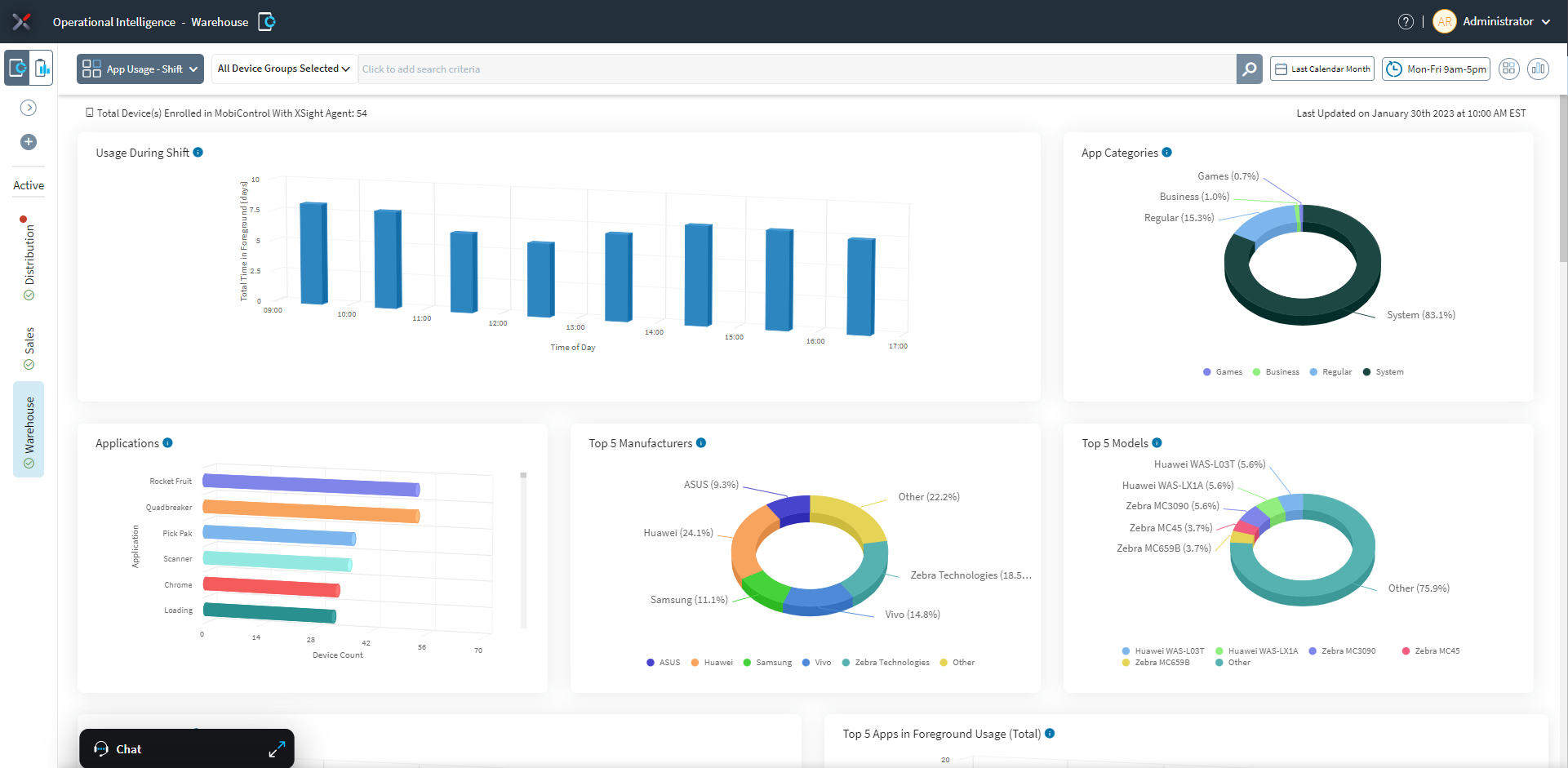 Do More with SOTI XSight
SOTI XSight – part of the SOTI ONE Platform – continues to enable the rapid resolution of mobile app and device issues while enabling you to leverage advanced diagnostics to improve performance and reduce operating costs.
With SOTI XSight's Winter Update, users enjoy:
Enhanced communication with Live Support: text, voice and video chat
Increased visibility into which apps are used and which are causing problems with Shift-Based App Usage
Want to see what SOTI XSight can do for you first-hand? Here's how: