The fall release of SOTI MobiControl 2024.0 is one of the biggest single product updates in SOTI history. Before we get into the new features, you may have noticed that we changed how we number our product releases. We did this to provide a more predictable and regular cadence of releases customers can follow easily.
This release is packed with many powerful features to help drive efficiency, reduce costs and boost security that we had to split this launch blog into two. You can read part two, which focuses on updates to Microsoft Windows Management.
There's a lot to unpack, so let's dive in.
Save Time with SSO for Shared Devices
The What
SOTI MobiControl now integrates Single Sign-On (SSO) capabilities with the following solutions:
Microsoft Entra ID
Shared Device Mode

Imprivata
Mobile Device Access (MDA)

SOTI Mobile SSO
When you consider that 68% of employees shift between 10 apps each hour, that's a lot of passwords to remember and a lot of time spent – and lost – logging in and out. In fact, it's estimated that employees lose 36 minutes per month on password entry alone. SSO for Microsoft Entra ID Shared Device Mode, Imprivata MDA and SOTI Mobile SSO gives users access to the apps and data they need with just one password.
The Why
Let's break this down by solution:
Save Money with Shared iPad for Business
The What
SOTI MobiControl now allows organizations to share iPads among its employees with Shared iPad for Business. As the iPad is passed from worker to worker, individualized authentication through a Managed Apple ID allows for personalized access to the specific apps and data each worker needs to perform their tasks.
The Why
Organizations can save up to 66% on device costs by sharing iPads among employees rather than purchasing iPads for each user. Let's do some quick math to calculate the savings for an organization with 1,000 employees which operates on three shifts of eight hours: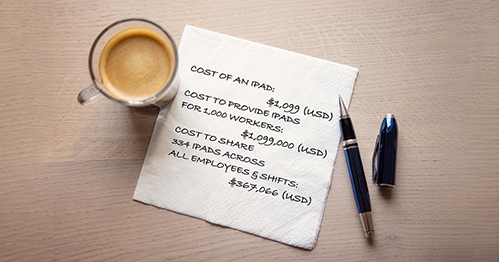 In the example above, sharing iPads across multiple shifts reduces capital expense (CAPEX) costs by almost $732,000 (USD). And while costs go down, with Shared iPad for Business, productivity isn't impacted in the slightest.
Here's an example: an iPad is shared across shifts between a retail store associate and their manager. During their shift, the retail store associate would log into the device using their Managed Apple ID and have access to apps and data relating to inventory levels and product offerings (e.g. does a particular shirt come in red and green, or is it available in blue only). At the end of their shift, the associate logs out and passes the iPad to the retail store manager.
The retail store manager then logs into the device with their Managed Apple ID and then, because they are in a more senior role, would have access to additional apps and data that the retail store associate would not have – such as planograms, store financial reports and employee evaluations.
The store manager has access to apps and information that the store associate shouldn't. And even though they are using the exact same device, the information isn't shared or made available between users. What is consistent, though, is that the store associate and the store manager are productive the moment they sign into the device using their own Managed Apple ID.
Shared iPad for Business supports worker productivity because no matter what iPad an employee signs in with via their Managed Apple ID, they will always get the apps and information they need. No need to download apps again to an individual iPad and no need to hunt for files or data. It's just there, ready to go.
Sure, an organization could just share iPads across multiple users, but without proper management, that runs the risk of workers viewing or handling information they shouldn't. Shared iPad for Business protects against unauthorized access to devices and data.
Three Ways to Discover SOTI MobiControl