SOTI MobiControl 15.6 is here and it's packed with new features designed to give you greater visibility over the location of your devices, faster enrollment capabilities, better protection against data leakage and additional information to help you get the most out of your Enterprise Mobility Management (EMM) solution.
Track Your Devices with Indoor Location
The What 
SOTI MobiControl features Indoor Location which works in real-time to locate devices indoors.1 Organizations can track managed and unmanaged devices inside the four walls of their facility. SOTI MobiControl 15.6 leverages Wi-Fi infrastructure and Cisco CMX to provide numerous unique location services within the four walls.
The Why
Organizations lack visibility into the indoor locations of their devices. It's estimated that 70% of missing devices are simply misplaced by their owner. In various industries, that could mean a tablet lost in a retail outlet, a handheld scanner lost in a transportation and logistics (T&L) warehouse or a smartphone lost in a healthcare facility.
Locating a lost device takes time and requires the retracing of steps, which is not always an accurate, speedy or reliable process. If a device cannot be found, it can cost an organization upwards of $50,000 (USD) in lost productivity, downtime, support and management.
Indoor Location lets you find, manage and track your mobile device assets indoors through a visually driven, easy-to-use dashboard:
Create indoor geofences and exclusion zones: Just like outdoor geofences, indoor geofences let you take automatic actions or receive notifications based on devices entering or exiting the geofence. Set up exclusion zones around areas you do not wish to track the device (washrooms, for example).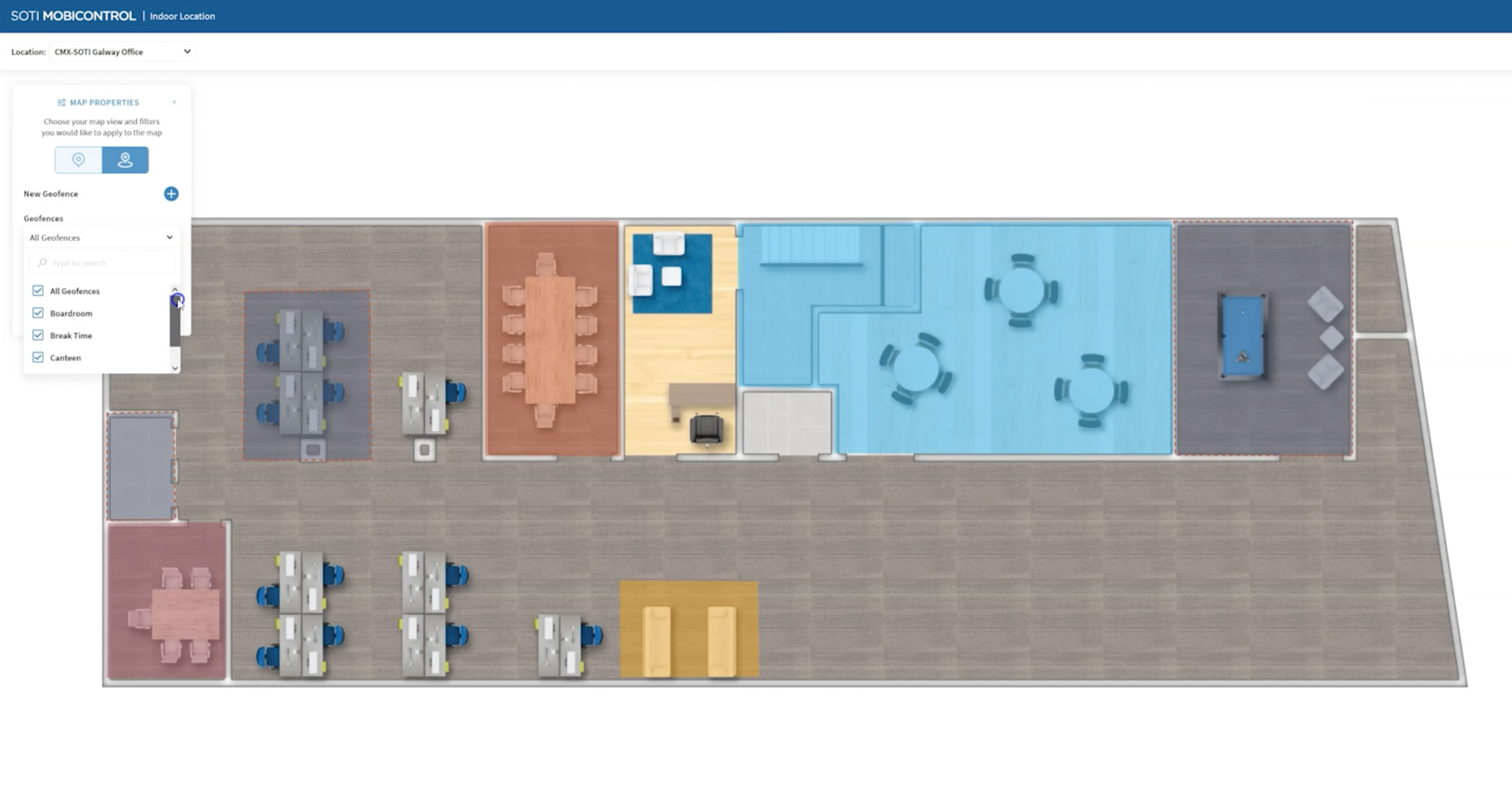 With Indoor Location, organizations can:
Protect the health of employees and the safety of data: If someone enters a hazardous area (for example, a forklift crossing zone in a warehouse) they will receive an alert on their device instructing them to leave the area immediately. Or if someone enters a room to meet with external guests, the device locks down to prevent accidental exposure to sensitive data.
Better streamline processes: Are devices "stuck" in a specific location before moving on to the next step in a process? Or are they going to areas which aren't applicable? If you have processes dependent on device movement, you can see where they've been. In turn, you can use this information to streamline processes to ensure devices are in the right place for the right amount of time.
Protect Against Data Loss with Microsoft 365 App Protection Policies on Android & iOS Devices
The What 
Control app restrictions for Microsoft 365 apps on Android and iOS devices to ensure data remains safe  within a managed app.
The Why
As remote work increases so too does the risks and repercussions associated with data leakage. It's estimated that 20% of organizations have experienced a data breach because of a remote worker with devastating results:
Microsoft 365 App Protection Policies helps ensure data does not leak outside of the organization by preventing company data from leaving the app. Policies are defined as rules which are enforced when a user attempts to access or move corporate data and actions which are monitored and prohibited when a user is inside the app.
Here are some examples of how data is protected using SOTI MobiControl with Microsoft 365 App Protection Policies:
Restrict cutting, copying and pasting of data from within a Microsoft 365 app to another application (for example, prevent data from moving from Microsoft Outlook to Microsoft Teams).
Disable printing of data from apps.
Prevent company data from being saved to the local storage of the device.
These policies can be enacted directly from the SOTI MobiControl console. There is no need for administrators to use Microsoft Intune to manage these policies.
Enroll Devices Faster with Simplified Certificate-Based Enrollment for Windows
The What 
Exclusive to SOTI MobiControl, directly download a Windows provisioning package (PPKG file) and distribute it to target devices and enroll them into SOTI MobiControl.
The Why 
Certificate-based bulk enrollment is incredibly popular among organizations as it saves them time and money. However, the process was problematic for a variety of reasons:
Bulk deployment of mobile devices running Windows 10 is impossible without using Azure AD enrollment, which requires E3 or F3 premium enterprise user licenses.
The process required administrators to use tools with many failure points when creating PPKGs.
Now in SOTI MobiControl, Simplified Certificate-Based Enrollment for Windows provides a one-click, automatic option to enroll all devices. When creating certificates, SOTI MobiControl lets you decide how long the certificate will be valid for and whether to include the SOTI MobiControl root certificate into the generated PPKG file.
After your options are selected, you can instantly download the PPKG file directly to your computer, at which point you can then use it to enroll your devices. What potentially took hours can now be done in minutes.
Configure Conditions & Actions with SOTI MobiControl Signal
The What 
Create platform agnostic flexible policies criteria to monitor your device fleet or your SOTI MobiControl system for potential problems and trigger an action when that criterion is satisfied.
The Why 
Currently, 49% of enterprises manage device fleets of over 1,000 and in three years, that number will jump to 69% of enterprises. With fleets getting larger and more dispersed, administrators need additional flexibility in monitoring a vast array of potential problems. They also want to be quickly notified when these problems occur.
SOTI MobiControl Signal can create criteria using nested logical expressions which are a combination of both AND and OR operators. Here are some examples:
[(A AND B AND C) OR (D AND E)]
[(A OR B OR C) AND (D OR E)]
If, for example, device storage is under 10 megabytes AND a device package has failed to install, an action can be triggered to alert the administrator, who will then automatically know what happened (device package failed to install), why it happened (device storage is under 10 megabytes) and take appropriate actions (remove unnecessary or unused apps from the device to free up storage).
Here's another case of SOTI MobiControl Signal in action in a retail setting: Administrators can receive alerts if there are more than a specified number of devices at a single checkout counter at specified time – and then send an alert back to the excess devices to reassign them to another location.
SOTI MobiControl Signal helps organizations save time and money (average total cost of ownership for a mobile device can be up to 103% higher than commonly expected) by automating the deployment of business policies, installation and removal of device apps, notifying administrators when issues occur and much more.
Always Stay Informed with Enhanced SOTI MobiControl Notification Panels
The What 
SOTI MobiControl Notification Panels now contain two types of information: Alerts (notifications which are triggered by SOTI MobiControl Signal Policies) and Announcements (notifications to keep you informed of system events and other information from SOTI).
The Why 
Having a single pane of glass to view all notifications in SOTI MobiControl makes it easy to receive and view critical information in a variety of ways:
Announcements: There are two types of Announcements. The first is SOTI Service Announcements which communicates information such as new features. If a user chooses to block a SOTI Service Announcement, they will not receive this type of information moving forward. The second type of Announcement is a SOTI System Announcement. Mandatory SOTI System Announcements will automatically open to direct your attention to a change in the state of the system (such as an update to the SOTI MobiControl agent).


Alerts: Alerts are information received based on a configured SOTI MobiControl Signal Policy. When a SOTI MobiControl Signal Policy is met, an alert will be triggered. Users will know what time and what type of alert was triggered. Once a particular issue has been resolved, users can clear the Alert from the Notification Panel. Should that issue occur again, the Alert will reappear in the Notification Panel.
Get More Done with SOTI MobiControl
SOTI MobiControl – part of the SOTI ONE Platform – continues to evolve to give you greater control, visibility and security over your business-critical mobile devices.
To discover and experience what SOTI MobiControl can do for you, start your FREE, no obligation 30-day trial. Contact us if you have any questions or request a FREE product demo and let us walk you through the features, capabilities and value SOTI MobiControl delivers.
Indoor Location integrates with Cisco CMX. Only available with SOTI Premium and Enterprise Plus Service as a multi-tenant Cloud Solution