The Spring 2022 update of the SOTI ONE Platform features updates to SOTI XSight, SOTI Snap and SOTI Identity.
Discover how these updates further reduce the cost, complexity and downtime associated with your business-critical mobile operations.


SOTI XSight

Reduce Downtime and the Costs of Replacing Batteries with Our New Smart Battery Analysis
The What
SOTI XSight 4.2 helps businesses save money on unnecessary battery replacements and decreases the downtime caused by sudden mid-shift battery failure with the smart battery dashboard.1
The smart battery dashboard supports Zebra mobile computers and tablets – which use PowerPrecision or PowerPrecision+ batteries. It also supports Bluebird and Panasonic mobile computers and tablets.
It's detailed battery intelligence for better battery management.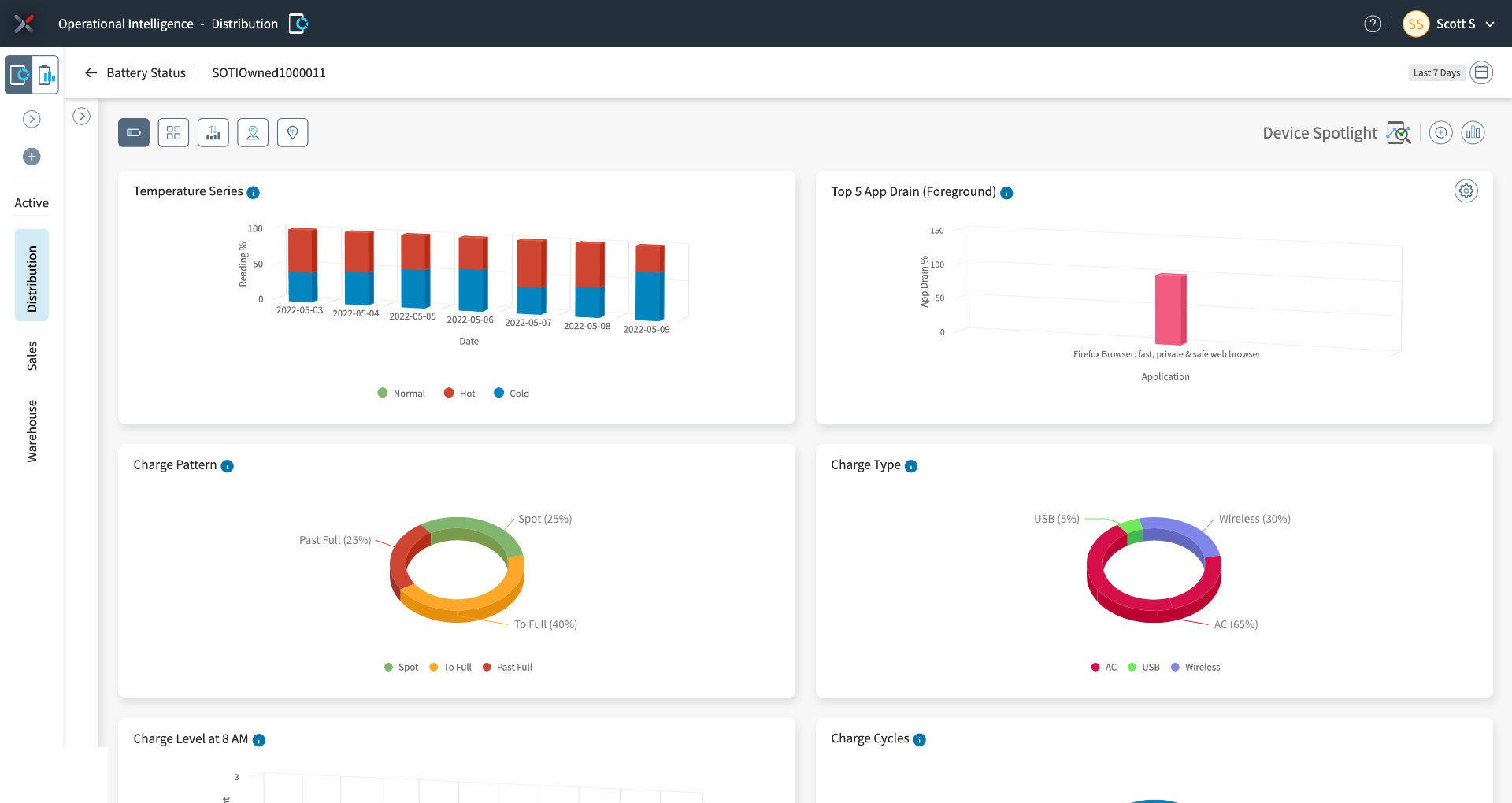 How healthy are your batteries? Get a holistic view of the age, charging cycles, remaining capacity and charge levels of your batteries.

The Why
The numbers are stunning: nearly 80% (that's 4 out of 5) of enterprises experience mid-shift battery failure. And when a battery does go down, workers lose an average of 50 minutes of productivity.
SOTI XSight's smart battery analytics gives you detailed insights into the health of your battery pool. With this information you can:
Know which batteries will last today's shift – and which ones won't
Predict the future state of health of your batteries based on past usage, giving you runway to take preventative action
Determine the best time to replace degrading batteries, avoiding downtime and without decommissioning usable batteries and incurring unnecessary costs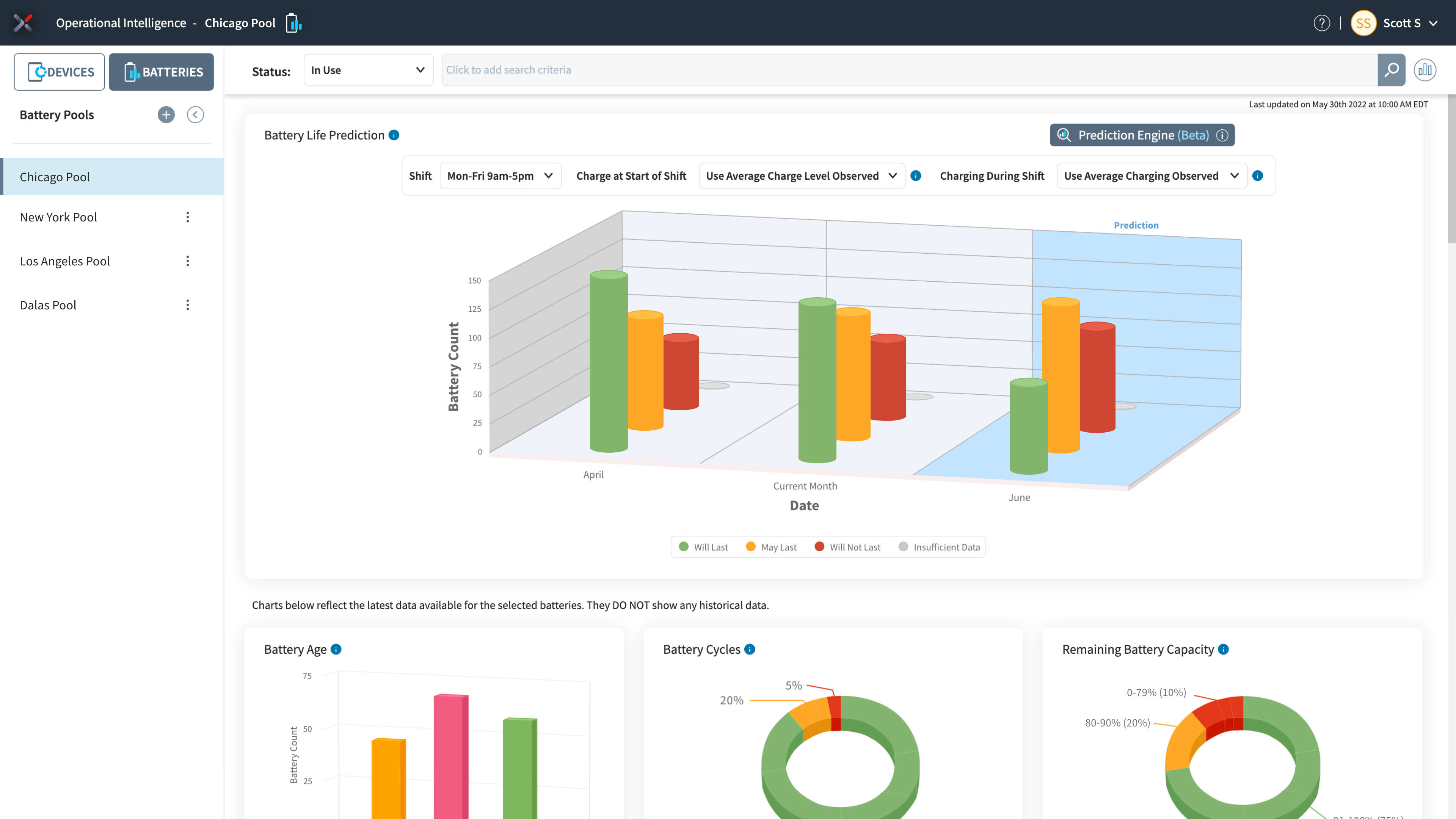 Can your batteries last a full shift? View detailed charts to determine which batteries will last and which ones are at risk of failure.


Often, organizations replace batteries on a defined schedule in bulk. While that may be a simple solution, it's costly and not great for the environment.
SOTI XSight lets you categorize your batteries in a variety of ways, including by device groups, shift times and status (new batteries, decommissioned batteries, batteries in use, etc.) to help you analyze specific groups of batteries.
You can also drill down to individual batteries and look at detailed information such as which devices carried the battery, discharge rates and capacity over a selected time range.
Just imagine a healthcare worker on the verge of sending a much-needed prescription on behalf of a patient to a pharmacy, only to have the device battery fail at that moment. Or a transportation and logistics (T&L) worker forced to delay the start of their delivery shift because of a battery issue. It's frustrating for the employee, inconvenient for the customer and costly to the organization.
But with SOTI XSight, it's fast and easy to identify and troubleshoot problematic batteries.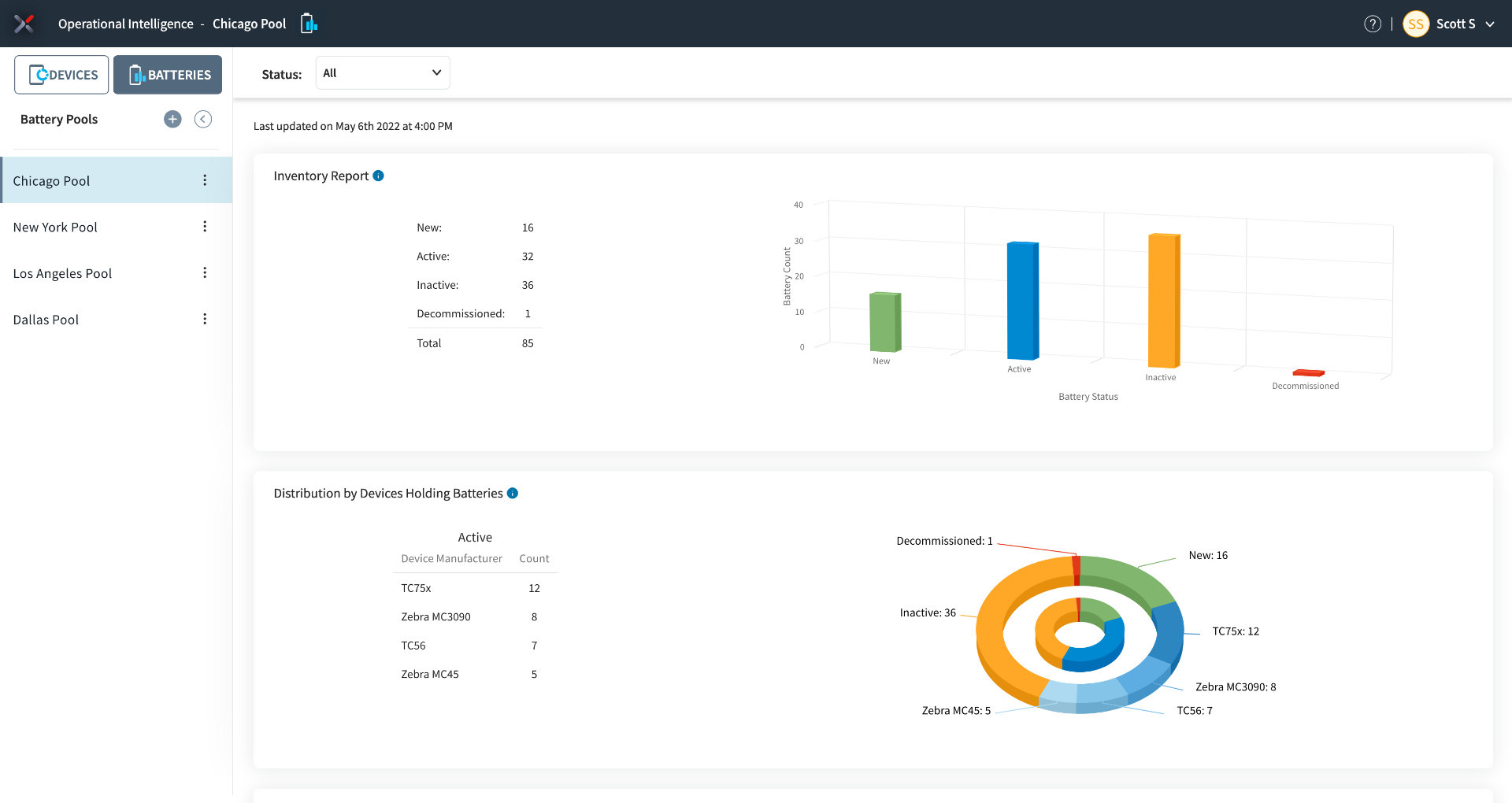 Need to organize your battery data? Create battery pools based on location, function or any other criteria.

SOTI Snap


Instantly Connect Your Private Database with a SOTI Snap App with the SOTI Snap Data Access Controller
The What
SOTI Snap 3.3 features the SOTI Snap Data Access Controller; a time-saving tool that instantly generates APIs (application programming interfaces) for the following private databases:
Microsoft SQL
My SQL
Oracle SQL
PostgreSQL
The Why
Manually developing CRUD (create, develop, update and delete) APIs for a private database can take weeks. Not only is it time-consuming, but it can also impact bottom line revenue, especially if essential apps aren't developed and deployed on time.
Here's a scenario: an essential app is required to collect retail customer data to launch a limited time offer and push that information to a private database. Manually creating CRUD APIs can potentially take weeks, which can delay the launch of the offer. Not only that, but manual database creation also poses a security risk too. Retail data breaches cost organizations an average of $4.24 million USD. It's a double-edged sword: you have an app that's late to market and that's potentially unsafe too.
With the SOTI Snap Data Access Controller you can achieve faster times to market with quicker app development and deployment. You can also ensure security and compliance by having your SOTI Snap Agent and your private database communicate with each other over a locally hosted API data access controller.
Ensure data security by keeping data within your private network. Data synching occurs directly between a private database and the SOTI Snap Agent through the SOTI Snap Data Access Controller.


Access Your Database Faster with the SOTI Snap Table Widget
The What
Using the new SOTI Snap API Data Access Controller, the SOTI Snap table widget populates data from a connected database.
The Why
By making any SOTI Snap app a "frontend" to any private database, end users can view fetched records in an easy to read and customizable table.
The best part? It's incredibly easy to do:
Populate records into a SOTI Snap app
Use one Blockly block to generate an API and another block to connect it to your private database
Adjust how you want the table to look
That's it. You're done
Say you have a field services technician looking to access parts inventory in order to complete onsite equipment repair. When first-time fix rate (FTFR) is essential to success (an FTFR of 80% is considered average and best-in-class organizations hit 88% or above), wasting time searching for and parsing critical information is not an option. When that information is served, it can't be in a confusing manner. It must be presented in a straightforward, easy-to-understand format.
In just a few clicks, data which was challenging to reach and difficult to consume is now served up quickly and in a friendly manner, allowing app users to be even more productive.


Create High End User Experiences with the Video Player Widget
The What
Create and stream automated video playlists – instead of having end users manually click video links – of video files which are loaded onto the device or videos via web links.
The Why
Whatever information you're presenting, people would rather watch videos than read text or listen to audio:
The video player widget in SOTI Snap allows you to build apps designed to stream a playlist of videos. This allows end users to watch videos in sequence and in a timely manner.
Look at it this way:  if they have a great onboarding experience. Watching videos is a big part of the onboarding process and if users have a bad experience of clumsily clicking video after video, that could lead to high staff turnover. Or worse, critical information may not be retained properly if playing videos is a cumbersome process.
Additionally, you can also track important events, such as when someone plays the video or reaches the end and trigger customized actions accordingly. For example, if someone (or many people) presses pause at a certain area, you can insert a quick multiple choice pop-up to test them on what they learned in the video.
The more you know how people interact with your video content, the more impactful it will be.


SOTI Identity


Secure Access with Behavior Detection
The What
SOTI Identity 2.3 administrators can now setup policies to define user behavior (e.g. IP address, last-known location) to prompt multi-factor authentication (MFA) in order to determine if the login attempt is legitimate or a security risk.
The Why
Over two years into COVID-19 and the remote work transition has taken full root. In 2022, 16% of global companies are fully remote. And once the pandemic ends, a whopping 80% of people plan to work remotely three days per week.
Conversely, the security risks associated with remote work have also increased: phishing emails have spiked by 600%; the average cost of a remote work data breach has increased by $137,000 (USD); and remote workers have caused a security breach in 20% of organizations.
Behavior detection in SOTI Identity increases the security around the SOTI ONE Platform. If it detects something outside of established policies (for example, two login attempts cannot be more than 1,000 miles apart in a one-hour span), it will ask the user for MFA via the following options:
Duo
Google Authenticator
Microsoft Authenticator
One-time password (OTP) by email
If the MFA is successful, the end user gets access. If not, IT can take proper action to mitigate any potential threats.


Coming Soon: Zebra Printer Support from SOTI Connect
SOTI already supports a myriad of Zebra devices such as scanners and mobile printers. And coming soon, SOTI Connect – the Internet of Things (IoT) management solution – will support and manage the new generation of Zebra printers.
With SOTI Connect, you'll be able to gather data, enable automated remediation actions, discover problems before they occur and monitor every aspect of your Zebra printers. It's the best of both worlds when a market leader in IoT management meets a market leader in business-critical printers.
Be sure to stay tuned for this exciting update to SOTI Connect!


Discover the Power of the SOTI ONE Platform
Enterprise Mobility Management (EMM). Diagnostic intelligence. Rapid app development.  IoT management. Secure access. Collaboration at your fingertips.
It's all part of the SOTI ONE Platform: the integrated solution global companies trust to reduce the cost, complexity and downtime of their business-critical mobile operations.
To learn more about the SOTI ONE Platform:
Available for Zebra, Bluebird and Panasonic devices.