For years, SOTI has been proud to help healthcare organizations from all over the world manage their mission-critical technology. These organizations rely on a variety of devices to provide critical care and maintain high standards of health and safety. Mobile devices and apps enable care providers to complete patient records digitally, perform triage and medication distribution and enhance real-time communication between care providers and patients.
But more mobile devices and apps mean an increase in management complexity, including security, remote support, app and content distribution, privacy, and mobile device analytics. When these devices are not functioning optimally, the resulting inefficiencies can lead to harmful consequences for patients. Check out the following success stories to learn how SOTI helped two companies in the healthcare space save money and focus resources on what matters most: delivering high quality patient care.

The Assist Care Group Slashes Time Spent in Tech Support by Over 90% with SOTI MobiControl, Saving £15,000 Per Year
Assist Care Group, founded in 1998, is a leading supplier of care services in West Sussex and Surrey (UK) specializing in high-quality visiting and respite care for people of all ages. Assist Care Group relies on the SOTI ONE Platform to optimize its business-critical mobile operations using SOTI MobiControl.
After converting all its manual documentation to digital processes, Assist Care Group needed an intuitive and trustworthy solution to streamline staff communications when it mattered most. With SOTI MobiControl, Assist Care Group used features such as remote control to help field staff overcome technical and user issues without requiring them to return devices for an in-person inspection. This results in reduced downtime in critical situations where the health and safety of patients and staff are vital.
"SOTI MobiControl brought us peace of mind. SOTI delivers an integrated platform that manages our organization's entire mobile fleet. We highly depend on this solution as it provides a great amount of control and built-in data safeguards on all our devices," said Tim Wilson, Managing Director, Assist Care Group. "SOTI MobiControl has saved us considerable time and effort by allowing our IT team to better manage our company's mobility initiatives and delivers an incredible ROI."
The efficiency of the SOTI ONE Platform enabled Assist Care Group to cut its technical support costs by over 90%.
Read the full story below: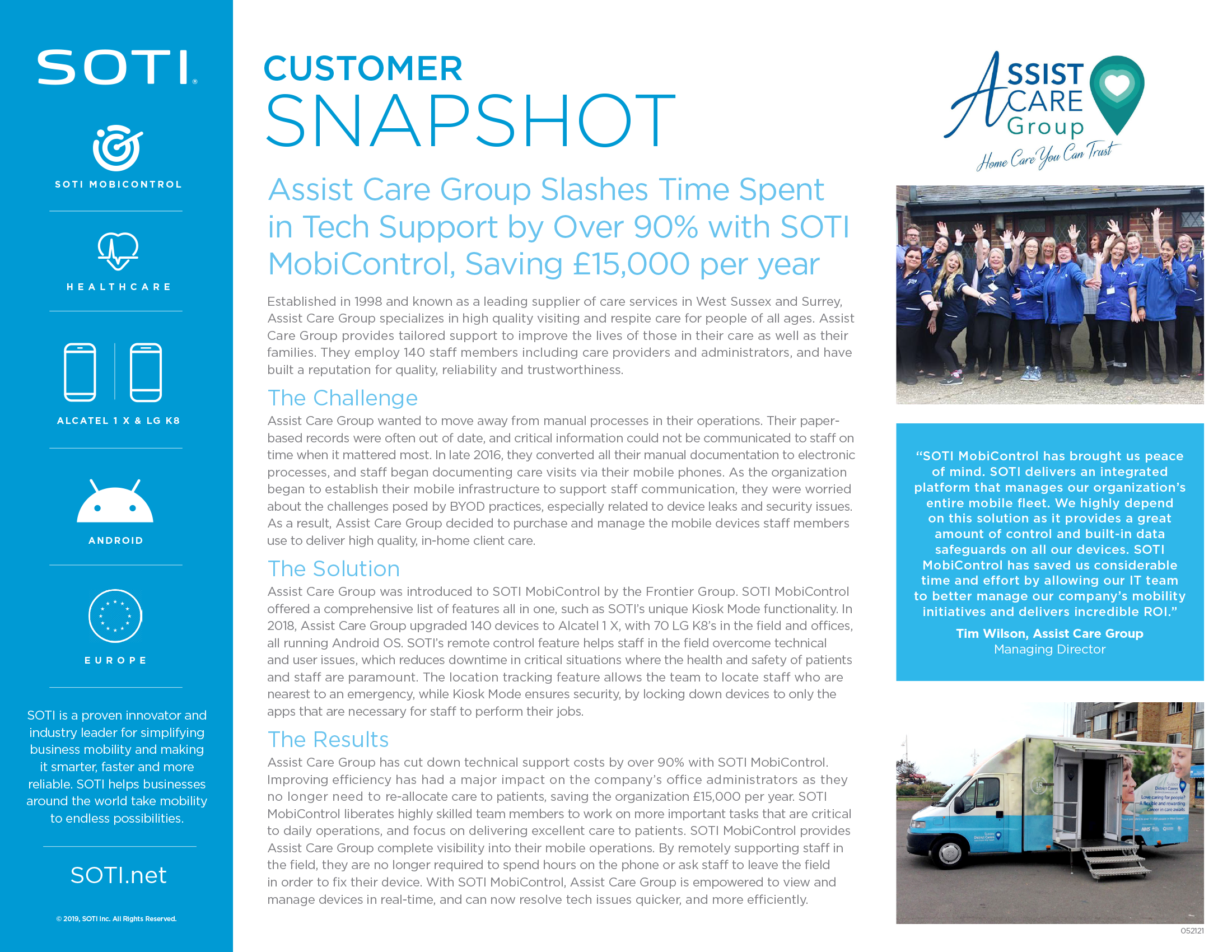 ARMED Group Set to Save UK Healthcare Sector Billions of Pounds with SOTI MobiControl
ARMED Group has been in the market since 1999, providing technology solutions in four countries (the UK, the U.S., Australia and New Zealand). ARMED (Advanced Risk Monitoring for Early Detection) uses wearable technology to collect key metrics associated with frailty and the risk of falling across all age groups, including activity levels, low grip strength, hydration levels, low heart rate and heart rate variabilities.
When pairing smartwatches with SOTI MobiControl customized smartphones, the data from the watch is transferred to the phone. This data runs through Medical Grade Device machine learning algorithms to capture behavior changes in patients and warn them of potential medical issues. SOTI MobiControl is customized to alert patients to charge their phone and watch when necessary, and monitor the connection between both devices to ensure data is constantly being transferred.
"ARMED is now a registered medical device, and this step, along with machine learning, is significantly contributing to understanding the longer-term impacts of health and lifestyle changes in a more preventative manner. We are excited for the future with SOTI and making a huge difference to the quality of life of individuals," said Brian Brown, Commercial Director, ARMED.
With many devices in the field, SOTI MobiControl enabled ARMED to focus on reducing falls and reduced associated costs for the UK's health sector by £32,000 per fractured hip and £8,000 per fractured arm/elbow.
Read the full story below: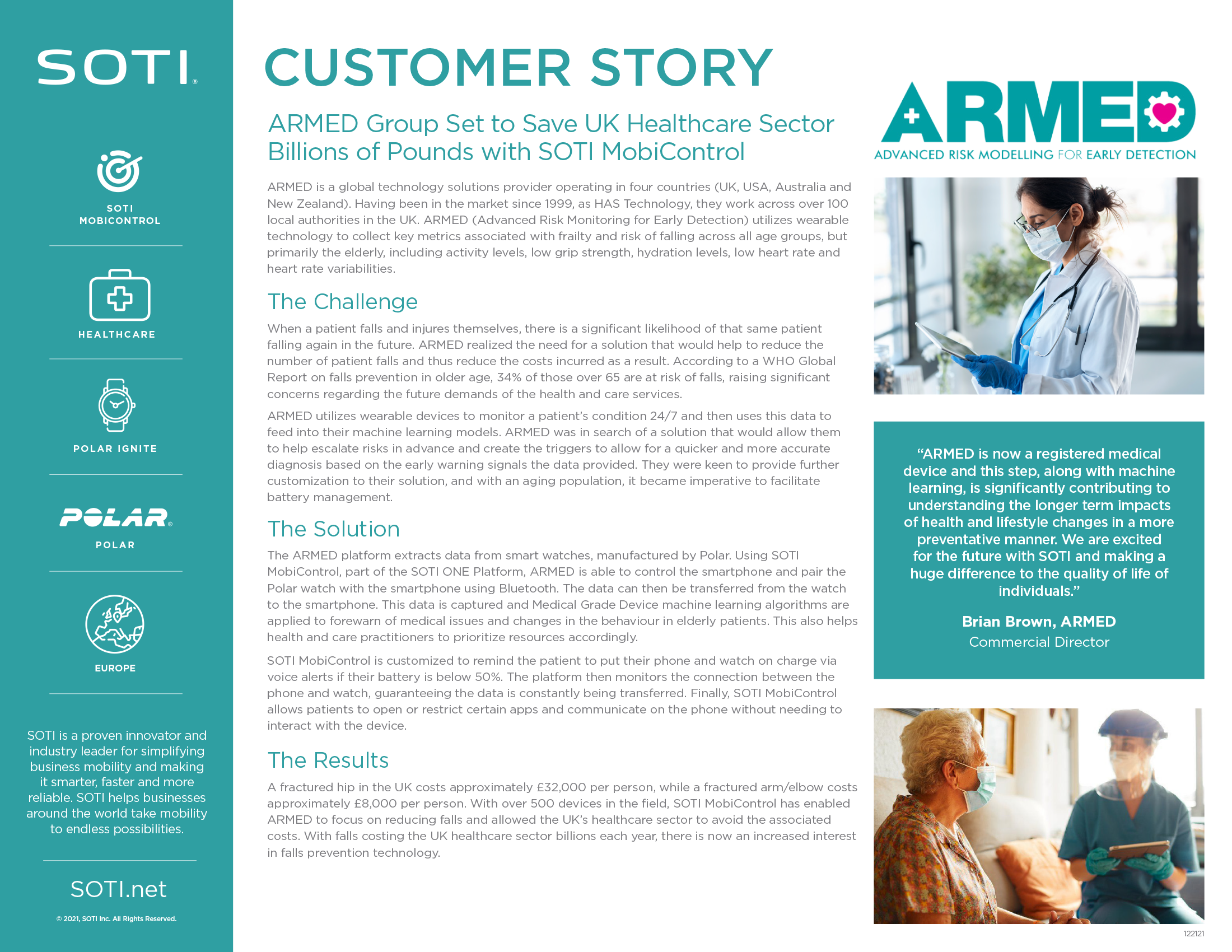 Want to Learn More?
Check Out These Resources
Get Started with the SOTI ONE Platform
Sign up

for a free, 30-day, no commitment trial of the SOTI ONE Platform

Contact us

with any questions or book a free demo with one of our product experts