If one thing was made clear in SOTI's recent transportation and logistics (T&L) report, Mobilizing the Delivery Workforce: State of Mobility in T&L 2021, it's that technology is reshaping industries business-critical mobile operations.
T&L companies who embrace and adapt technology such as the SOTI ONE Platform, are positioning themselves for sustained, long-term success.
Want to know how? Check out the following SOTI success stories for T&L organizations like yours.
APM Digitizes Paper-Based Process and Saves Drivers 30 Hours Per Day with SOTI Snap
Drivers for APM, a municipal waste management company, start their days by picking up route planning paperwork for different waste disposal work orders. Details of each work order are then entered by hand onto a form and events during the working day (for example, finding incorrectly sorted or prohibited items in the garbage containers) are documented and scanned.
This manual data entry is usually completed at the end of the working day and takes about 15 to 20 minutes per driver per day. Due to time pressure and manual processes, important details may be forgotten or incorrectly noted.
APM needed a solution to digitize this time-consuming, inaccurate process. They chose SOTI Snap to automate this workflow, help drivers become more productive and reduce costs.
What was the result? How much time and money did SOTI Snap help APM save? Read the case study to find out.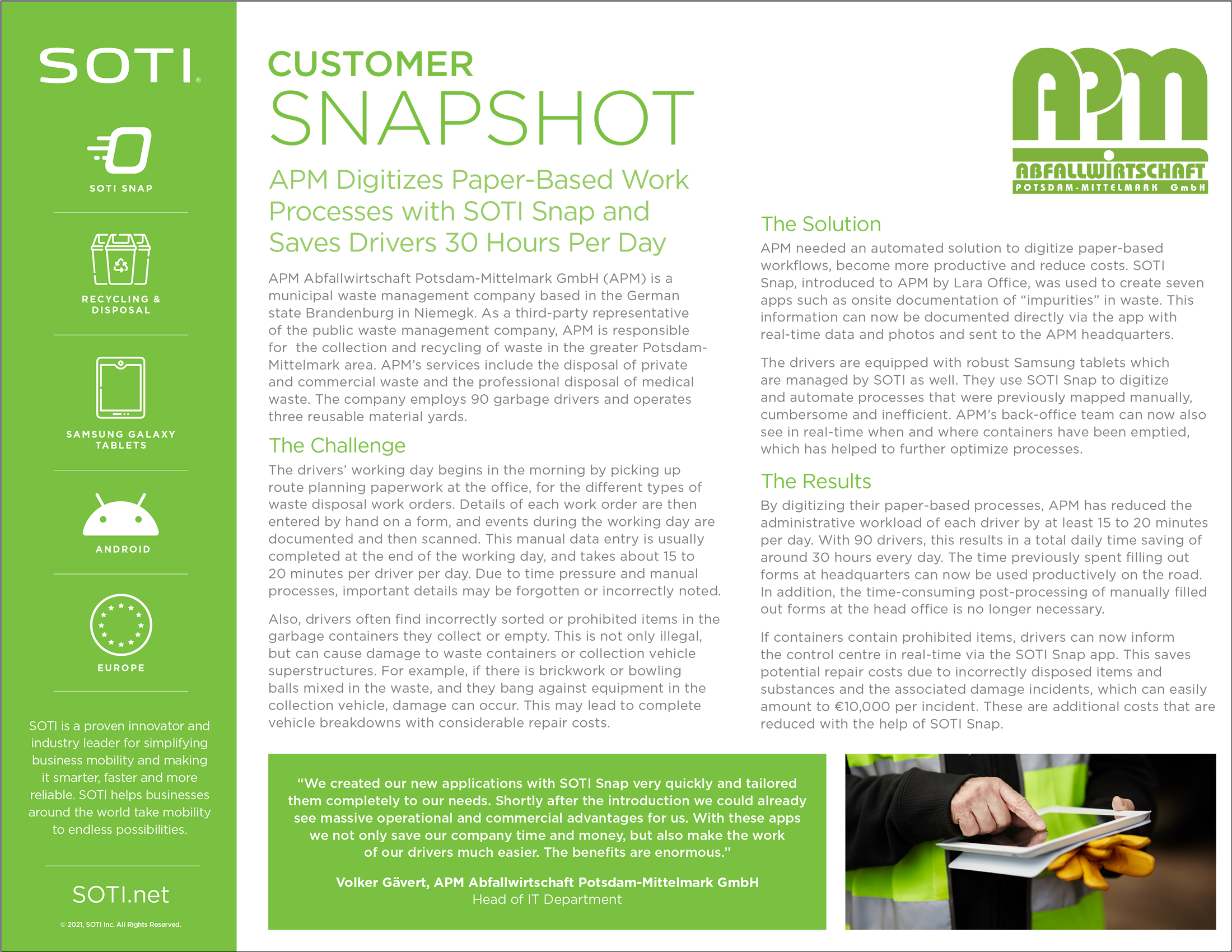 Ruan Saves $60,000 USD in Tech Support Costs Annually with SOTI MobiControl
Configuring devices for Ruan, a transportation management company, required devices to be physically shipped out to the IT department. This time-consuming process took approximately one week before they were ready to be used again by staff. This manual process was not only time-consuming, but also costly for the company. Ruan also needed a powerful solution to provision devices quickly, as it took 30 minutes to get each new device up and running.
With drivers located across the country, Ruan needed a solution to remotely manage and push software updates to devices. They also needed to reliably track their mobile fleet on a 24/7 basis.
Ruan sought SOTI MobiControl and invested in an integrated solution to securely manage devices, provision them quickly and remotely troubleshoot mobile tech issues.
So, how did Ruan put $60,000 USD back into its bottom line? What other operational efficiencies were they able to mine with SOTI MobiControl? Read the case study to find out.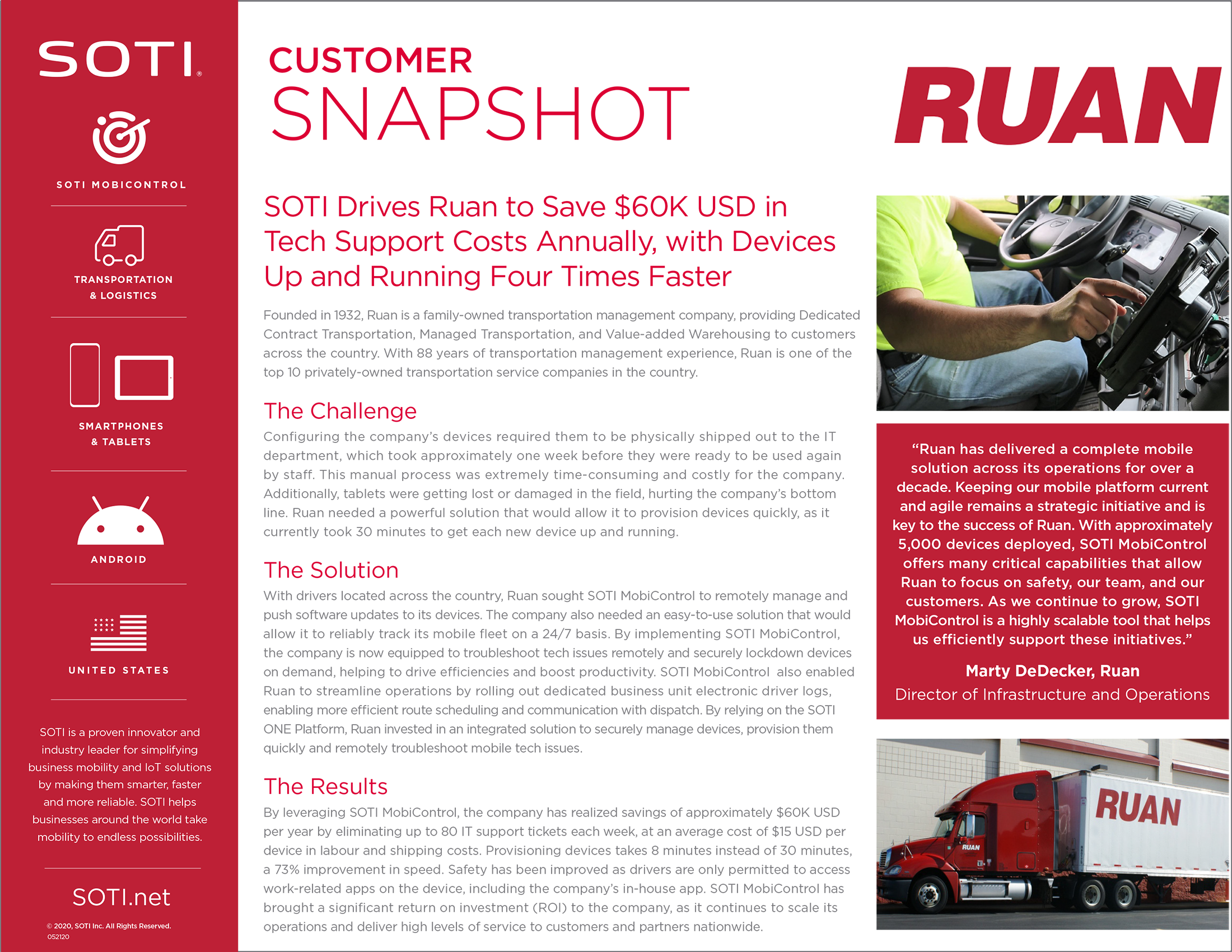 DPD Germany Pushes Out 48,000 App Updates Per Year with SOTI MobiControl
DPD Germany, part of the DPDgroup, is the second largest international parcel delivery company in Europe. With 78 depots and a workforce of 9,500 employees and 11,000 drivers, getting visibility into apps and their versions on every mobile device (Honeywell Dolphin 99EX Mobile Computer running Microsoft Windows Embedded Handheld 6.5) was a challenge. 
Furthermore, DPD Germany has developed multiple custom apps and the company estimates they push out 48,000 app updates per year. DPD Germany needed an Enterprise Mobility Management (EMM) solution to manage their app updates. 
In 2015, DPD Germany became a SOTI MobiControl customer because it solved the company's key mobile device challenge by enabling flexible control of all app updates.  
Just how much time does SOTI MobiControl save DPD Germany in pushing app updates? What kind of flexibility does it offer? How does it help them deliver one million B2B and B2C parcels every day? Read the case study to find out.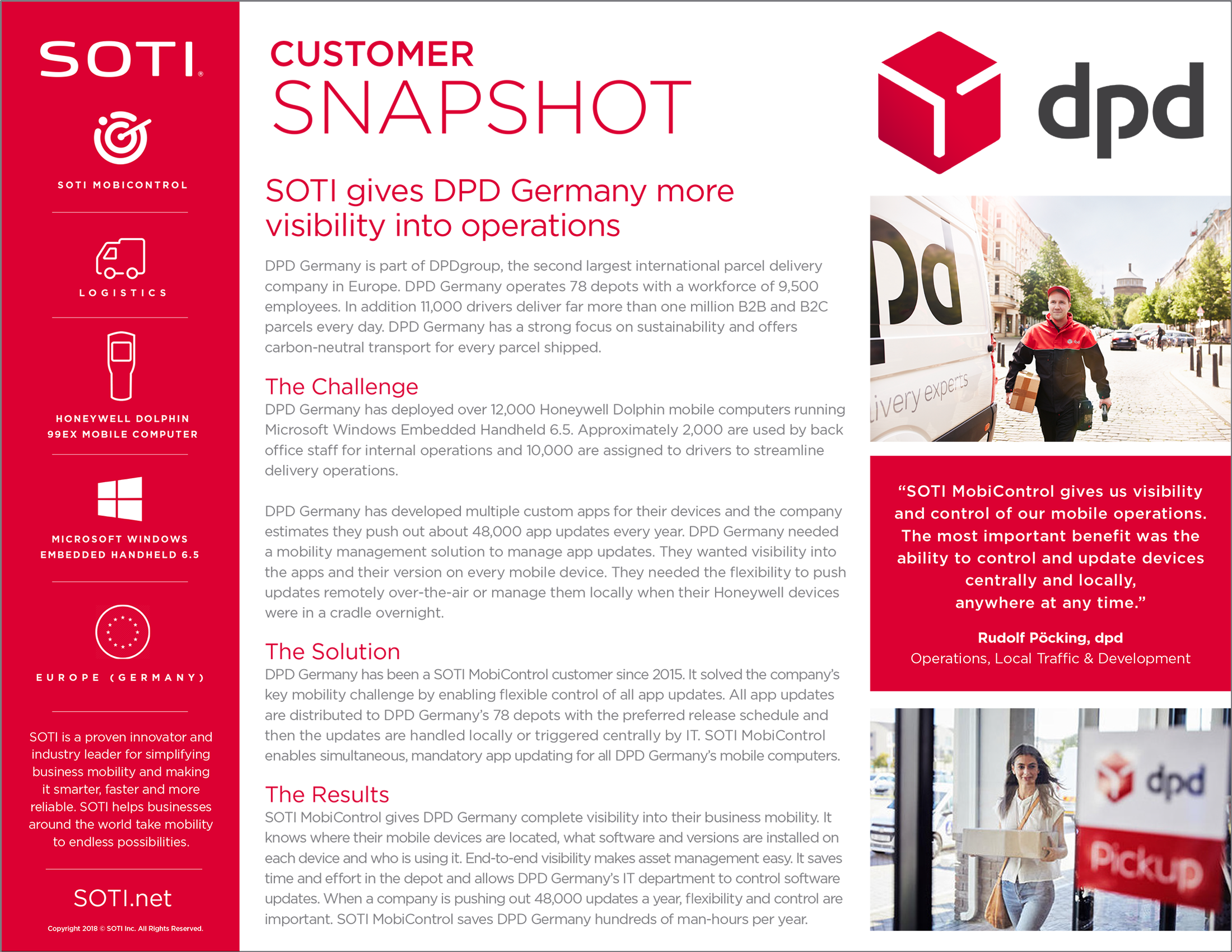 Strengthen Your Supply Chain, Eliminate Mobile Downtime and Increase Customer Satisfaction with SOTI
Whether it's picking up waste or delivering consumer goods, your customers expect timely T&L service. Being late or shipping the wrong item hurts both your brand and your bottom line.
In the case studies you just read, these T&L organizations rely on the SOTI ONE Platform to solve the biggest challenges facing their business-critical mobile operations. When being on time, every time is essential, there's simply no time for downtime.
Want to learn more? Check out these resources:
Want to get started with the SOTI ONE Platform? Here's how: