SOTI Central is the place SOTI customers, partners, solution providers and experts need to visit.  
From its launch in October 2017, people have connected, communicated and collaborated with each other to get the most out of their business-critical mobile device and Internet of Things (IoT) deployments. 
Like the SOTI ONE Platform, SOTI Central accommodates the growing and changing needs of its users: We are pleased to announce the launch of the next iteration of SOTI Central. 
What's New in SOTI Central? 
First thing you'll notice is a refreshed and intuitive user interface (UI). It's simple to navigate from page to page to access the information you want and need. 
Other enhancements include: 
Product Support Page: 

Looking to read the latest 

SOTI MobiControl

 release notes? Want to rewatch a 

SOTI Snap

 How-To video? Need to download the latest version of 

SOTI Connect

? All the technical and online help documentation you need for your SOTI products is organized and found on a single page.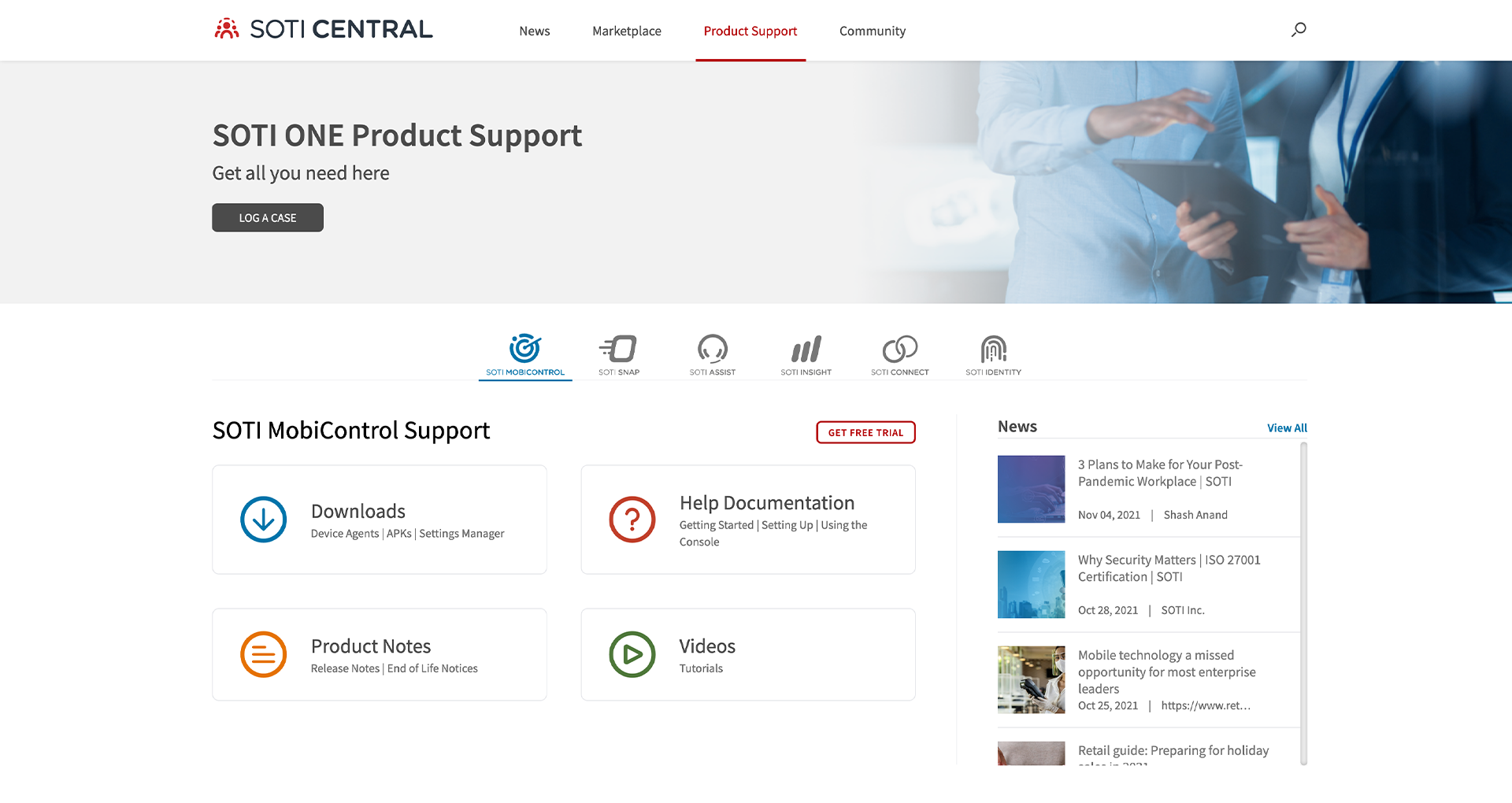 SOTI ONE 

Community Page

: 

The SOTI Central discussion forums

 (

where 

over 

15,000 users come each month)

 

are 

now on the community page. It's a one-stop shop where all SOTI customers, partners and experts come together to share their knowledge and experience.

 

Articles written by SOTI Product Managers give you a deep, technical look at our products and their capabilities. 

Discussions let you ask and answer questions about all the products of the SOTI ONE Platform.

 We've also improved the speed and quality of the community search function to serve up the results you need faster than ever.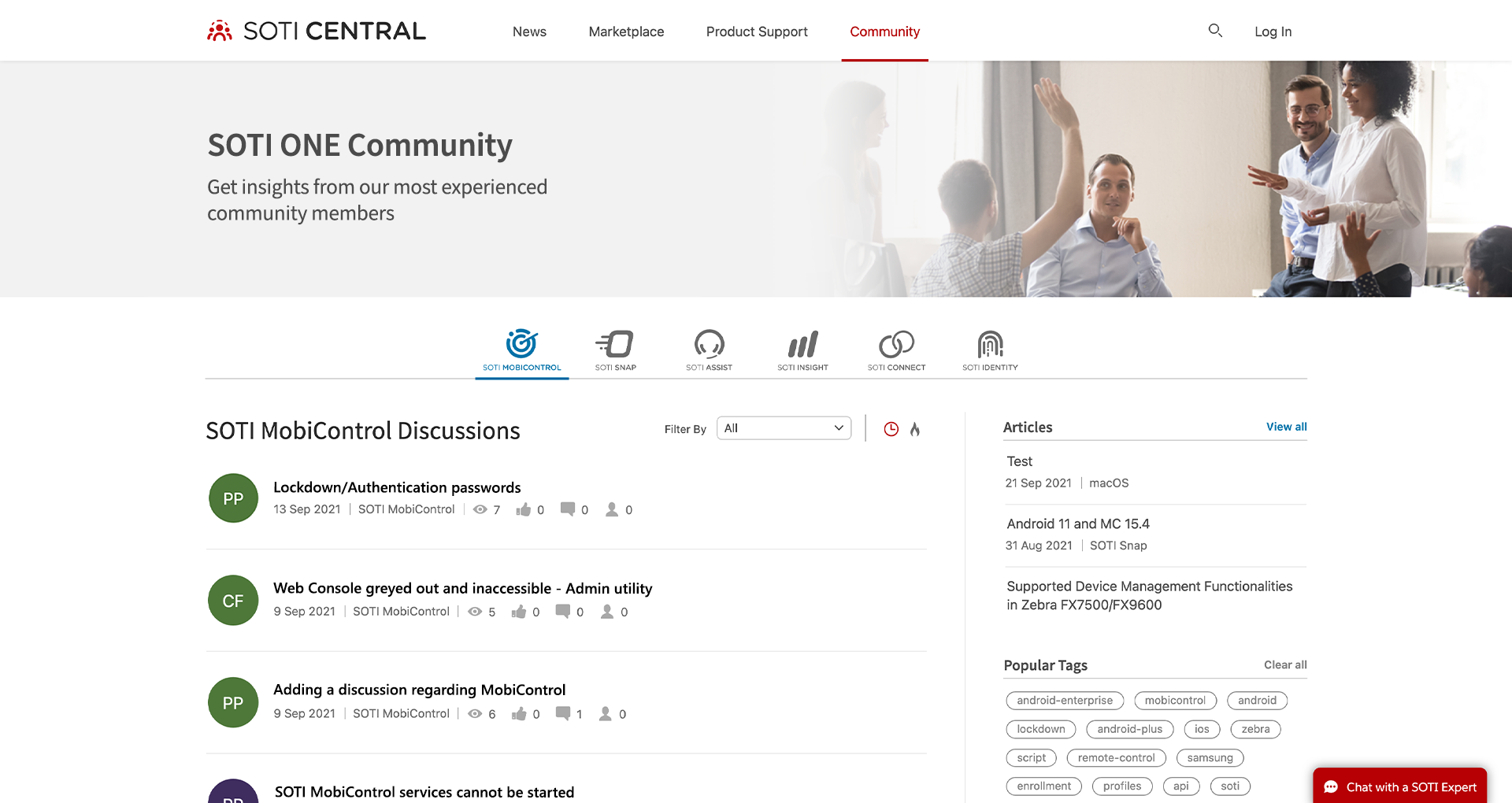 Easier to Use

: 

Each month, visit

ors from across 

the 

world click into

 SOTI Central to 

stay informed

. Now that 

SOTI Central has been

 redesigned, visitors 

now 

get 

easy access to

 all available pages within SOTI Central and 

can 

move between pages seamlessly. The information you need

, the SOTI products you are looking for

 and the experts you want to interact with are just a few clicks away.

 


SPECIAL SHOUT OUT: TOP SOTI CENTRAL ROCK STARS
SOTI Central is as strong as its users, and we want to give a shout out to the following external participants who are always engaging and interacting with the community:
Raymond Chan: 532 answers given
Matt Dermody: 262 answers given
Marcus Breitenthaler: 80 answers given
Rafael Schäfer: 78 answers given
Jorge Hussni: 47 answers given
Ozan Acikalin: 36 answers given
Improved Accessibility
The primary goal of SOTI Central is to be an evolving network of news, information and tools. And with improved search capabilities, it's all served up faster than ever. Find what you need when you need it.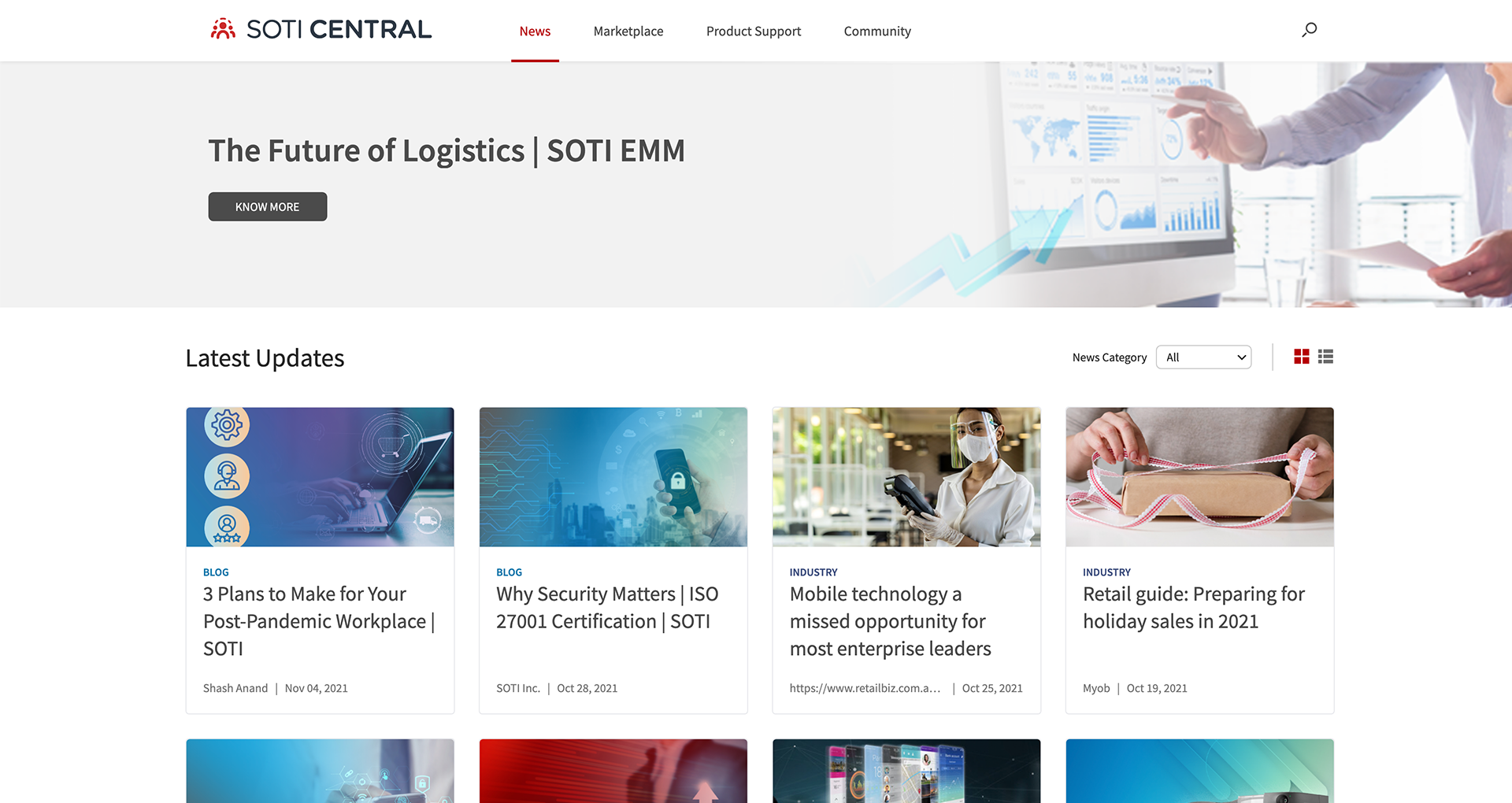 SOTI Central also adheres to Web Content Accessibility Guidelines (WCAG) 2.0 standards, making it more accessible and inclusive for anyone who visits, including those with visual or hearing impairments. It reaches AA level of compliance, meaning it has the following features and capabilities: 
On-screen color contrast

 

Consistent navigation elements throughout the site

 

Accurate form field labels

 

Content can be conveyed through a screen reader

 

Why Visit SOTI Central?
It's interactive. It's informative. It's intuitive. SOTI Central is the only place customers, partners and users need to visit to stay informed on relevant mobility and IoT industry news. 
At any time and from anywhere, you can be up to date on trends and technology and how they impact you. Engage with the community by asking questions and sharing answers about SOTI products. Connect with solutions providers ready to help boost your business-critical mobility strategy. 
Check out the newly refreshed SOTI Central. For additional information, simply download the SOTI Central product brochure or visit the SOTI Central product page.