It's one thing to talk about the impact technology has on the business-critical mobile operations of retailers of all sorts and sizes, but applying them to daily operations goes much further.
Check out these success stories retail organizations have experienced using SOTI MobiControl, which is part of the SOTI ONE Platform.
National Pharmacies Secures 10X Return on Investment Using the SOTI ONE Platform
To overcome business challenges associated with annual and fixed in-store processes, National Pharmacies required a solution that empowered staff, enabled mobility and improved the customer experience. As a result, National Pharmacies moved from fixed terminals to help automate the stock replenishment process, assist with customer queries and improve member engagement, through in-house mobile apps.
Want the full story? Get it below: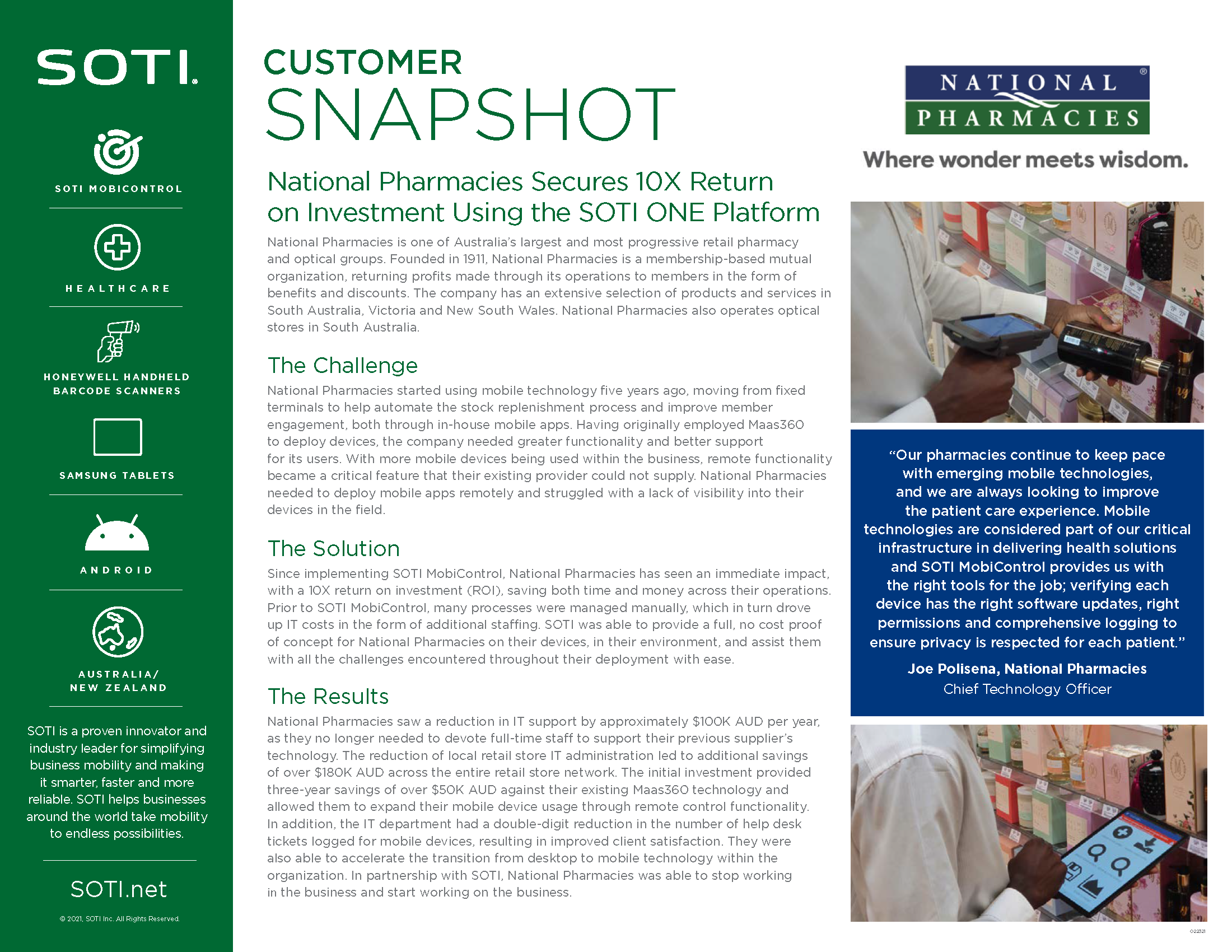 Takko Fashion Optimizes Its Store Management Processes
Since the opening of the first Takko Fashion store in 1982, the company has experienced steady growth and is currently operating almost 1,900 stores in 16 countries across Europe.
Takko Fashion has deployed mobile devices in their 1,900 stores for store management, stock-taking, and back office applications. They are using 2,100 Honeywell Dolphin 70e rugged handheld smartphones as Mobile Data Entry (MDE) devices. Because the devices are located in stores all over Europe, Takko Fashion required a reliable mobile management solution that could deliver rapid device deployment, remote control features and app management, as well as operating system (OS) update functionality.
SOTI MobiControl enables the deployment and day-to-day operation of approximately 2,100 MDE devices in almost 1,900 Takko Fashion stores. In addition, SOTI's geolocation capabilities make it possible to locate misplaced devices. This information makes it easy to file claims with insurance companies.
Interested in the complete story? Read the full Takko Fashion case study below: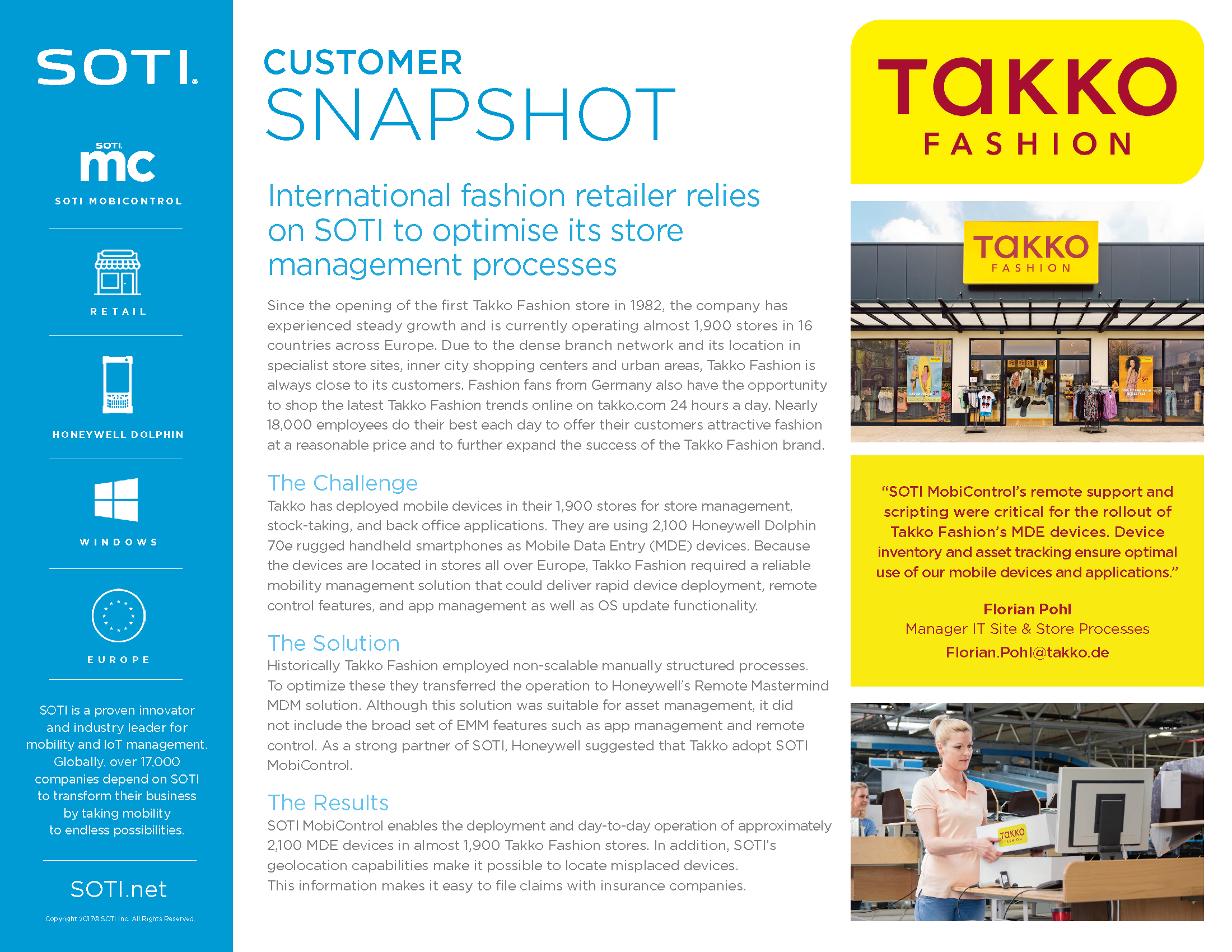 Cdiscount Increases Employee Productivity and Reduces Downtime with the SOTI ONE Platform
Cdiscount, founded in 1998, is the largest French online retailer. Cdiscount relies on SOTI ONE Platform to optimize their business-critical mobile operations using SOTI MobiControl.
With SOTI MobiControl, Cdiscount can now enroll and update devices in a matter of seconds, using critical features such as remote control and Kiosk Mode.
The efficiency of the SOTI ONE Platform has had a major impact on Cdiscount's operations, demonstrating how important and critical mobile technology is for businesses to succeed.
"SOTI offers a comprehensive solution that is not only reliable, but greatly streamlines our business operations. For 12 years, SOTI MobiControl has been instrumental for maximizing the productivity of our mobile workforce. No other company has the same level of knowledge and experience when it comes to migrating from Windows CE to Google Android," said Mr. Francois Crugeon, Manager, Internal Logistics Infrastructure at Cdiscount. "We have time to focus on what's important which is expanding our business and creating a seamless experience for our customers."
What other benefits did Cdiscount enjoy? Get the full story below: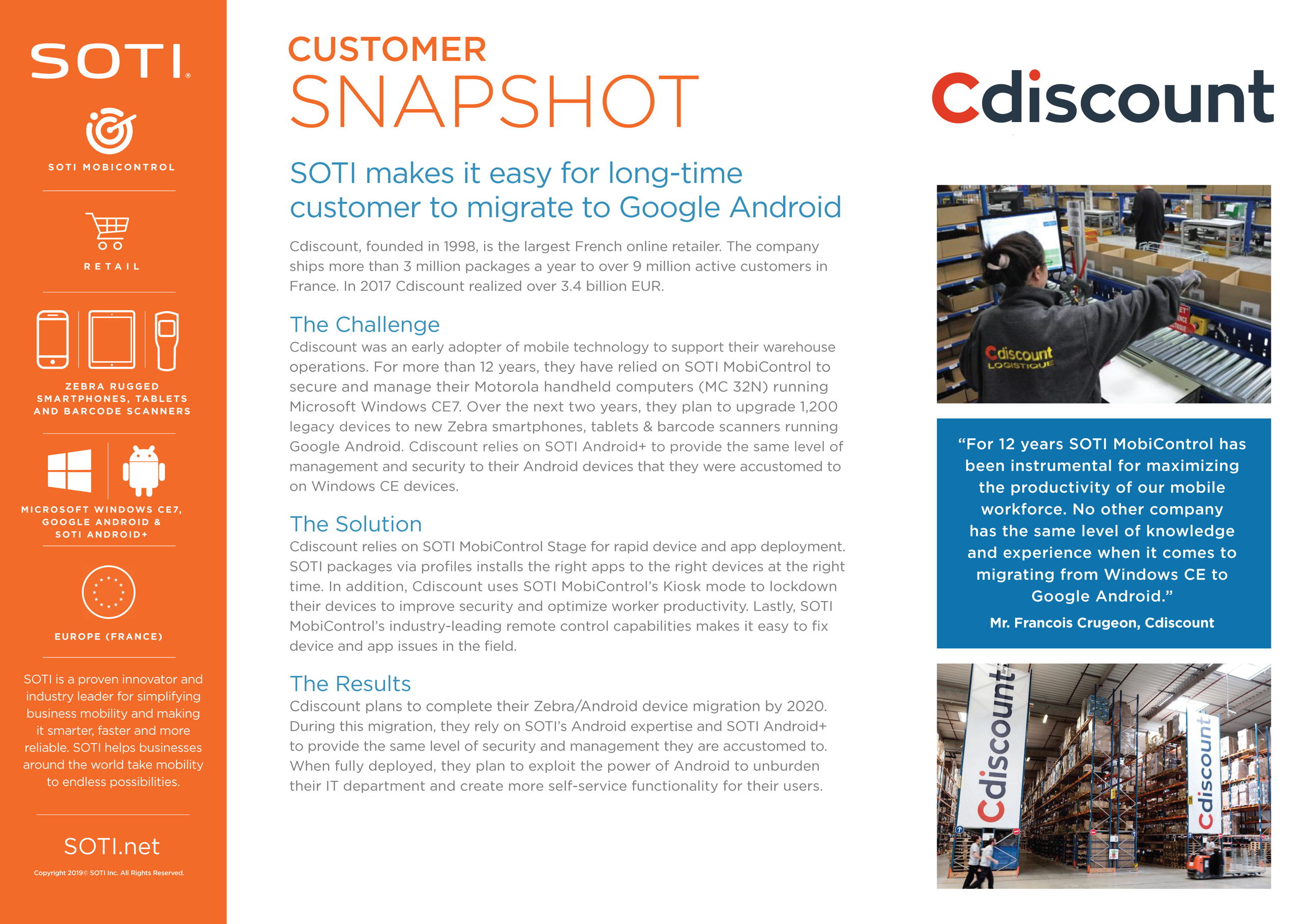 Identifying the Biggest Pain Points Challenging Your Retail Operations is Only Part of the Equation
Are your retail operations equipped with the technology to deliver the best in-store and online experience to meet shifting consumer demands?
For the case studies you just read, these retailers rely on the SOTI ONE Platform to solve their biggest mobile challenges and to ultimately deliver a better experience for the people who matter most: their customers.
Want to learn more? Check out these resources:
Want to get started with the SOTI ONE Platform? Here's how: