The last time the world experienced a pandemic on the scale of COVID-19 was the Spanish flu pandemic from 1918 to 1920. All told, 500 million people were infected, and an estimated 35 million people succumbed to the virus.

That's because over a hundred years ago, the medical technology needed to fight that disease was non-existent. There were no lab tests to isolate the virus and no vaccines to treat it.

What medical experts did enforce back then were the closures of schools and public places. Citizens were told to stay indoors and were advised against close contact with other people.1

Interesting how a century after the Spanish flu, some simple, yet wise precautions haven't changed.

What has changed is the technology health officials have at their disposal in order to diagnose, treat and combat the effects of COVID-19.
Touchless and Smart Thermometers
A high temperature is just one symptom of the novel coronavirus. There's a lot we don't know about the virus yet, and medical experts are gathering as much data as possible to gain a better understanding of it. Mobile technology is changing how that information is collected and used by frontline healthcare workers.

Touchless Thermometers
Easy. Effective. Safe. At airports, ports of entry and road checkpoints, touchless thermometers are a smart way to determine if people are running a fever and can provide an important clue into whether they are fighting a virus or not.

Instead of placing the thermometer under the tongue or in the ear, the operator simply scans a person's forehead to obtain an instant temperature reading without any physical contact.

Here's how it works in a nutshell: Human skin is an effective emitter of infrared energy. In seconds, the thermometer captures that energy and converts it into an oral temperature reading.2

While a high temperature fever isn't a definitive indication that an individual has contracted the coronavirus, it does inform healthcare professionals that they need to take precaution and follow standard procedures for interacting with individuals displaying symptoms.


Smart Thermometers
Unlike the actual nasopharyngeal swab test, smart thermometers won't show if people have COVID-19. Rather, they visually illustrate where fever-like symptoms of COVID-19 are clustered in a geographic area. This is done by utilizing a robust Enterprise Mobility Management tool to track where the smart thermometers are deployed.

Kinsa, an American health technology company, downloads the temperature readings of its thermometers being used into a central database. From there, it produces a heat map in real-time which shows people experiencing higher-than-normal temperatures: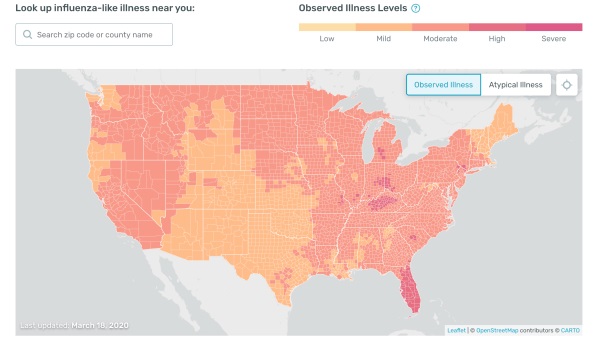 Image Source: Fast Company

With this information (which is anonymous and only tracks at the zip code level), local health officials have visibility into vital insights and data to see where potential COVID-19 outbreaks are forming and take appropriate action. Examples include proactively enforcing quarantine measures or ensuring much-needed medical supplies are sent to the area.


Hospital Robots and Drones
Robot and drone technology can be found in retail environments all over the world. In a recent SOTI report, From 'Bricks to Clicks': Navigating the Retail Revolution, results indicated that 31% of customers are comfortable with drones being used to deliver packages to their home.

Now, robots and drones are being deployed to handle tasks normally performed by people to help curb the spread of coronavirus.


Disinfecting: Robots equipped with powerful ultraviolet (UV) lights are sent to disinfect hospital rooms and areas potentially contaminated with COVID-19. UV lights damage the DNA and RNA of harmful viruses, thus preventing their ability to multiply.3
Street cleaning: In China and Europe, robots are sent to impacted areas to spray disinfectant on large public gathering areas, roads and sidewalks.4
Meal delivery: Robots are being used to deliver meals to quarantined patients, while meal delivery to homes is considered essential for getting through the pandemic.5
Medical drones: During the COVID-19 pandemic, pharmacies are crowded and laboratories are backed up. Drones are sent to either deliver prescriptions and medical supplies or to send blood samples to testing facilities.6 This limits person-to-person contact and ensures people in remote or rural areas are properly serviced.
Telemedicine: Physicians are relying on apps and other mobile technology to care for patient concerns outside of COVID-19. For example, patients can take their pulse using their smartphone and have that information sent to their digital health record on file, all without having to step foot inside a doctor's office.
Enforcement drones: Thinking of violating social distancing guidelines in Belgium? If so, you may hear a voice from above telling you otherwise. It's not the almighty. Rather, it's a police drone reminding you to stay safe and go home: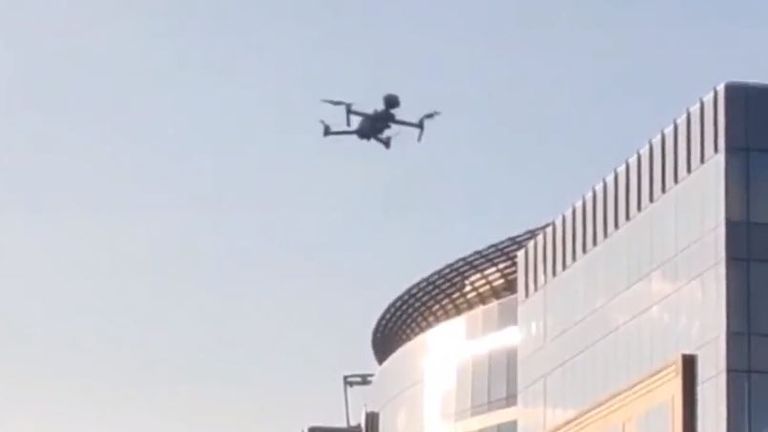 Video Source: Sky News


3D Printers
Respirators and ventilators are critical, life-saving medical devices in the fight against COVID-19. They're also in increasingly short supply as infections continue to rise.

3D printer manufacturers are stepping up and developing units that can manufacture the items previously mentioned, along with face shields and other personal protective equipment (PPE), for frontline workers.7


During the coronavirus pandemic, the "anytime, anywhere, anything" benefits of 3D printing are even more pronounced:


Anytime: If the printing materials are available, 3D printers can work around the clock to manufacture whatever is needed.
Anywhere: 3D printers can be deployed anywhere there's a need, while management of these devices can also occur anywhere, whether it's across the street or the other side of the world.
Anything: Masks? Face shields? Testing swabs? Ventilators? Whatever is required to help patients and protect medical staff, 3D printers have the capability to manufacture it quickly.
GIF Source: Business Insider
Tracking Apps
In the UK, a genetic epidemiologist at King's College came up with the idea of developing an app to collect insights as to why some people are infected by COVID-19 more severely than others.

Three days later, the COVID Symptom Tracker app launched and was being downloaded at a rate of 50,000 installations per hour.8

Users fill out various fields providing personal details such as age, height and medical history. Then the app asks users to describe any daily symptoms they have been experiencing and to provide a temperature reading.

With this information, health experts in the UK can identify where the virus is spreading and better understand why some people develop a mild illness while others become seriously ill.

An easy-to-use app that was built quickly combined with fast access to insightful data may end up saving thousands of lives. Having the ability to quickly gather this type of data, from distributed sources, is critical in combating a virus that was virtually unknown to experts only a few months ago.

Knowing how the virus affects people, how it reacts, how it spreads, how it mutates and other general behavior, all contribute to informing efficient global responses. This would be impossible without the help of the mobile technology that enables us to gather insights in real-time, from anywhere around the world.


SOTI Salutes the People and Technology Fighting COVID-19
SOTI commends the hard work and dedication of frontline healthcare workers and the innovative technologies being used to diagnose, treat and cure COVID-19 patients. They are the true heroes of this pandemic. Both are working tirelessly 24/7 to assist and care for those impacted by the coronavirus. We're in this together and can each do our part by following the advice of our public health authority to help stop the spread of the virus.


Additional SOTI Resources on COVID-19