SOTI is pleased and proud to announce the newest release of our Enterprise Mobility Management (EMM) solution: SOTI MobiControl v15.2.
SOTI MobiControl, part of the SOTI ONE Platform, makes EMM easy, by empowering organizations to securely manage any device or endpoint with any form factor and any operating system throughout their entire lifecycle.
With the release of SOTI MobiControl v15.2, organizations can provide even more support to their Android and Apple deployments.
What's New in SOTI MobiControl v15.2 for Android?
Remote work is the new normal for businesses, and it is essential for employees to remain connected to their organization's critical apps and data wherever they choose to work from. Many companies have embraced Bring Your Own Device (BYOD) initiatives to enable their employees to remotely connect to corporate resources using their personal devices, but twice as many organizations still prefer a Corporately Owned, Personally Enabled (COPE) device ownership model.1 COPE deployments give organizations the level of security and management they need, while giving employees the freedom to use these devices for personal use.
With the release of SOTI MobiControl v15.2, IT administrators have an easy way to manage Android-powered mobile devices for COPE deployments and ensure policies are not impacted by upcoming changes in Android 11.2
Android is the world's most popular operating system (OS) with a 74% market share3 and is used by numerous industries, including retail, transportation and logistics (T&L), field services and emergency services – SOTI MobiControl v15.2 now includes:
Support for Android Corporate Personal Device Management
SOTI MobiControl v15.2 now supports COPE deployments through SOTI's Android Corporate Personal configuration.

End users get the convenience of having separate personal and work profiles, while IT retains full visibility and control over the device.
What is the best part about SOTI's Android Corporate Personal configuration? Even when the work profile is inactive, SOTI MobiControl is still connected to the device. Administrators can enforce device policies and restrictions and send updates without waiting for the work profile to be "turned on."
NOTE: More information about SOTI MobiControl v15.2 and your Android devices can be found further below.
What's New in SOTI MobiControl v15.2 for Apple?
Over 108,000 companies worldwide use Apple iOS4 for their business-critical mobile operations. SOTI MobiControl v15.2 now gives them even more visibility over their deployments.
Support Modern Apple Push Notification Service (APNS)
SOTI MobiControl v15.2 supports Apple's decision to deprecate the legacy binary protocol currently in use for APNS (November 2020).

Communication channels will take advantage of using HTTP/2-based APNS provider API to provide a faster method of requesting Apple devices to check-in, making it more efficient for administrators to manage their Apple device fleet and reduce the time it takes for device check-ins.
Other New Features of SOTI MobiControl v15.2
Enhanced Outbound Cloud Link Agent
Utilize an outbound Cloud Link Agent (CLA) to access on-premise enterprise services such as Lightweight Directory Access Protocol (LDAP) services and certificate authorities.

This enhancement means that customers are no longer required to open inbound port 443 on their environment side, thereby reducing security concerns and enabling wider adoption of SOTI's LDAP service through SOTI Identity.
SOTI MobiControl gives you even more control over your Android-powered devices
There are over 24,000 Android-powered device models from 1,300 OEMs5 available for enterprises to choose from.
SOTI MobiControl supports all Android Enterprise deployment configurations, including: Bring Your Own Device (BYOD), Corporately Owned, Business Only (COBO) and Corporately Owned, Single Use (COSU). With SOTI MobiControl v15.2, organizations gain additional support for Corporately Owned, Personally Enabled (COPE) deployment scenarios through SOTI's Android Corporate Personal.
| | |
| --- | --- |
| Google's Management Terminology | Industry Equivalent Terminology |
| Work Profile Management | BYOD, COPE (Android Corporate Personal) |
| Dedicated Device Management | COSU |
| Full Device Management COBO | COBO |
What Are the Benefits of SOTI's Android Corporate Personal Configuration?
Organizations are concerned that employees do not view or treat corporate mobile devices like a personal device due to lack of flexible use. The business incurs high costs to secure, deploy and manage corporate devices that the end user feels no responsibility or attachment to. Meanwhile, many employees choose to keep a separate personal device due to concerns around security and privacy.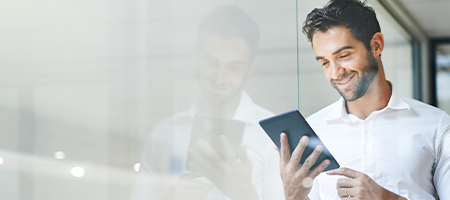 This is sometimes called "dual-wielding"6 and it hinders organizations from getting the most out of their mobility deployments and often leads to employee dissatisfaction. While BYOD deployments offer the level of flexibility that employees are looking for, it also creates additional complexities for IT due to the fragmented nature of personal devices.
Personal devices present a breadth of operating systems, update versions and security patches. This varied natured of BYOD devices makes it difficult for IT to enforce a management standard across their organization.
Through Android Corporate Personal enrollment, IT administrators can enforce policies that allow Android-powered mobile devices to remain connected to SOTI MobiControl while maintaining the end user's personal use, even if the work profile is disabled.
On the personal side of the device, employees are empowered to customize and personalize corporate owned devices to look, feel and act like their own personal device, while still allowing IT administrators to fully manage those devices through policies and restrictions. That means organizations can:
Track device location
Set device password
Factory reset the device
Enforce SOTI MobiControl feature control policies
And while Android Corporate Personal gives organizations full control over the device, end users can take comfort knowing that visibility into personal apps, data and anything else that could be considered personal information are hidden from the organization's view.
What Does This Mean for The Next Version of Android?
Google is officially introducing support for Work Profile on Company Owned Device (WPCOD) deployments with Android 11 (expected to be released September 2020) – which SOTI has coined "Android Corporate Personal" and the industry refers to as COPE.
This new method offers additional policies which can be leveraged in the parent profile to offer more control to IT administrators.

While organizations retain control over Android Corporate Personal devices, expanded work profiles mean that devices aren't fully managed in the classic sense as it leaves certain aspects of the device hidden from corporate purview – namely visibility into a user's personal apps and data, but also other factors that may be considered personal information.

More details will be made available with the official release of Android 11, but organizations can expect more precise delineation between what is deemed corporate vs. personal content and how much visibility they will retain.
More About SOTI MobiControl
For a full breakdown of the latest features, system and console enhancements, and other general maintenance updates, read the SOTI MobiControl v15.2 Release Notes.
You can also check out the following resources:
Already a SOTI customer? Work with your SOTI Account Manager to identify how the other products in the SOTI ONE Platform can solve additional challenges for your business