Our customers and partners attending SOTI SYNC 2019 Training Day got trained up and certified on SOTI solutions. With 34 sessions, the day was jam-packed and full of hands-on training.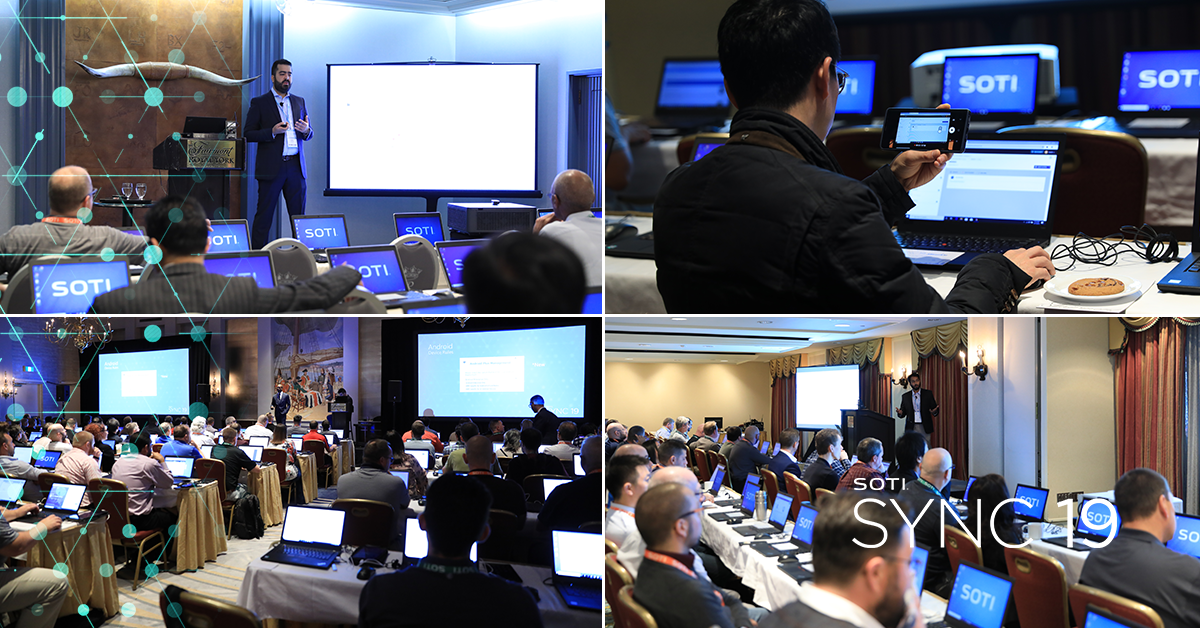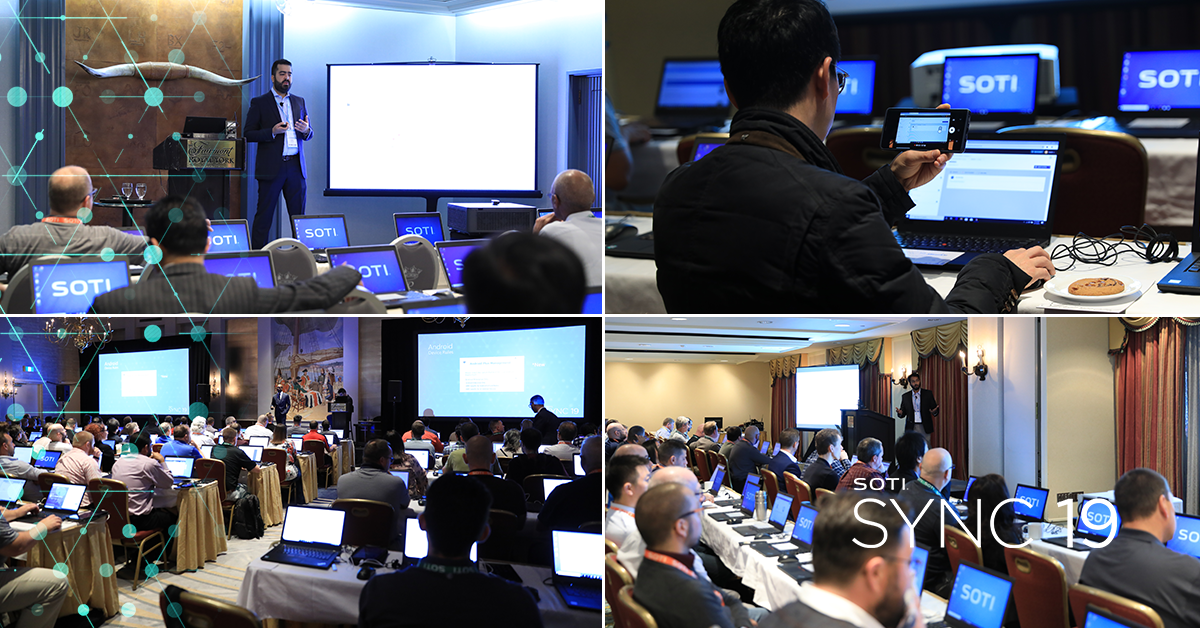 Training Day 2019
Training Day at SOTI SYNC 2019 gave our attendees a full day of hands-on training. Trainees gained the knowledge to accelerate mobility within their business through our bootcamps and deep dives.
Attendees got to choose from a variety of advanced training sessions tailored to their needs and skill sets. These sessions included: SOTI MobiControl v15, Printer Management with SOTI Connect, Windows 10 Device Management, Android Enterprise, Apple Management, Linux Management, and more. Trainees left with an understanding of industry best practices and how to increase adoption of mobility within their workplace.
Key Session Highlights of the Day Included:
SOTI Certified MobiControl v15 Associate Bootcamp      
In this session, SOTI's Rohan, Project Lead of Technical Support, and Matthew, Technical Support Specialist, went through all the basic features and functionalities of SOTI MobiControl that a small to medium enterprise business will need. Topics included: Login and Navigate, Android Device Rule, Android Installation, Connect a Device, Windows Mobile CE/Windows Modern Device Rule, Apple iOS Device Rule, Locate a Device, Remote Control a Device.
SOTI ONE Platform – SOTI Connect
In this session, SOTI's Akif, Technical Support Specialist, got into SOTI Connect our IoT solution that allows businesses to secure, manage and connect to devices, regardless of communication protocol or operating system.
Windows 10 Device Management
In this session, SOTI's Hasem, Technical Support Specialist, provided a hands-on overview of how to manage Windows 10 devices, including certificate enrollment, LDAP enrollment, and other management capabilities.
Android Enterprise and SOTI MobiControl
In this session, SOTI's Damon, Principal Instructor of Global Training, went hands-on with attendees on how to manage Android Enterprise devices, including profile configuration, enrollment and security.
SOTI ONE Platform – SOTI Snap
In this session, SOTI's Edgar, Manager of Sales Engineers in Americas, deep dived into SOTI Snap data management capabilities, and the inclusion of third part API's, as well as integration with other SOTI products.
Introduction to Linux Management
In this session, SOTI's Adrian, Sales Engineer, and Jason, Director of Sales (SI and SE), tapped into Linux, a market that is integral to all multi-device ecosystems. Attendees learned how to incorporate Linux into their business plan, and experienced hands-on training to understand the power of script automation.
Beyond the Sessions
This year, SOTI had the privilege to go back to its roots and introduce our customers and partners to Toronto. Known for its numerous sights and attractions – such as the CN Tower, Royal Ontario Museum and Ripley's Aquarium of Canada – Toronto is a vibrant and diverse city.
Hosting SOTI SYNC 2019, the Fairmont Royal York is one of Toronto's landmark hotels. Delivering excellent service from friendly staff, the award-winning facilities and great atmosphere offered attendees a home away from home.
As Training Day ended, SOTI SYNC 2019's welcome reception gave our partners and customers the chance to share experiences, extend relationships and create business opportunities for their organizations. 
Don't Miss the Action
Join the conversation online. Follow SOTI's social media channels for live event updates and use hashtag #SOTISYNC19 to join in. Follow us on LinkedIn, Twitter and Instagram.