Nothing shows the pulse of an industry quite like a trade show. The keynotes set the "official" tone, while the sessions and expo floor tell you what is hot and what is not. The 2018 version of the National Retail Federation's (NRF) Big Show is in full swing in New York, and there is a real buzz in the air.
Low unemployment, rising wages and record-breaking stock markets have unleashed years of pent up consumer demand for goods and services. In the US, the 2017 holiday season saw a 5.5% increase in sales over the previous year. A big part of the success this season was a killer Thanksgiving weekend, where over 174 million Americans shopped, either in store (51 million), online (58 million) or both (64 million). This was the first time that U.S online sales eclipsed in-store sales, up a whopping 18% from the previous year. The sales growth is consistent globally - retail sales grew 4.4% in Germany and 1.1% in Brazil.
The big winner this holiday season was Amazon, seizing 89% of online sales during the five weeks from Thanksgiving to Christmas. Despite strong growth, Walmart only captured 4.4% of online sales during this period. However, as shipping windows closed in later December, shoppers hit the stores or buy-online, pickup in-store (BOPIS) for their last minute gifts. In-store sales on Super Saturday (Dec. 23) showed a 20% increase over the previous year.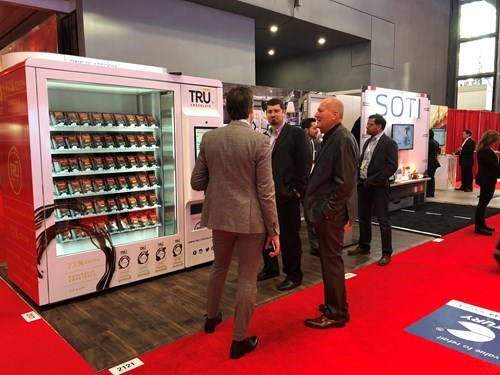 This year's NRF continues the trend from previous years and includes a strong focus on technology and its benefits for retail. From the Chairman's welcome to Tommy Hilfiger's closing remarks the show highlights the next generation of retail and "The Power of Disruption." As I walk around the expo, I am surrounded by high-tech solutions.  Cool stuff like augmented reality (AR), artificial intelligence (AI) and robotics, as well as tons of everyday solutions. This technology is no longer nice to have, it is must have — must have to keep your customers happy and must have to keep your costs down.
Recently, SOTI conducted a survey in North America to gauge consumer attitudes toward technology and how it affects the shopping experience. It looks like shopper centric retailers are on the right track, as over 2/3 of survey respondents are more likely to revisit a store that integrates technology into the shopping experience. They believe it enables faster shopping — reducing the time it takes to find what they are looking for, and helping them to checkout faster.
This rapid growth of technology in retail is exciting for SOTI. 20 years ago, we started managing special-purpose mobile devices in the warehouse. Over the next couple of decades, our business grew to support more devices and more industry verticals, but one of our sweet spots has always been retail and the supply chain. Now, with mobile technology and IoT endpoints becoming more and more critical to the success of retail operations, SOTI is ready. SOTI MobiControl secures and manages business critical mobility and makes it reliable. From RFID scanners in the warehouse and ELDs in trucks to mPOS in stores, SOTI does it all — managing all devices, form-factors and operating systems including Linux-based IoT devices and intelligent endpoints. Recently, the company launched the SOTI ONE platform, an integrated suite of mobility and IoT solutions. SOTI ONE keeps your workers working, builds your apps faster and manages your business critical mobile devices.
When you have some time, come by our booth (#2121) and ask SOTI how we can help you with the mobility management needs of your business.