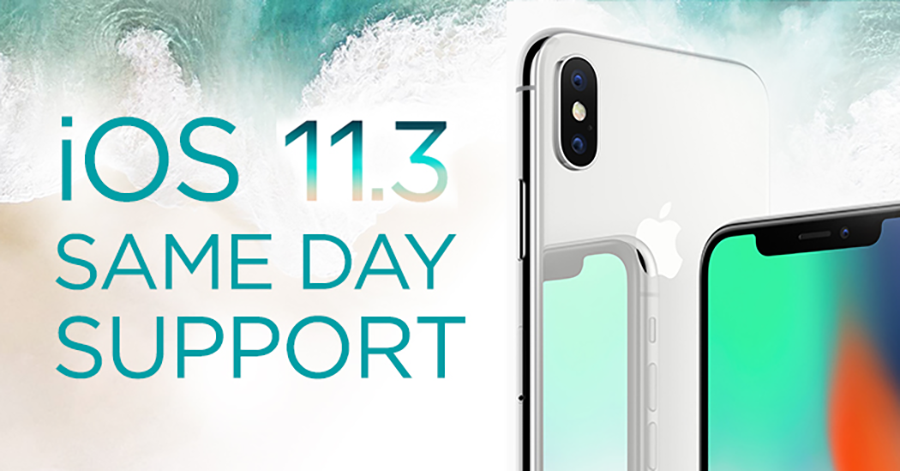 With the release of iOS 11.3, Apple is introducing some much-anticipated features, especially ones geared for enterprise users. This latest version was just released today, but we have been working hard in advance to ensure SOTI MobiControl is ready to provide administrators with the support they need to manage the iOS devices across their organization.
New Features for Everyone
The latest version of iOS has something for everyone, whether it is a consumer or an enterprise user. Some of these features include:
Know your battery performance – This feature lets users see their overall device battery health, and be alerted if the battery is hampering the performance of the device and requires servicing.
Play with newer Animojis – The new Animojis are a lion, bear, dragon, and skull.
Business Chat – Business Chat allows users to communicate with the businesses using iMessage.
Enhancing ARKit – Apple's augmented reality (AR) APIs now support placing objects on vertical surfaces and improve mapping of irregularly shaped surfaces, allowing developers to create even better AR experiences for end users.

Health records in your hand – It comes as a significant update to Apple's native Health app, allowing users to view the health records and other medical data from participating clinics and hospitals, all in one place.
An EMM Solution That's Ready for iOS 11.3
The industry is abuzz with the release of iOS 11.3, and we have made sure SOTI MobiControl is ready for enterprises to take advantage of new enterprise features from day one. Our same-day support for Apple's latest release includes:
Delay iOS updates for up to 90 days. This feature has always been on top of IT administrators' wish lists and allows them to delay OS updates from 30 days (by default) to (a maximum of) 90 days on supervised devices. It will enable IT administrators to test a new version of the OS and its compatibility with business apps before updating the OS on all devices.
Restrict Unmanaged Apps from Accessing Contacts in Managed Accounts. Contacts are now part of managed accounts. Unmanaged apps can no longer access contacts from managed email accounts deployed to the device by SOTI MobiControl.
Disable USB Restricted Mode. USB Restricted Mode is a security feature that periodically prompts the user to enter their device passcode to continue to use third-party Apple-certified USB accessories connected to the device. This update allows IT admins to disable this feature.
MMS Will Bypass Always-On VPN. This configuration allows MMS messages to bypass the Always-On IKEv2 VPN on managed devices.
Enable/Disable Bluetooth. Bluetooth connectivity on supervised devices can now be enabled/disabled.
Arrange Web Clips on the Home Screen.  The management of the home screen layout has been extended to support Web clips.
iOS 11.3 helps boost organizations' confidence in deploying iOS devices into their business environment. Whether it is the ability to delay OS updates or the restriction of unmanaged apps from accessing critical contact information, iOS 11.3 is a significant step forward towards control and security.
At SOTI, we understand the importance of business continuity and thrive to enhance your user experience on iOS devices. If your organization has deployed iOS devices (or are considering to), then this is the right time to consider SOTI MobiControl. For more information on SOTI's management of iOS devices, download our iOS brochure.