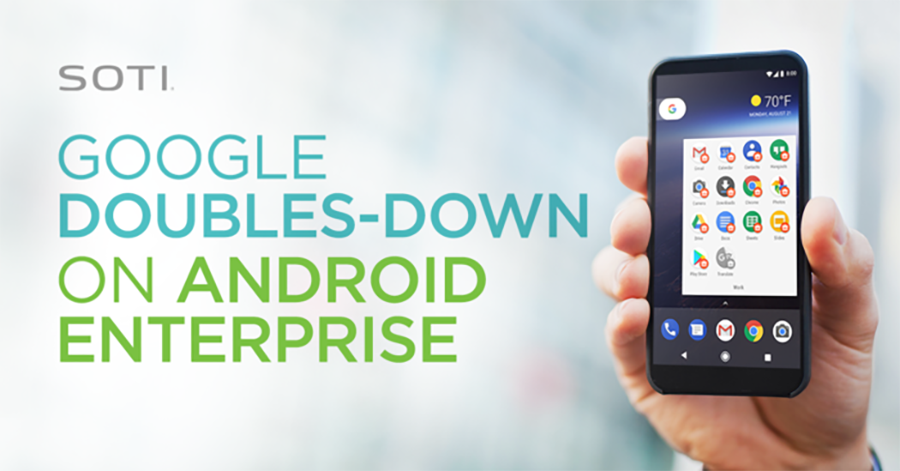 Since its origin as a consumer mobile operating system in 2008, Google has steadily worked to get Android enterprise-ready. Android device management was introduced in May 2010 through the Android Device Management API in the Froyo release. Using the API, developers could build apps with "Device Administrator" features such as inactivity lockout, passcode policies and device feature controls. However, this wasn't enough for true enterprise mobility, IT wanted:
To configure Android devices so they could securely access the company's network
To secure sensitive/confidential data on the device and travelling to and from the device
To provision Android devices with apps
To lock down devices for special purposes such as inventory tracking or point-of-sale
Because this functionality was not available in the core Android OS, many hardware OEMs implemented their own APIs. These APIs added powerful new device management features such as whitelisting/blacklisting of apps and VPN configuration as well as the silent installation of certificates and custom LOB apps. Unfortunately, this OEM-specific functionality worsened Android fragmentation.
Enter SOTI's Android+ – an innovative technology that reduced the gaps between OEM capabilities and gave SOTI customers the freedom to choose which Android devices they wanted, while maintaining consistent management. 
However, enterprise IT still wanted/needed more. They needed the tools to deal with the rapid growth of BYOD, where users could access personal information and apps on devices they used for work. Enterprises needed to protect sensitive company data in emails, files, and websites. EMM solutions came to the rescue by introducing apps, SDKs and app wrapping technology to secure company content. The combination of Google's management API, hardware OEM APIs, and EMM security and management features gave the enterprise the tools required to deploy Android devices successfully, or did it?
Things were looking up, but EMM solutions still faced a few difficult challenges. First was device management fragmentation as discussed above. SOTI had it licked, but other EMM vendors were still behind the eight ball. There were also restrictions on what apps an enterprise could deploy. If companies wanted app data protection capabilities, then they were restricted to EMM-specific apps. Lastly, none of the EMM solutions could integrate with Google Play. That meant that even though Android B2B apps have exploded in popularity over recent years, enterprises couldn't "push" their approved apps hosted in the Play Store onto worker's devices. EMM solutions could only prompt device users to install the Play Store apps. In addition, there was no standard mechanism to configure a downloaded app unless it was integrated with the company's EMM solution.
Google was cognizant of the need for consistent and comprehensive mobility management and in 2014, they launched Android for Work (rebranded to Android Enterprise in 2016). Android Enterprise standardizes the management of Android devices across all device manufacturers. It also enables EMM solutions to manage any type of enterprise deployment, from BYOD to COBO (corporate owned business only), COSU (corporate owned single use) and most recently COMP (corporate owned managed profile) devices. That's a lot of acronyms, but the bottom line is that AE enables EMM solutions to work within all possible enterprise device deployment models. This is no small success.
Key features of Android Enterprise include:
Rapid device provisioning/enrollment via NFC bump, typing in an EMM token (i.e. code), scanning QR codes, or Android Zero Touch Enrollment
Deploy BYOD-friendly work profiles that include apps and account settings and ensure they are kept separate and secure from personal apps and accounts
Support for company-owned devices that enables secure device settings such as disabling the camera and enabling factory reset protection
Silently push and configure Google Play apps.
In December 2017, Google doubled-down on Android Enterprise as the future for Android device management. Starting in the next major release of Android, critical capabilities of the Android Device Administration API will no longer be supported. This means companies need to migrate away from legacy management of Android devices. Luckily, organizations will benefit from this migration. Comprehensive security and management capabilities, as well as support for all devices and all enterprise deployment models, make it easy to see why Android Enterprise is the standard for Android device management.  
Is your organization interested in managing Android devices? If so, call or email SOTI for advice. SOTI is the industry leader and featured Google partner for Android management, helping thousands of companies worldwide with their deployments across all industries.
Sign Up for a Free 30 Day Trial
SOTI MobiControl was named Editors' Choice in PC Magazine's MDM product review. Over 17,000 companies globally choose us for their mobility and IoT business needs. Complete the form on the right and you too will be on your way to using the industry's best mobility management solution.