Empower Your Workforce With a Designed For Mobile Business Critical Strategy
Learn how Implementing Business Critical Mobility Solutions Will Successfully Minimise Downtime and Mobile Worker Disruption all within a Secure Corporate Environment
Speak to an Expert
Get Better Business Mobility with Enterprise Mobility Management
Today, more than 50 per cent of the workforce (representing 1.7 billion workers) is mobile, relying on technology and mobile solutions to perform their everyday job functions. Many workers – such as nurses, first responders , field service technicians, or delivery drivers – depend on reliable mobile access in real-time to critical information at the point of interaction.
Mobility is business-critical, and this reality has put more pressure on companies to find solutions that safeguard customer or asset data for remote workers while supporting productivity, reducing workforce downtime/failures and providing clear ROI (return on investment).
If organisations are not leveraging an integrated mobile approach to improve the visibility, management, and support of their business-critical mobility solutions, they are limiting their ability to quickly diagnose and fix issues which directly leads to losses in revenue.
Take Your Enterprise Mobility Strategy to the Next Level
Download Whitepaper
Key findings from the whitepaper:
Each mobile failure incident can result in over 100 minutes in lost productivity – or 23% of a daily shift.
One dropped connection or poorly performing application per shift can translate into almost $20,000 in annual support and productivity loss costs per mobile worker.
With mobile applications taking an average of five months and $55K to develop, organisations are struggling to keep up mobile application demand.
Only one in five respondents claim having "complete visibility" into their BCM solutions.
EMM solutions offer substantial benefits: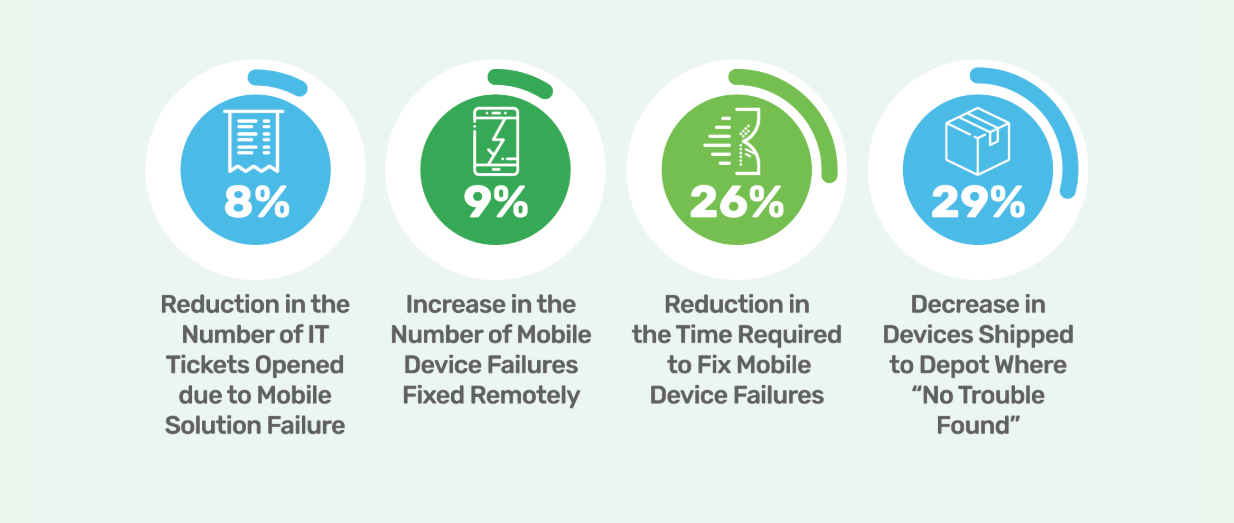 How do I know I need an EMM solution?
Your mobile devices are strategic company resources that are expensive and time-consuming to replace.
You need to get properly provisioned devices into the hands of your mobile workers as soon as possible.
You need to prevent worker downtime and get them up and running again quickly when they have device or app problems.
Your company depends on more and more mobile apps to operate. You need to manage who has what version of which app.
You operate in a regulated industry where any sensitive data on your worker's devices has to stay on the device.
Your company supports bring-your-own-devices (BYOD) to reduce costs and increase worker satisfaction, but BYOD can jeopardize data security and regulatory compliance.