Connect
SOTI MobiControl

to Microsoft Endpoint Manager
About this task
Connect SOTI MobiControl to Microsoft Endpoint Manager to report device compliance status.
Note:
You must be a Global Administrator to manage Microsoft integration configurations.
If you make any changes to the Azure Portal, select Sync in Global Settings to synchronize all updates with SOTI MobiControl and set an Active status.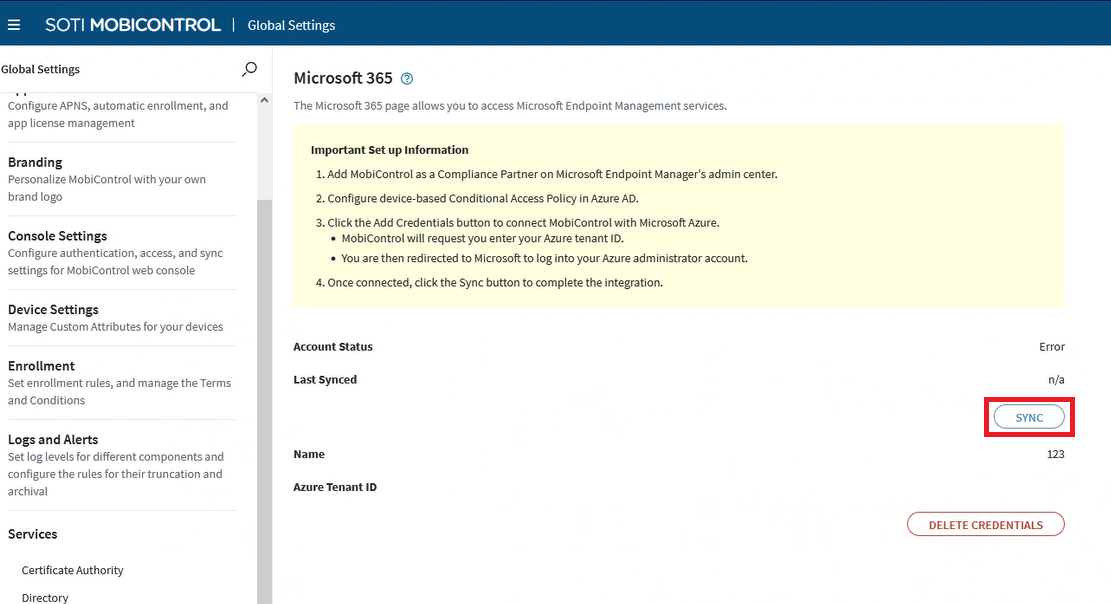 Procedure
From the

SOTI MobiControl

main menu, select .
Select

Add Credentials

to create an Azure tenant connection.
Enter a name and Azure tenant ID. To find your Azure tenant ID, go to Azure AD portal and navigate to .
Select

Consent on behalf of your organization

and select

Accept

.
Select

Accept

. The

Microsoft Sign In

panel displays.

Select an account, then select

Accept

. A success message displays when Microsoft 365 connects.
Navigate to the

SOTI MobiControl

web console and select

Sync

. A success message displays.

Note:

If you navigate back to the compliance partner page in the Microsoft Endpoint Manager admin center and select

Refresh

, the Partner status displays as Active.
What to do next
The next step in integrating Microsoft 365 with

SOTI MobiControl

is to assign an App policy.