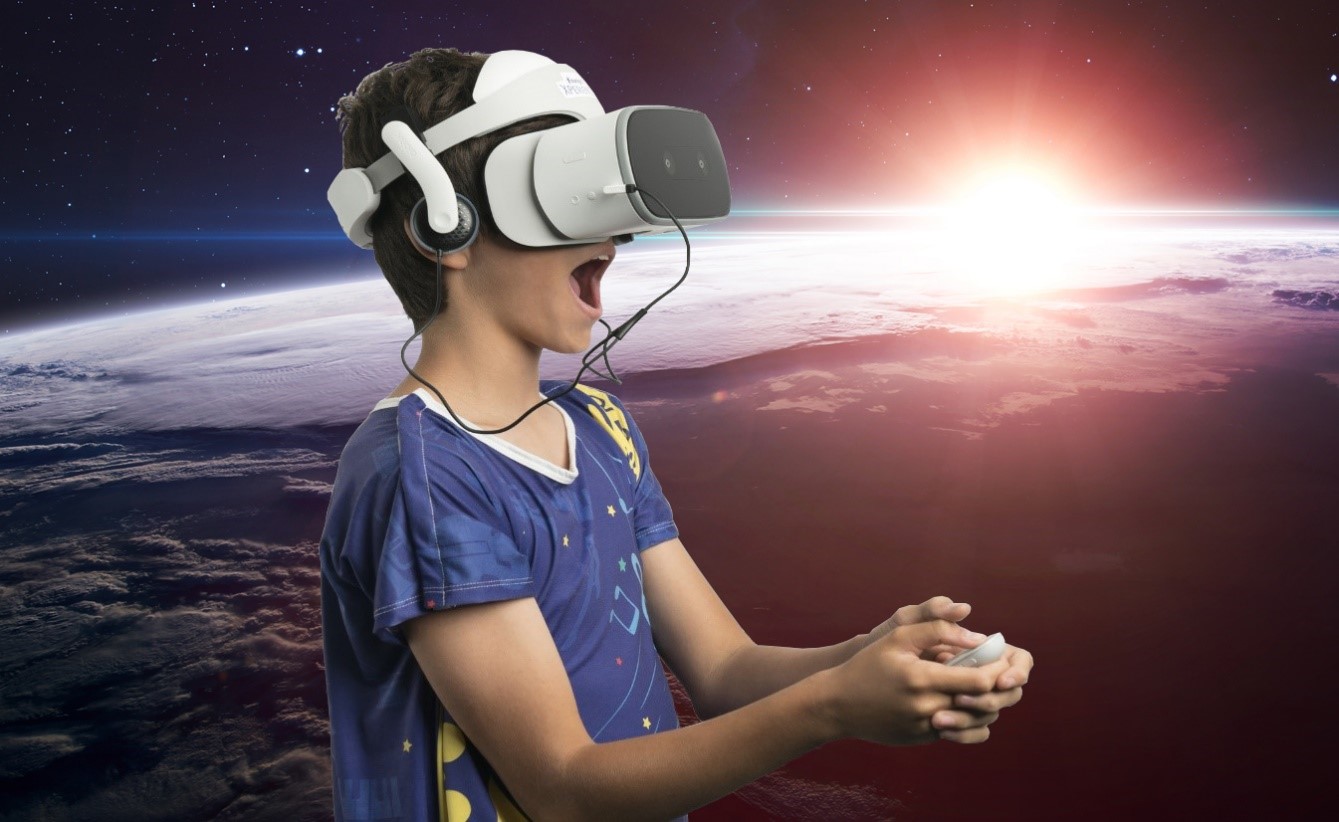 Photo credit: Justin Rosenberg/Starlight Children's Foundation
DUBLIN, Ireland, Oct. 01, 2018 -- SOTI SYNC -- SOTI, the world's most trusted provider of mobile and IoT device management solutions, today announced that it has partnered with Lenovo as the first enterprise mobility management (EMM) technology leader to manage the innovative Lenovo Mirage Solo with Daydream virtual reality (VR) headset.
In the world's first implementation of this joint venture, SOTI and Lenovo have teamed up together to work with the Starlight Children's Foundation, an organization dedicated to creating moments of joy and happiness for hospitalized children, to provide and manage VR devices for use in pediatric healthcare settings. "Starlight Xperience" runs on the Lenovo Mirage Solo with Daydream, Google's VR platform, and is a ground-breaking program designed to entertain, educate and inspire hospitalized kids across the US through stimulating immersive experiences that transport children from the hospital to any place in the world – or beyond – through the magic of virtual reality. Delivered to Starlight's network of 800+ pediatric partners through its 360-degree program distribution platform, Starlight Xperience offers equipment and content geared toward entertainment and distraction for kids and will become the go-to AR/VR solution for pediatric care providers.
"We are very excited to work with Lenovo and the Starlight Project," said Larry Klimczyk, vice president, Strategic Alliances at SOTI. "Our latest integration with the Lenovo Mirage Solo will bring countless innovations to the healthcare and education sectors." SOTI was the first EMM solution to introduce management of smart glasses and smart watches. With the recent addition of Linux support, SOTI continues to be on the leading edge by enabling management of the world's next generation of innovative devices.
"By partnering with SOTI, Lenovo can combine VR technology with SOTI solutions, ensuring our device is securely managed and successfully implemented. We look forward to expanding the use of VR and delighting both consumers and the enterprise alike," said Gunjan Shah, general manager for North America Smart Devices at Lenovo.
Lenovo's Mirage Solo is the world's first stand-alone Daydream VR headset. Powered by Google's WorldSense technology, which allows applications to track a user's movement in space without the need of external sensors, Mirage Solo gives users the ability to explore endless possibilities. SOTI's solution will bring advanced management capabilities to enhance Mirage Solo's deployment in education and commercial space. You can learn more about the product by visiting www.lenovo.com/us/en/daydreamvr.
For media inquiries, please contact:
Stephanie Lopinski
SOTI Inc.
1 519-998-1966
Stephanie.Lopinski@soti.net
About SOTI Inc.
SOTI is the world's most trusted provider of mobile and IoT device management solutions, with more than 17,000 enterprise customers and millions of devices managed worldwide. SOTI's innovative portfolio of solutions and services provide the tools organizations need to truly mobilize their operations and optimize their mobility investments. SOTI extends secure mobility management to provide a total, flexible solution for comprehensive management and security of all mobile devices and connected peripherals deployed in an organization. For more information, visit www.soti.net.
About Starlight Children's Foundation
Starlight creates moments of joy and comfort for hospitalized kids and their families. For 35 years, Starlight's programs have positively impacted more than 60 million critically, chronically and terminally ill or injured children in the US, Canada, Australia and the UK. With your help, more kids and their families will enjoy Starlight Gowns, Starlight Fun Centers and other Starlight programs at a children's hospital or facility near you. Support Starlight's work by visiting www.starlight.org and by following Starlight on Facebook, Instagram and Twitter.
About Lenovo
Lenovo (HKSE: 992) (ADR: LNVGY) is a US$45 billion Fortune Global 500 company and a global technology leader in driving Intelligent Transformation through smart devices and infrastructure that create the best user experience. Lenovo manufactures one of the world's widest portfolios of connected products, including smartphones, tablets, PCs (ThinkPad, Yoga, Lenovo Legion), data centers and workstations as well as AR/VR devices and smart home/office solutions. Lenovo works to inspire the difference in everyone and build a smarter future where everyone thrives. Follow us on LinkedIn,  Facebook,  Twitter,  Instagram,  Weibo, read about the latest news via our Storyhub, or visit our website at http://www.lenovo.com/.