MISSISSAUGA, Ontario, November 17, 2016 – SOTI Inc., the world's leading provider of Enterprise Mobility Management (EMM), is named one of North America's fastest growing technology companies in the 2016 Deloitte Technology Fast 500™ awards for demonstrating bold innovation, dedicated leadership and strong growth. With more than 600 employees, 16,000 customers and 7 offices around the globe, SOTI has been recognized as one of the fastest growing mobile enterprise and technology companies in North America, with a three-year growth rate of 139 percent between 2012 to 2015.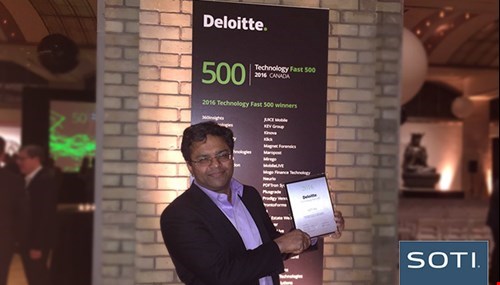 The Deloitte Technology Fast 500 program celebrates leaders in the North American technology industry and tracks their successful growth.
"Our team is proud to be recognized for our performance in the technology industry and our commitment to disrupt traditional approaches to the connected enterprise," said Carl Rodrigues, CEO of SOTI.  "This honour demonstrates that the passion, innovation, and vision of our global team is impacting the transformation of businesses and customer experiences through the enablement of mobility and IoT.  SOTI's innovative solutions are redefining what it means to be a connected enterprise and propel our company to the forefront of the enterprise mobility management industry. We stand strong in our commitment to continue on our trajectory of high, organic growth. Privately held with no external funding, our business model has allowed us to double our headcount and global footprint over the last three years in standing out as one of Canada's most profitable private companies."
The companies recognized by Deloitte are those that show dedication, drive and commitment, all of which are critical to growth in the North American technology sector.
"Today, when every organization can be a tech company, the most effective businesses not only foster the courage to explore change, but also encourage creativity in using and applying existing assets in new ways, as resourcefully as possible," said Anders McKenzie, Technology, Media and Telecommunications Managing Partner for Deloitte in Canada "This ingenious approach to innovation calls for the encouragement of curiosity and collaboration both within and outside the office walls."
Overall, 2016 Technology Fast 500 companies achieved revenue growth ranging from 121 percent to 66,661 percent from 2012 to 2015, with an average growth rate of 290 percent.
For more information on SOTI's award-winning EMM approach turning mobile and IOT thoughts into actions, download SOTI's latest ebook, " 'Things' are taking over the Internet."
About Deloitte's 2016 Technology Fast 500™
Technology Fast 500™ provides a ranking of the fastest growing technology, media, telecommunications, life sciences and energy tech companies – both public and private - in North America. Technology Fast 500 award winners are selected based on percentage fiscal year revenue growth from 2012 to 2015.
In order to be eligible for Technology Fast 500 recognition, companies must own proprietary intellectual property or technology that is sold to customers in products that contribute to a majority of the company's operating revenues. Companies must have base-year operating revenues of at least $50,000 or USD, and current-year operating revenues of at least $5 million or USD. Additionally, companies must be in business for a minimum of four years, and be headquartered within North America.
For media inquiries, please contact:
Stephanie Lopinski
SOTI Inc.
519-998-1966
About SOTI Inc. 
SOTI is the world's most trusted provider of Enterprise Mobility Management (EMM) solutions, with more than 16,000 enterprise customers and millions of devices managed worldwide. SOTI's innovative portfolio of solutions and services provide the tools organizations need to truly mobilize their operations and optimize their mobility investments. SOTI's flagship product, MobiControl, allows enterprises to enable, optimize and secure their mobile workforce across all platforms to support corporate-liable and Bring Your Own Device (BYOD) policies. SOTI extends secure mobility management to provide a total, flexible solution for comprehensive management and security of all mobile devices and connected peripherals deployed in an organization. For more information, visit www.soti.net.