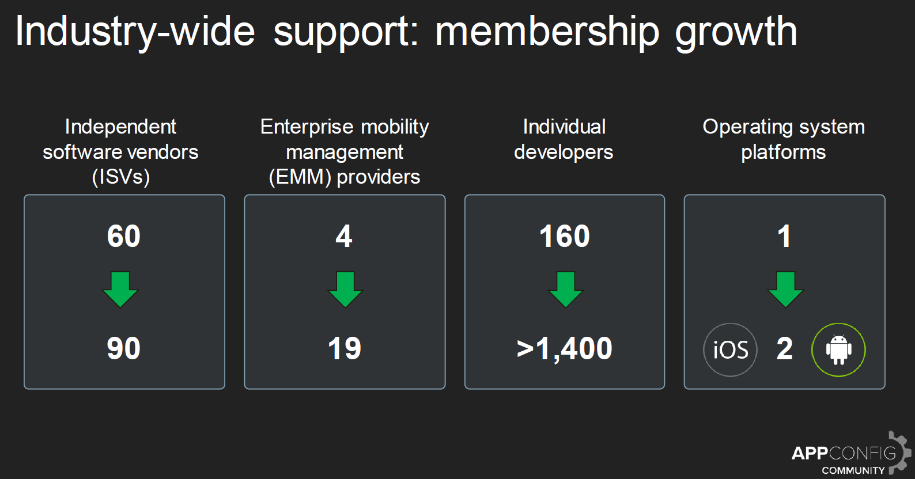 The AppConfig Community continues to expand, most notably on April 13, 2017 announcing in its latest annual report the demonstrable momentum building within the community.

Most notably, progress has ensued across all associated membership categories, including: independent software vendors (ISVs), mobile application developers and enterprise mobility management (EMM) providers. Membership has grown to 19 EMM providers since the community's inception just a year ago, 90 ISVs, and more than 1,400 developers.

Key growth announced by the community within their annual report, include:
• From 60 to 90 ISVs;
• From 160 to 1,400 individual developers;
• From four to 19 EMM providers; and
• From one OS to two.
About the AppConfig Community
On April 13, Shash Anand, Vice President of Strategic Alliances at SOTI, re-confirmed SOTI's commitment to the group's focus on providing tools and best practices around native capabilities in mobile operating systems to enable a more consistent, open and simple way to configure and secure mobile apps in order to increase mobile adoption in business.

SOTI joined the AppConfig Community in 2016, supporting the group's overall mission to establish a common approach for enterprise app configuration and security based on OS-native standards to simplify app development and deployment.
Leveraging existing investments in Enterprise Mobility Management (EMM), VPN, and identity solutions, users benefit with instant mobile productivity and a seamless out-of-the box experience, and businesses benefit with secure work-ready apps with minimal setup required.
Additional Resources:
To learn more about the AppConfig Community and to download the AppConfig XML schema, visit appconfig.org. Announcement video from BlackBerry, Cisco, IBM, Jamf, MobileIron, SAP, SOTI, and VMware here.