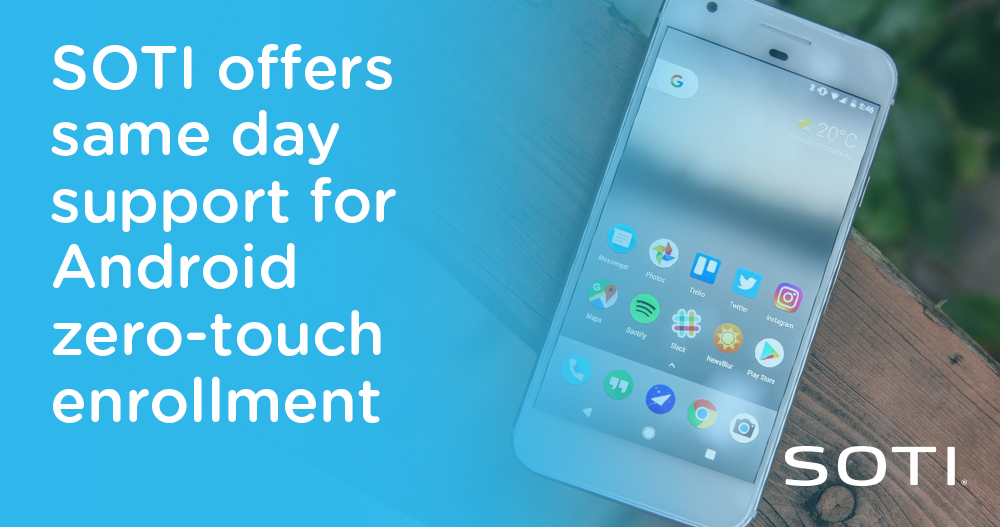 SOTI offers same-day support for Android zero-touch enrollment (ZTE), a new method for organizations to get out-of-the-box management for their company owned Android devices. ZTE solves the challenges of cost and complex user experience associated with deploying large numbers of Android devices to employees. IT no longers needs to setup Android devices in advance. ZTE-enabled devices can be sent to employees and on first power up of the device, the employees are guided through an easy-to-follow setup process that results in the devices being enrolled into an EMM solution and being provisioned with the settings and apps the employees needs. The employees' devices are secured, managed and up and running within minutes.
Zero touch, many benefits
In addition to reducing IT costs and simplifying the experience for employees, ZTE delivers other benefits. Once a device is ZTE-enabled, it will be forced to go through the EMM enrollment process again if the device is ever factory reset. This enforcement of enrollment deters theft of company owned Android devices. Employees are also not allowed to bypass the enrollment process, ensuring that the Android devices are always under management by an EMM solution prior to use. 
How do I get started?
To take advantage of ZTE, organizations must first purchase ZTE-compatible Android devices from a participating carrier or reseller. Then, the carrier or reseller will add information about the purchased devices into the zero‑touch online platform. Next, they will specify the EMM solution that the organization wants to use, along with any enrollment information. And that's it! The device is ZTE-ready. Once the purchased device powers up and connects to the internet, it must enroll into the EMM solution specified in the platform to be used by an employee.
SOTI makes it easy to get started with ZTE
SOTI, the acknowledged leader in Android management, makes it easy to get started with ZTE for your company owned devices. No configuration changes in SOTI MobiControl are required. You can leverage your existing Add Device (i.e. Enrollment) rules for ZTE. ZTE is supported on versions of SOTI MobiControl 12.4 and greater.
More information on Google's launch of zero-touch enrollment, visit Google's blog.