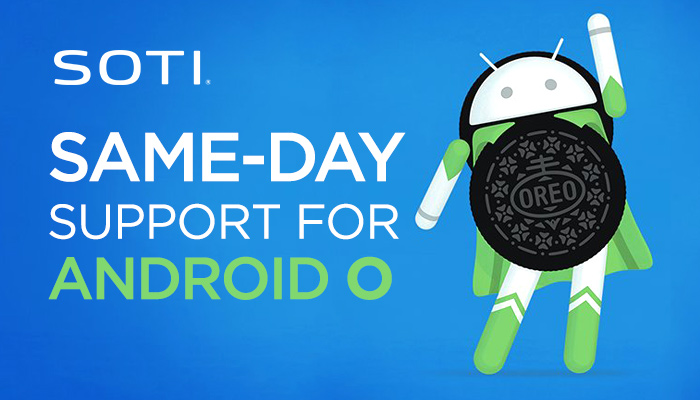 Google has released its long awaited update to the Android operating system with Android O (Oreo). SOTI is offering same-day support for the newly released operating system, and SOTI MobiControl customers can have peace of mind that there will be no interruption to their ongoing management of Android devices.
Android O brings numerous enhancements for enterprises including:
The ability to separate work and personal data on corporately-owned devices (previously this was only possible on employee-owned devices).
Standardized capabilities for EMM solutions to manage applications, including the ability for app developers to expose custom app configurations.
Customizable setup steps to reduce the out-of-the-box setup time of devices.
New feature controls over Bluetooth, Wi-Fi, backup, and security to let enterprises manage more of the device.
Network activity logging to help enterprises track down connectivity-related problems.
"Google has listened to the enterprise community, and has added several capabilities in Android O to give enterprise IT better management over their Android device deployments", says Oscar Rambaldini, Vice President of Product Management at SOTI. "SOTI, as the leader in Android management, always strives to provide the best possible management experience on Android devices, which includes same-day support for the latest operating system updates released by Google."
Android O will start rolling out to Nexus and Pixel devices today, with other OEMs announcing support for Android O on their devices shortly thereafter. 
Click Here for more information on SOTI Android management.