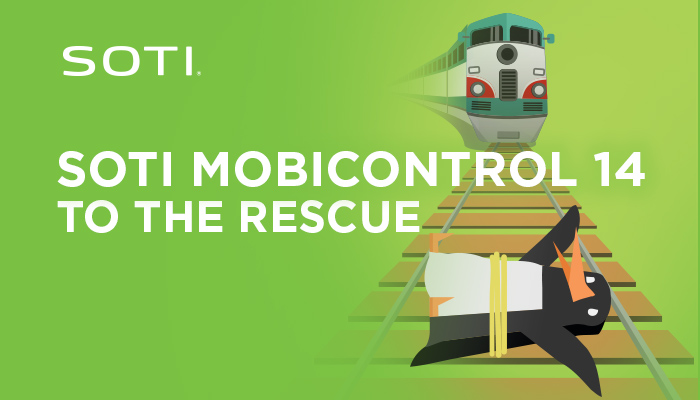 Given technology's rapid rate of change, especially mobile technology, it is no wonder that CIOs and IT Managers often feel overwhelmed. New standards drive new hardware — improved devices enable more capable software — all of which makes a case for more mobile technology in the hands of your workers. This means that for many businesses, mobile technology is no longer a "nice to have," it has become a "must have."
The explosive growth in the breadth and depth of business mobility is the genesis behind EMM. Businesses need to secure and manage their growing deployments of mobile devices and applications. And as the Internet of Things takes off, the security and management challenges are multiplying. Businesses need to deal with an order of magnitude more devices and endpoints as well as their increasing diversity. So just when mobility management becomes more challenging than ever, here comes SOTI MobiControl to the rescue.
SOTI MobiControl 14 delivers the first enterprise mobility management (EMM) solution to manage mixed mobility and IoT deployments with the introduction of support for Linux-based mobile devices and intelligent IoT endpoints. It also introduces a re-designed, "IoT-ready" user interface that simplifies the management of large, complex deployments. SOTI MobiControl 14 makes it easy to secure and manage deployments of Linux endpoints alongside all the other devices and operating systems used within your enterprise.
Linux is everywhere. It is the operating system of choice for over 80% of IoT devices — sensors, actuators, printers, scanners, wearables and robots, as well as 'things' that we don't even know about yet. Linux is also used in over 67% of the IoT gateways that bridge the communication gap from deployed IoT endpoints back to the enterprise. Because more and more companies are embracing the IoT, support for Linux-based devices is required for the mobility management solutions of the future. SOTI MobiControl is the only EMM solution on the market to manage devices running Google Android, Apple iOS, Microsoft Windows and now, Linux.
Another important innovation in SOTI MobiControl 14 is the redesigned, 'IoT-ready' user interface (UI). The new UI simplifies the management of large, diverse device deployments.  It provides faster, more flexible search capabilities and instant information about your deployed devices and endpoints. SOTI MobiControl 14 advanced search scans over 150 device properties to pinpoint exactly the devices you want. Device search results are then displayable in persistent, dynamic charts that update automatically. SOTI MobiControl can also export search results for use in other applications and enterprise solutions.
SOTI MobiControl 14 delivers an enhanced REST API that enables 3rd party applications authorized and secure access to almost any feature within its administration console. This includes improved device data querying capabilities, better device and application management, and even initiating device remote control sessions. The SOTI MobiControl 14 enhanced API makes it easy for businesses to create compelling mobility and IoT solutions. This can improve security and compliance, enable automated management tasks and streamline your critical workflows.
SOTI MobiControl 14 also includes many new features and enhancements that improve the security and management of iOS, Android and Windows devices.
Force

 

the download and installation of Apple iOS updates on company owned devices to ensure that security vulnerabilities are patched quickly.

Bulk enrollment of Windows devices using provisioning packages enables businesses to support dedicated-purpose and shared device deployments.

Direct management of enterprise Google Play accounts makes it easier for device users to get and receive apps from their enterprise's Google Play for Work app store.
As you can see, SOTI is going 'all-in" on the IoT.  Over the last few years, we have been investing heavily in R&D for the management of the IoT, and SOTI MobiControl is the first (of many) SOTI products to capitalize on this effort. While other EMM vendors are focusing on UEM and the management of laptops and desktops within the enterprise, SOTI's is making security and management for the IoT as routine as it is for mobile devices. So, if you are eager for the benefits of the IoT, but concerned about how to secure and manage the scale and diversity, let SOTI MobiControl come to your rescue.