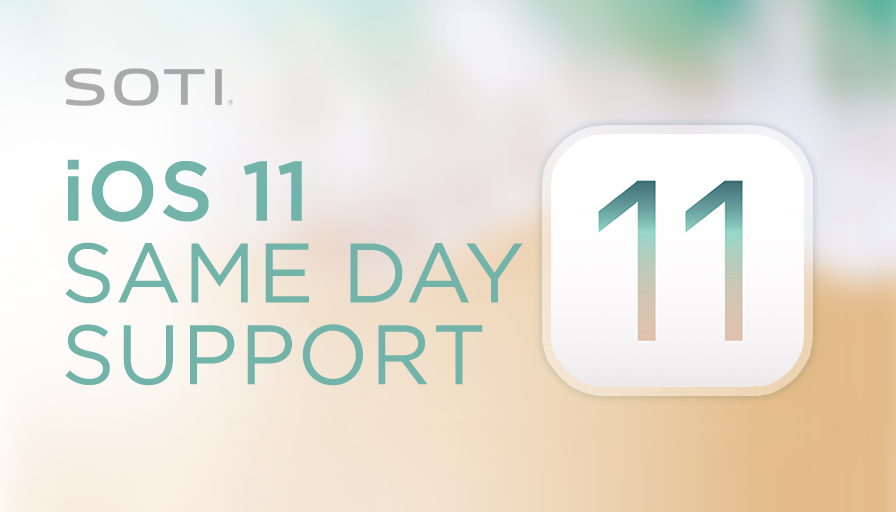 Apple has released iOS 11, its long awaited update to iOS that was originally announced at it's Worldwide Developer Conference in June of 2017. The updated operating system will soon start rolling out to eligible Apple devices on September 19th. This means iOS 11 devices will be hitting your corporate networks and backend systems shortly. But don't worry, SOTI has your business covered with same day support for iOS 11. As long as your business is running the latest SOTI apps and the latest versions of SOTI MobiControl 12.4 or 13.3, you can be assured that there will be no interruption to your management of iOS devices.
iOS 11 introduces iPad productivity enhancements, and new augmented reality and machine learning capabilities
iOS 11 brings numerous enhancements to iPhones, iPads and iPods. For businesses, iOS 11 delivers new productivity enhancements for iPads, ARKit – Apple's new augmented reality (AR) framework, and CORE ML – Apple's new machine learning (ML) framework. With ARKit and CORE ML, businesses can build new mixed reality applications that deliver smarter information to workers to improve their productivity. For more details on iOS 11 and the devices eligible for the operating system update, please visit Apple's website.
SOTI MobiControl supports many new management features introduced in iOS 11
While Apple typically releases their management features during the Spring, iOS 11 delivers some incremental management features that will benefit businesses. SOTI MobiControl supports many of these new features including new configurations and controls related to AirPrint, disabling removal of system apps, and disallowing creation of VPN configurations.
For more information on SOTI's management of iOS devices, register for SOTI Sync and attend our track session, "Beyond EMM with Apple in the Enterprise".