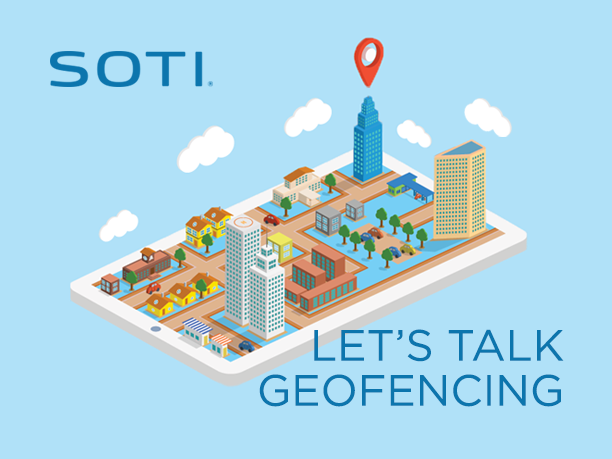 In contemporary society, technology has no boundaries, especially as we are diving deeper into the world of IoT. However, there are certain scenarios where limits must exist for the safety of devices, data and even people.
What is geofencing, you may ask? Geofencing is simply a virtual boundary that uses GPS to control certain aspects of a device when it is inside or outside a set boundary. Creating a geofence using SOTI MobiControl is extremely easy and can be as simple or detailed as you like. Our feature allows you to create a virtual boundary for your devices and trigger different alerts and actions when a device breaches the 'safe zone' that you have set up. This component of MobiControl can be very helpful in keeping your devices secure and compliant with your company's policies.
Being a part of such a tech savvy environment, we use our smartphones and tablets on the go all the time. Although this is beneficial to our dynamic work environment, it also increases the risks of security threats. Data breaches are becoming more complex and more frequent. These breaches can be very costly to a company, whether it affects their reputation or it drains them financially as they are trying to recover. As the old saying goes, it is better to be safe than sorry!
Geofencing can be useful to track lost or stolen devices, whether it be a smart phone or a rugged device. If you are tracking the device location, and the device gets stolen, you can, first wipe the corporate data and apps on the device, and then either go to the device's location and retrieve it yourself or report the situation to local authorities so that they can use your location data to track down the thief, your device and possibly many other items. In this situation, not only does your company benefit but so could the public community.
Geofencing can be crucial in protecting intellectual property and classified data. If you run a business which involves field personnel, a geofence can notify the dispatch and management of the personnel at a location and automatically send information that is relevant to that location to their device. For example, if you run a home healthcare service and you have a nurse going to a patient's home, information about the patient's health should only be available on the nurse's device when they have reached the patient's home.
Geofencing can also help reduce your company's costs. If you provide your employees with smart devices that are used for business as well as personally, these devices will be on the go all the time, even when travelling internationally. Although service providers notify you when your device is on roaming, they don't block any data heavy apps and it is hard to keep track of how much data everything takes up. I mean they do want money after all! Using geofencing you can create boundaries for where the device is slightly restricted. When the device leaves the established virtual boundary, you can block the use of some apps, social media apps for example. This is just one of the many ways that companies can cut costs using geofencing.
Keep in mind, these are but a few examples of how geofencing can be used. From airport security to consumer advertising, the list is endless.