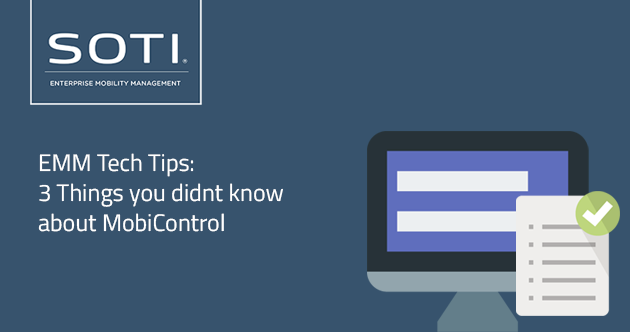 Ever wonder how you can make the best use of MobiControl? We have provided some quick tips to help you navigate faster and more efficiently. Packed with advanced EMM features, SOTI MobiControl enables businesses to manage their devices efficiently. Below are recommended tips that you can consider when optimizing MobiControl:
Policies Tip:
You can set up policies that analyze the packages or profiles on the device, if it doesn't meet a corporate standard it can be filed under a virtual group as incompliant, this will give MobiControl Admin's more visibility of who is up to corporate standard.
Alert Rules Tip:
You can use Alert rules to target users existing within a Geofence at a certain time (people think it can only be done 24/7). This also does not need to be done at the root level as it can be done for specific type of devices if you use virtual groups correctly.
File Sync Rules Tip:
File Sync Rules can be used to launch scripts on the devices remotely by dropping a BASH payload or a VBScript Payload and telling Mobicontrol to Auto launch it.
---
MobiControl Free Trial
Register for a 30-day Free Trial of MobiControl – the world's most trusted Enterprise mobility management (EMM) and Bring Your Own Device (BYOD) solution.